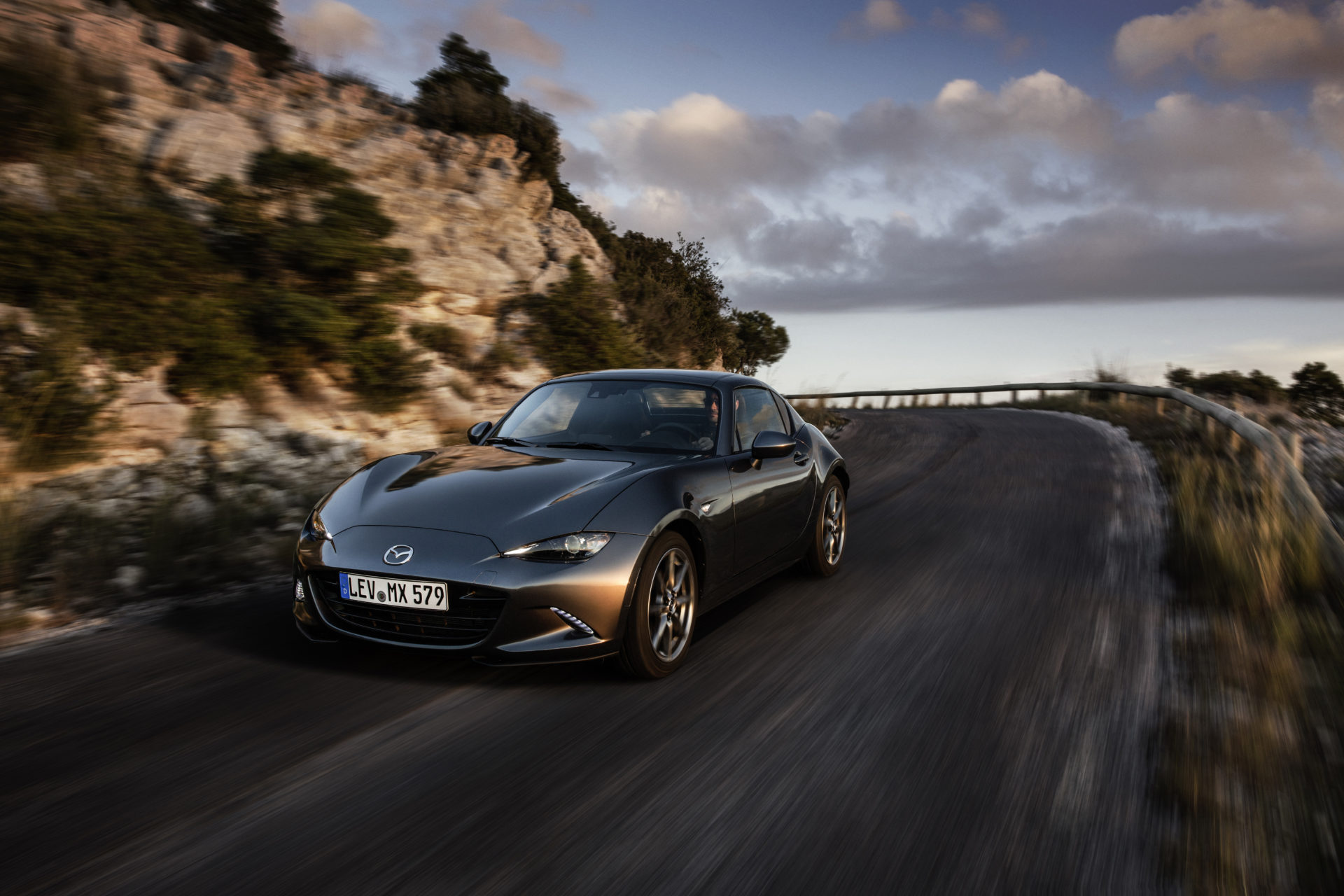 Mazda MX-5 wins Roadster of the Year at Auto Express Awards
Mazda MX-5 has received yet another award, taking home the Roadster of the Year title at the 2019 Auto Express New Car Awards
When it comes to two-seater sports cars, no one does it quite like Mazda. The combination of stylish design, intelligent and dynamic engineering and competitive price point has meant that very few cars have been able to compete with the Mazda MX-5 since its launch in 1989.  To this day, it is still the best-selling 2-seater roadster in the world, and in 2016 made the record books by selling its 1 millionth car.
This success has been recognised year after year, with a steady stream of awards for the MX-5. And it's added another to its trophy shelf this week at the 2019 Auto Express New Car Awards, where it received the Roadster of the Year Award. This makes it the 5th consecutive year it's taken home this award since the 4th generation model launched in 2015. Commenting on this latest win, Mazda Motors UK Managing Director, Jeremy Thomson, said: "Today it [the MX-5] is the very essence of the Jinba Ittai driver-and-car-as-one philosophy that goes into every Mazda. So it's fantastic that Auto Express continues to recognise this with their Roadster of the Year title."
When asked about the MX-5's latest win, Auto Express' Editor-in-chief, Steve Fowler, commented: "whether you choose the convertible or the Retractable Fastback RF version, you can't go wrong with the brilliant Mazda MX-5. It has all the ingredients you'd want from a car designed for fun, and yet it's not so compromised that you couldn't drive it every day. In fact, many owners use theirs all the time -and why wouldn't you, when you're having that much fun?"
Celebrating 30 years of driving pleasure
This latest award also comes in a year that the MX-5 is celebrating its 30th Anniversary with the release of a limited edition 30th Anniversary model.  In those 30 years, the MX-5 has received over 300 major accolades, including the 2016 World Car of the Year award. On the continued success of the MX-5 and the 30th Anniversary edition, Jeremy Thomson had this to say: "in the three decades since the launch of the original model over 130,000 Mazda MX-5s have been sold in the UK and the 30th Anniversary Edition is a great way to celebrate this. The Mx-5 is a sports car that has resonated with enthusiastic British drivers ever since its debut and four generations on it's still as popular as ever. Along the way, it has remained true to the original principle of being an affordable, lightweight and above all fun-to-drive roadster."
The 30th Anniversary Limited Edition MX-5 is available to pre-order now at all of our Mazda Showrooms. Or, if you're interested in the standard soft-top and RF models, our showroom teams are ready to help. Our Mazda Showrooms are located in Weybridge and Bookham in Surrey, and Orpington in Kent.
Similar Articles
The  Mazda 2 has just launched a new model to the award winning compact city car line up: the all-new Mazda 2 Self-Charging Full Hybrid. A collaboration using class leading Toyota hybrid technology, Mazda 2 Hybrid will help drive Mazda's commitment to a more sustainable future. The full hybrid supermini hatchback has two different power […]
With 4 models to choose from, and huge improvements made in its eco credentials, safety and overall style, Mazda have pulled the stops out to produce a reliable, versatile all-around compact hatchback.
Excited for the launch of Mazda's first plug in hybrid? The all-new Mazda CX-60 SUV will face its World premiere on 8th March, when more details about this exciting new model will be unveiled. Watch the live stream here: https://mzd.tools/Mazda-CX-60-Launch The Mazda CX-60 is the first of two new models from Mazda's "Large Product Group" […]