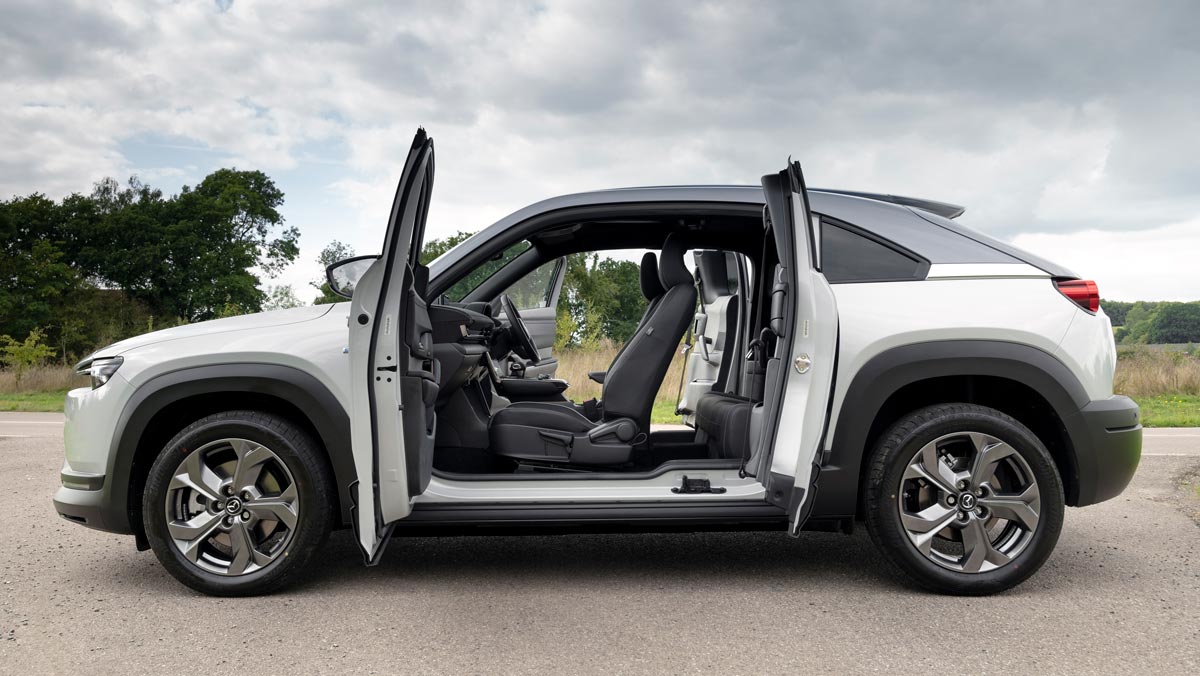 Mazda MX-30 Interior Features and Equipment
Available in both a pure EV and Plug-In Hybrid R-EV, the Mazda MX-30 is centred around the carmaker's Kodo design philosophy. The innovative design creates a lasting impression, and its exciting features and equipment make a thoughtfully curated interior that combines style, comfort, and functionality.
From cutting-edge technology to the seamless fusion of sophistication and practicality, Mazda's commitment to excellence shines through in every aspect of the MX-30, which is set to redefine your driving experience. Keep reading to discover what sets this vehicle apart from its counterparts.
Mazda MX-30 Interior Trim Features and Layout
The Mazda MX-30 offers a range of interior trim options intended to cater to individual preferences, all of which possess a high standard of interior quality. The Mazda MX-30 Prime-Line trim comes as standard with a light grey cloth upholstery featuring dark grey trim, creating a stylish and contemporary look.
For those seeking an elevated level of luxury, the Exclusive-Line and range-topping Makoto are great choices. These trims feature a conventional light grey cloth upholstery paired with a stone leatherette, adding a touch of sophistication to the interior. Further, the Makoto trim offers an optional upgrade of dark grey cloth upholstery with black or brown leatherette, introducing a warm and luxurious aesthetic to the cabin. The Edition R trim (exclusive to the MX-30 R-EV) has a dark grey cloth upholstery and a black leatherette combination.
The interior trim features and layout options in the MX-30 enable drivers to personalise their driving experience. Whether it's the contemporary appeal or refined elegance, the MX-30 offers a range of choices to suit individual preferences and create a distinctive interior ambience.
Read on to learn more about the Mazda MX-30's features and safety enhancements.
Apple CarPlay® & Android
The Mazda MX-30's infotainment system sets a new standard for connectivity by coherently integrating with Apple and Android devices. With Apple CarPlay™ and Android Auto™ integration, drivers can access maps, playlists, contacts, and compatible apps. This is made possible by the vibrant 8.8-inch colour display and voice commands through Siri.
Such an intuitive system keeps you connected, allowing for a convenient driving experience. The Mazda MX-30 infotainment system revolutionises connectivity, bridging the gap between your smartphone and the road ahead.
Mazda Connect Multimedia System
Another unique feature of the Mazda MX-30 that stands out is the eye-level 8.8″ central screen that offers a clear, stunning display. Positioned strategically, it lets you access vital information with ease.
Adaptive LED Headlights
Mazda's Adaptive LED Headlights represent cutting-edge headlight technology, providing an exceptional lighting experience that mimics daylight conditions, ensuring safe and stress-free driving at any time.
Mazda uses three variations of headlight technology on the MX-30: Wide-range Low Beams for better visibility at low speeds, Highway mode for extended range on highways, and Glare-free High Beams to avoid dazzling other drivers. These headlights come standard on the Makoto and Edition R trims, reflecting Mazda's commitment to advanced safety features and an optimal driving experience.
Blind Spot Monitoring (BSM)
The Mazda MX-30 is fitted with a BSM system that goes beyond simply alerting the driver of vehicles in their blind spots. It also assists during lane changes by aiding in steering operations when it detects vehicles approaching from the rear or side. This intelligent feature boosts driver confidence and safety on the road.
Mazda also incorporates the smart Road Keep Assist, which utilises an advanced camera to detect grass and kerbs along the roadside. Even on roads without clearly marked lanes, this feature helps prevent the vehicle from unintentionally departing from the road. Operating at approximately 37 mph or above speeds, these systems work together to help drivers avoid potential collisions.
Cruising and Traffic Support (CTS)
Mazda's Cruising and Traffic Support (CTS) feature handles acceleration, braking, and steering. Its ultimate objective is to maintain a safe distance from the vehicle ahead and keep it within its lane. The Cruising and Traffic Support system also helps to minimise driver fatigue and ensure a safer and more comfortable driving experience.
Front Cross-Traffic Alert
Another intuitive feature of the Mazda MX-30 is the Front Cross-Traffic Alert. Available on Makoto and Edition R models, this advanced system is designed to sense vehicles approaching from blind spots on the vehicle's front right or left side. By promptly alerting the driver of their presence, this system helps avert accidents that often occur when cars enter T-junctions with limited visibility.
Mazda's Front Cross-Traffic Alert is a reliable safety companion. It provides an extra layer of awareness and assists drivers in navigating potentially risky situations. With this innovative technology, Mazda continues to prioritise its drivers' safety.
Mazda Radar Cruise Control
The Mazda MX-30 boasts an intelligent system that automatically adjusts speed and maintains a distance from the vehicle ahead. This is known as the Mazda Radar Cruise Control. It features 'Stop & Go' functionality for smooth acceleration and braking in start/stop traffic. This advanced technology promotes driver safety and convenience on the road.
Smart Brake Support
Smart Brake Support is an innovative technology which is designed to enhance safety. It alerts the driver of potential collisions and proactively mitigates the impact. Smart Brake Support continuously monitors the road ahead using a combination of front radar sensors and a Forward Sensing Camera. It scans for obstacles, such as vehicles, pedestrians, or bicycles. When the system detects a possible collision, it immediately notifies the driver through warning indications on the instrument cluster.
The primary goal of Smart Brake Support is to prevent accidents and decrease the severity of collisions. The system automatically engages the brake control mechanism when a collision becomes imminent and unavoidable. As a result, it helps to lower the impact force and minimise potential damage in the event of a crash.
Get the Ultimate Driving Experience with the Mazda MX-30
The Mazda MX-30's interior features and equipment embody the essence of Mazda's commitment to excellence and innovative design. With a carefully curated interior that seamlessly combines style, comfort, and functionality, this vehicle sets a new standard for driving experiences. With its remarkable interior and state-of-the-art technology, the Mazda MX-30 stands apart from its counterparts, redefining what it means to drive an electric vehicle. Experience the future of driving with the MX-30 and embrace a new level of style, sophistication, and exhilaration.
The Mazda MX-30 SUV is available to order at your local T W White & Sons. Get in touch for more information or to organise a test drive today., or find out more in our complete guide to the Mazda MX-30.
Similar Articles
Mazda consistently delivers innovative vehicles to the market, and the MX-30 is no exception. The launch of the MX-30, Mazda's first pure electric vehicle (EV) in 2020 marked the first step in Mazda's roadmap towards electrification. Available as both a pure EV and a new plug-in hybrid R-EV, the Mazda MX-30 models combine a sophisticated […]
Available in both a pure EV and Plug-In Hybrid R-EV, the Mazda MX-30 is centred around the carmaker's Kodo design philosophy. The innovative design creates a lasting impression, and its exciting features and equipment make a thoughtfully curated interior that combines style, comfort, and functionality. From cutting-edge technology to the seamless fusion of sophistication and practicality, Mazda's commitment […]
In the ever-evolving landscape of compact crossover SUVs, Mazda has once again proved its expertise with the revolutionary Mazda MX-30. Captivating the hearts of automotive enthusiasts, the MX-30 brings forth a harmonious fusion of power, innovation, and striking design. This remarkable vehicle represents Mazda's commitment to a sustainable future while staying true to its century-old legacy […]