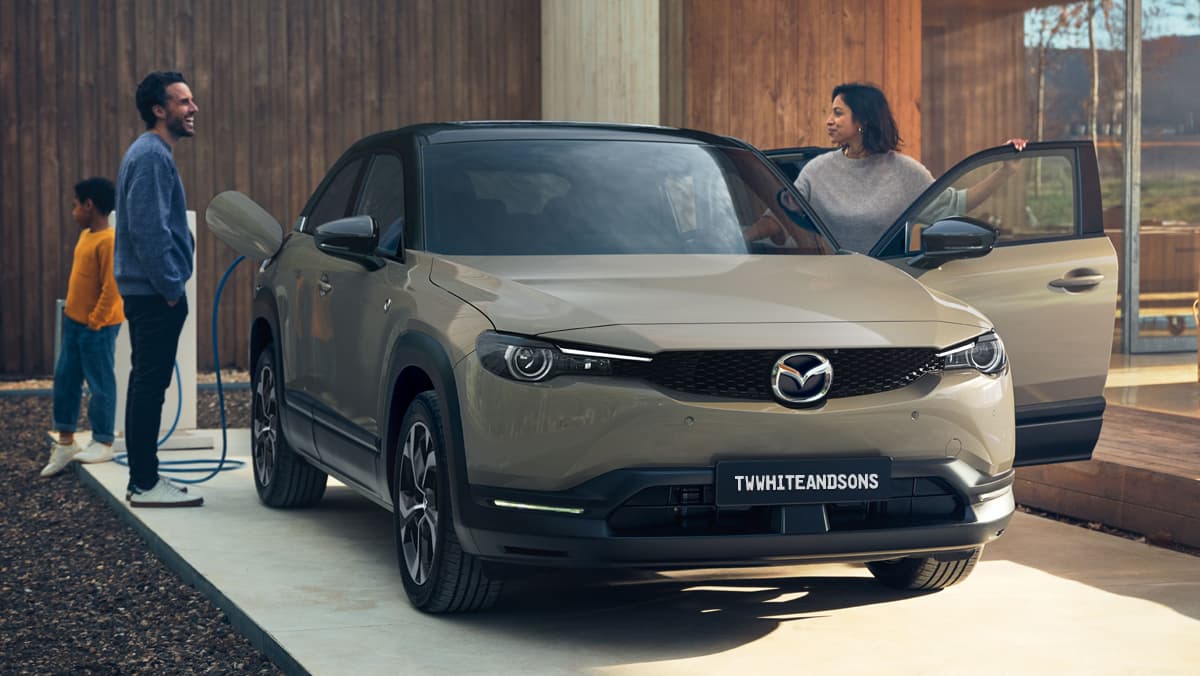 Mazda MX-30 Specs and Model Range Comparison
In the ever-evolving landscape of compact crossover SUVs, Mazda has once again proved its expertise with the revolutionary Mazda MX-30. Captivating the hearts of automotive enthusiasts, the MX-30 brings forth a harmonious fusion of power, innovation, and striking design. This remarkable vehicle represents Mazda's commitment to a sustainable future while staying true to its century-old legacy of exceptional craftsmanship.
With its ingenious engineering, the MX-30 raises the bar for all-electric and plug-in hybrid excellence. Available as either a pure electric vehicle or a unique plug-in hybrid R-EV, which uses a rotary engine as a generator, the Mazda MX-30 delivers an electrifying driving experience that leaves a lasting impression. Featuring Mazda's award-winning G-Vectoring Control and a near 50:50 weight distribution, the MX-30 promises an exceptionally responsive drive. It is, undoubtedly, a remarkable testament to Mazda's dedication to pushing boundaries.
The Japanese carmaker has poured its DNA and expertise into every detail, ensuring outstanding external and interior design integration. Its cutting-edge human-centric technology and industry-leading powertrains can attest to this. As you explore the MX-30's line-up, you'll be captivated by the diverse model range that caters to various preferences and needs.
Table of Contents
Mazda MX-30 Model Range and Features
The MX-30 range offers a variety of trim levels and advanced features to suit different tastes. Mazda understands that drivers have unique needs and desires, so they have crafted a range of MX-30 variants, each with distinct features and characteristics, which we will explore below. From the Prime-Line and Exclusive-Line to Makoto and Edition R, read on to find out more about the model offerings for the Mazda MX-30.
Prime-Line
The Mazda MX-30's Prime-Line offers more than just an entry point to the MX-30 family. This vehicle provides a thrilling driving experience, advanced safety features, and heaps of technology as standard. Equipped with 18″ alloy wheels, the MX-30 Prime-Line showcases its agile handling and confident road presence. These wheels enhance the vehicle's aesthetics and dynamic performance, allowing for precise cornering and a responsive driving episode.
The MX-30 Prime-Line also boasts innovative LED headlights that illuminate the road ahead with unparalleled clarity. They boost visibility and add a stylish touch to the vehicle's front fascia. Besides, they accentuate its modern and fascinating design.
Mazda understands connectivity is key, so the MX-30 Prime-Line enables you to connect your smartphone directly to the vehicle through Apple CarPlay and Android Auto. Use all your favourite smartphone apps, such as Spotify and Google Maps, all visible on the large 8.8" Mazda Connect Display.
Safety is paramount in the Mazda MX-30. For this reason, Mazda has incorporated its advanced i-Activsense safety technology within the MX-30 Prime Line to provide peace of mind on every journey. One standout feature is the Smart Brake Support (SBS) with Turn-Across Traffic. This system utilises sensors to detect potential hazards, such as vehicles crossing your path when making a turn. If a potential collision is detected, the SBS intervenes by applying the brakes to help prevent an accident, ensuring the safety of both you and other road users. Blind spot monitoring gives additional assistance to hazards in the driver's blind spot. At the same time, the lane departure warning system notifies the driver through a gentle vibration of the steering wheel and auto-correction should the car notice the driver is starting to veer over lanes. The front and rear parking sensors and a crisp, clear reversing camera provide additional support when parking in tight spots!
Exclusive-Line
The Mazda MX-30 Exclusive-Line embodies sophistication and refinement. This model takes the already impressive features of the Prime-Line and enhances them further.
The superior feature of the MX-30 Exclusive-Line is the windscreen-projected colour active driving display. This technology lets you directly view important driving information on the windscreen, such as speed and safety alerts. With this innovative feature, vital details remain within your line of sight, enabling you to stay focused on the road. Its ultimate objective is to ensure a safer and more convenient driving experience.
Another convenience-enhancing feature of the MX-30 Exclusive-Line is the smart keyless entry system. With this technology, gaining entry to the vehicle is effortless. You approach your MX-30 with the key fob in your pocket, and as you reach the door handle, the system detects your hand and unlocks all the doors.
The MX-30 Exclusive-Line also boasts heated front seats and rear privacy glass for added comfort.
With the Mazda MX-30, Mazda has ushered in a new era of electric mobility, combining remarkable craftsmanship, cutting-edge technology, and a sustainable vision for the future.
Makoto
The Mazda MX-30 Makoto stands as a limited-edition model that encapsulates the essence of exclusivity. With meticulous attention to detail and stellar features, the MX-30 provides unparalleled luxury and immersion.
This model embraces the significance of audio with its 12-speaker Bose surround sound system for unrivalled sound quality and passenger enjoyment.
The Makoto also caters to comfort and convenience, as is evident in the inclusion of a heated steering wheel. With a simple touch on the 7-inch climate control touchscreen, you can effortlessly warm the steering wheel on those chilly winter mornings.
The MX-30 Makoto incorporates various advanced safety technologies; for instance, the 360° camera system aids in confidently parking and manoeuvring. The Driver Monitoring system keeps a watchful eye on your attentiveness. It alerts you when it detects any sign of fatigue or distraction. In addition, the Front Cross Traffic Alert system provides an extra layer of safety by detecting vehicles approaching from the sides. This promotes safer manoeuvring at intersections and driveways.
Edition R (exclusive to the plug-in hybrid)
Exclusive to the R-EV version of the Mazda MX-30, Edition R pays homage to Mazda's iconic rotary engine. It showcases a unique synergy of style, heritage, and advanced features, making it the perfect choice for a stylish and efficient plug-in hybrid car.
The Mazda MX-30 R-EV Edition R sets itself apart with its exclusive exterior and interior design features. It comes standard with a Jet Black paint finish, beautifully contrasting with Maroon Rouge side panels and delicate upholstery. It includes a Dark Grey Cloth with Black Leatherette and an embossed headrest combination. Every detail is carefully considered, down to the special edition luxury floor mats and engraved Edition R Key Fob.
Become the Proud Owner of a Mazda MX-30 Today
Experience the harmony of power, elegance, and eco-consciousness as you embark on your journey with the Mazda MX-30 electric car. It is a vehicle for those who appreciate phenomenal Japanese aesthetics, advanced features, and exhilarating driving dynamics. Discover the MX-30 for yourself in our complete guide, and contact us today for more information. At T W White & Sons, we are your ultimate car dealer for Mazda cars, where excellence meets driving pleasure. See our latest MX-30 offers and the latest prices.
Similar Articles
Mazda consistently delivers innovative vehicles to the market, and the MX-30 is no exception. The launch of the MX-30, Mazda's first pure electric vehicle (EV) in 2020 marked the first step in Mazda's roadmap towards electrification. Available as both a pure EV and a new plug-in hybrid R-EV, the Mazda MX-30 models combine a sophisticated […]
Available in both a pure EV and Plug-In Hybrid R-EV, the Mazda MX-30 is centred around the carmaker's Kodo design philosophy. The innovative design creates a lasting impression, and its exciting features and equipment make a thoughtfully curated interior that combines style, comfort, and functionality. From cutting-edge technology to the seamless fusion of sophistication and practicality, Mazda's commitment […]
In the ever-evolving landscape of compact crossover SUVs, Mazda has once again proved its expertise with the revolutionary Mazda MX-30. Captivating the hearts of automotive enthusiasts, the MX-30 brings forth a harmonious fusion of power, innovation, and striking design. This remarkable vehicle represents Mazda's commitment to a sustainable future while staying true to its century-old legacy […]