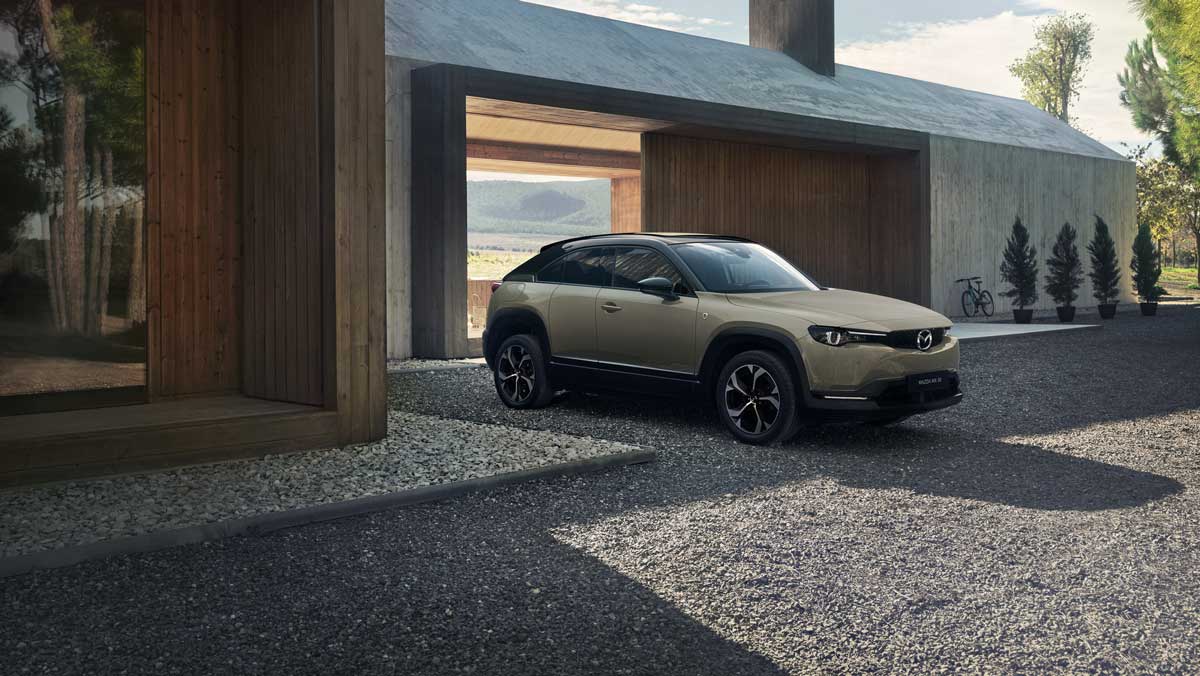 Mazda MX-30 Engines & Performance
Mazda consistently delivers innovative vehicles to the market, and the MX-30 is no exception. The launch of the MX-30, Mazda's first pure electric vehicle (EV) in 2020 marked the first step in Mazda's roadmap towards electrification.
Available as both a pure EV and a new plug-in hybrid R-EV, the Mazda MX-30 models combine a sophisticated blend of electrification and performance to ensure the car provides a sustainable yet thrilling driving experience. Read on to learn more about the range and performance and decide which model is right for you.
Specifications Overview
Both the pure Electric variant and the plug-in hybrid have several similarities and share the same specifications lineup. However, there are some key differences in their engines and performance, which are summarised below.
| | MX-30 EV | MX-30 R-EV |
| --- | --- | --- |
| Specification levels | Prime - Line, Exclusive – Line, Makoto | Prime - Line, Exclusive – Line, Makoto, Edition R |
| Battery Capacity | 35.5kWh 355V lithium-ion | 17.8kWh 355V lithium-ion |
| Motor and Engine | 79.2 kW electric motor | 125kW electric motor and 830cc single rotor rotary engine |
| Fuel tank capacity | 0 | 50 litres |
| Range fully electric mode | 124 miles | 53 miles |
| Total Range | 124 miles | 373 miles |
| Total Power Output | 143hp | 168hp |
| Transmission | 1 speed automatic | 1 speed automatic |
| Maximum Output and torque | 145ps and 271Nm | 170ps and 260 Nm |
| Charging time (20-80%) using 50kW charger | 30 minutes | 25 minutes |
| Acceleration (0-62mph) | 9.7 seconds | 9.1 seconds |
| Top Speed | 87mph | 87mph |
| Battery Weight | 355kg | 188kg |
| Weight | 1,600kg | 1,731kg |
| CO2 emissions | 0g/km | 21g/km |
| Dimensions | (L): 4,395mm | (L): 4,395mm |
| | (W): 2,035mm | (W): 2,035mm |
| | Wheelbase: 2,655mm | Wheelbase: 2,655mm |
Table of Contents
Mazda MX-30 e-SKYACTIV EV
The MX-30 EV is the first Mazda to come equipped with Mazda's new electric drive technology, known as e-SKYACTIV. Despite several differences in the interior and exterior features in the various spec levels, the engine specification is the same for all vehicles.
Engine Spec
The MX-30 EV comes with a front-wheel drive powertrain and combines a 79.2kW AC synchronous electric motor with a 35.5kWh lithium-ion battery, giving a total power output of 143hp. Going from 0 – 62mph takes 9.7 seconds – slightly longer than its hybrid counterpart. Although the Mazda MX-30 has a smaller battery than many other fully electric vehicles (resulting in a smaller-than-average driving range), the upshot is that the battery is cheaper and cleaner to manufacture and is lighter and, therefore, more efficient to drive.
Range
As a result of the smaller battery, the Mazda MX-30 offers a range of 124 miles on a fully charged battery.
Charging time
In addition to environmental considerations, the charge time is another upshot of the smaller battery. Topping up the battery from 20% to 80% using a 50kW charger takes just shy of 30 minutes, so although the range may be small, topping up while out and about doesn't take very long. A full recharge using a 7kW wallbox at home takes about six hours.
Towing capacity
As with many EVs, the MX-30 EV has a modest towing capacity of 800kgs (braked) and 750kgs (unbraked).
Since the launch of the MX-30 EV, feedback from existing owners has been overwhelmingly positive. The National Car Buyers Survey (NCBS) showed the Mazda MX-30 scored highest in "ease of driving" and "equipment levels" when compared to competitors such as the Hyundai Ioniq 5, Polestar 2 and VW ID.3. This is unsurprising given the low curb weight resulting in a fantastic and responsive drive.
Mazda MX-30 R-EV
The Mazda MX-30 R-EV is a unique plug-in hybrid unlike any other. It uses a compact and lightweight single rotary petrol engine as a generator to power an electric motor, which then powers the vehicle. So, unlike many hybrid vehicles, where the engine alternates between using battery and petrol engines to power the car, the R-EV is solely driven by battery power- albeit that the battery is either charged through plugging it in or from the energy created by the rotary engine. This means that the drive of the Mazda MX-30 R-EV is like a pure electric car.
Engine Spec
Like the EV, the MX-30 R-EV has a front-wheel drive powertrain but a smaller battery than the MX-30 EV at 17.8Kwh. This is combined with a 125kWh electric motor to give a total output of 168bhp, so despite the R-EV being slightly heavier than the EV, the hybrid model is slightly faster than the pure EV and is capable of reaching a top speed of 87mph and can reach 62mph in 9.1 seconds.
Range
The Mazda MX-30 R-EV can deliver around 53 miles of pure electric range with a full charge. However, the 50-litre petrol tank fuelling the rotary engine increases the car's total range to 373 miles.
Charging time
Due to the smaller battery size, charging is faster than the MX-30 EV; however, it depends on your charge point. A 50kW rapid charger can take the battery 20 – 80% in as little as 25 minutes, while a 7.4kW AC home charger will take around 90 minutes.
Drive modes
The Mazda MX-30 R-EV has three different drive modes: Normal, EV and Charge.
Normal mode
When driving in Normal mode, the car prioritises using the electric motor with the rotary engine switched off. However, when the battery levels fall sufficiently low, or if more power is needed (for example, when overtaking), the petrol rotary engine will fire up to power the battery enough to keep the electric motor running.
EV mode
In EV mode, the car is forced to keep the petrol engine off for as long as possible. However, if the accelerator pedal is pressed hard and fast, the engine will still kick in to ensure enough system power.
Charge mode
Charge mode is designed to maintain a specific battery charge level during a journey that will allow pure electric running for a specific part of the journey – for example, when driving in a city or residential area with zero emissions. Drivers can set the target charge level for the battery in 10% increments. The generator will activate when the battery charge drops below the specified reserve level.
Conclusion
The decision to go for the MX-30 EV or R-EV will depend on personal preference and a number of driver and lifestyle preferences. Many drivers have welcomed the R-EV hybrid vehicle as the inclusion of a petrol engine mitigates any range anxiety they may feel compared to when driving a pure electric vehicle, offering far more flexibility for those with larger daily commutes or those who frequently travel long distances. However, with the UK average daily mileage at around 29 miles per day, the modest 124-mile range of the EV may well be enough for many drivers.
For the true environmentalists, one of the greatest assets of the MX-30 EV is its smaller battery, which significantly brings down fossil fuel emissions during the battery production process – the most significant contributor to an EV's overall carbon footprint.
If you want to find out more, read our complete guide to the Mazda MX-30.
Similar Articles
Mazda consistently delivers innovative vehicles to the market, and the MX-30 is no exception. The launch of the MX-30, Mazda's first pure electric vehicle (EV) in 2020 marked the first step in Mazda's roadmap towards electrification. Available as both a pure EV and a new plug-in hybrid R-EV, the Mazda MX-30 models combine a sophisticated […]
Available in both a pure EV and Plug-In Hybrid R-EV, the Mazda MX-30 is centred around the carmaker's Kodo design philosophy. The innovative design creates a lasting impression, and its exciting features and equipment make a thoughtfully curated interior that combines style, comfort, and functionality. From cutting-edge technology to the seamless fusion of sophistication and practicality, Mazda's commitment […]
In the ever-evolving landscape of compact crossover SUVs, Mazda has once again proved its expertise with the revolutionary Mazda MX-30. Captivating the hearts of automotive enthusiasts, the MX-30 brings forth a harmonious fusion of power, innovation, and striking design. This remarkable vehicle represents Mazda's commitment to a sustainable future while staying true to its century-old legacy […]