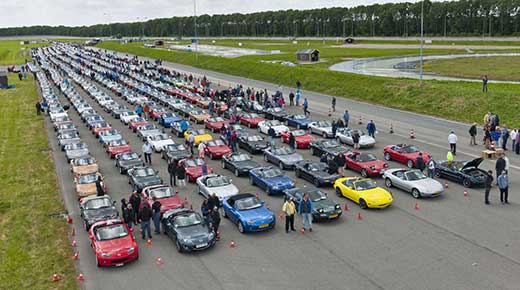 Mazda MX5 sets new world record
Fans of the Mazda MX5 have set a new world record by creating the largest parade of driving Mazdas ever.
A total of 683 examples of the famous Japanese two-set roadster gathered together at the 2013 MAX-5 event in Lelystadt, Holland to shatter the previous record of 459 Mazda MX5s set in Essen, Germany in 2010.
Leading the snaking procession of sports cars was Dutch TV personality Allard Kalff in his third-generation Mazda MX5 Racing. President and chief executive officer of Mazda Europe, Jeff Guyton, who received the official certificate from Guinness World Records, joined Kalff in the passenger seat.
It's difficult to know exactly what spec all 683 vehicles attending were in, but even if all were the most basic, original 115hp 1.6-litre models, that means a total of over 78,500hp was on show last weekend.
The record just goes to prove the appeal of Mazda's superb sports car, and that even the original – now approaching 23 years old – is still a brilliantly agile two-seat proposition for those summer drives.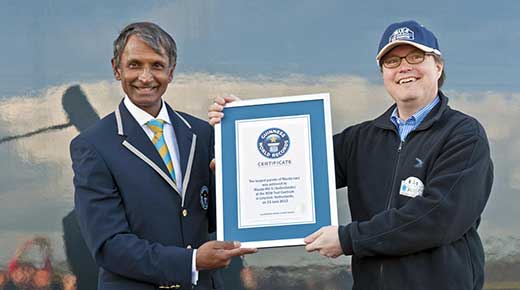 Even the early 1.6-litre cars and classic mk2 1.8 vehicles are still fast, with the crisp and revvy four-cylinder engine responding strongly. 0-62mph takes 8.1 seconds in mk1 cars, with the most modern Mazda MX5 completing the same 0-62mph sprint in a range best of 7.6 seconds.
Despite the impressive new world record, it's a fraction of the total Mazda MX5s ever produced, with over 735,000 being sold worldwide over the car's 23-year-life span.
It's amazingly reliable, too, which is why the MX5 is destined to become a classic – prices are already shooting up, so bag yourself a sound used example now, and you could be in the money in a few years time.
Supporting the massive crowd of Mazdas were cars from the Mazda MAX-5 cup and a special three-rotor-engined Mazda, giving special demonstration runs on track.
Owners could also get a taste of the on-circuit action, with the race simulators available, replicating the banked track and Mazda's new i-Activesense technology – a vehicle system which helps drivers recognise hazards and avoid or reduce the severity of an accident.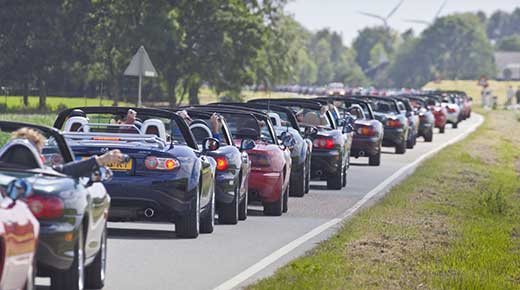 Under the i-Activesense umbrella sits Smart City Brake Support – a system that can sense an object in front of you, such as a pedestrian or slowing car, and actively apply the brakes to avoid or lessen the impacts of any potential incident – lane departure warning, adaptive headlight systems and rear vehicle monitoring.
Have you witnessed any of Mazda's latest safety systems work? What did you think to their performance? Let us know below or on twitter @twwhiteandsons. Alternatively find us on Facebook.
Maybe you're after a classic Mazda MX5, or have you owned one in the past? We want to hear what's on your wish list or some classic stories from your time as an owner.
Similar Articles
Mazda consistently delivers innovative vehicles to the market, and the MX-30 is no exception. The launch of the MX-30, Mazda's first pure electric vehicle (EV) in 2020 marked the first step in Mazda's roadmap towards electrification. Available as both a pure EV and a new plug-in hybrid R-EV, the Mazda MX-30 models combine a sophisticated […]
Available in both a pure EV and Plug-In Hybrid R-EV, the Mazda MX-30 is centred around the carmaker's Kodo design philosophy. The innovative design creates a lasting impression, and its exciting features and equipment make a thoughtfully curated interior that combines style, comfort, and functionality. From cutting-edge technology to the seamless fusion of sophistication and practicality, Mazda's commitment […]
In the ever-evolving landscape of compact crossover SUVs, Mazda has once again proved its expertise with the revolutionary Mazda MX-30. Captivating the hearts of automotive enthusiasts, the MX-30 brings forth a harmonious fusion of power, innovation, and striking design. This remarkable vehicle represents Mazda's commitment to a sustainable future while staying true to its century-old legacy […]