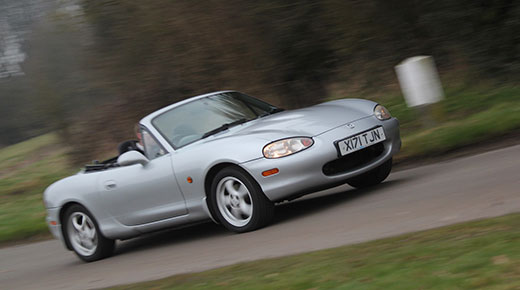 Driven: classic Mazda MX5 review
Following its introduction in the UK in 1990, the Mazda MX5 has cemented itself as a seminal sports car, blending the character and involvement of a classic '60s British convertible with the performance, agility and safety of more modern vehicles – there's a reason why it's a modern classic you know…
And as luck would have it, we managed to get into a real-world Mazda MX5 mk2 example to put the vehicle through its paces in a retro road test.
In fact, it's testament to the reliability that we were presented with the spindly key to the X-reg MX5.
A little bit of background on the car: it's actually owned by Warranty Direct. The Mazda MX5 was the only car to feature two incarnations in Warranty Direct's most reliable cars survey over its 15-year history.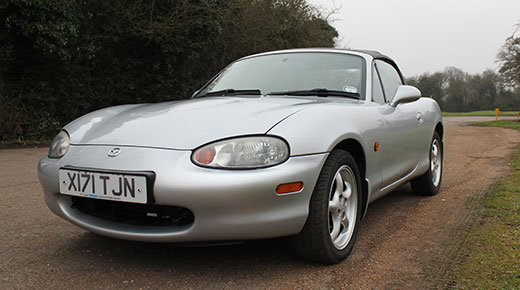 As a result, the company put its money where its mouth is and purchased a 12-year-old X-reg mk2 MX5 with 80,000 miles on the clock for just £1,900.
Jumping into the car the interior still feels fresh and functional and the 140hp 1.8-litre twin-cam four-cylinder engine still feels crisp and responsive.
It's just the right amount of power, too. Unlike modern turbocharged sports cars, you have to rev the Mazda to get it moving – but that's part of the experience, and it's a sweet engine to rev out.
It means you engage with the wonderfully snicky, short throw five-speed gearbox and dial yourself in to the powertrain to the point where you make gear changes and hit the throttle on the exit of corners instinctively.
The steering is light, but gives a strong amount of feedback as to what the front tyres are doing. It's accurate, too, and compliments the car's darting agility thanks to its little-more-than-a-tonne kerb weight.
In fact, that's where the enjoyment really comes from. The lack of weight compared to most modern cars is palpable – the new Mazda MX5 is positively a featherweight by modern standards, weighing 1,150kg, but the mk2 variant is almost 10% lighter again.
It's still fitted with power steering, ABS and a CD player, so safety and comfort aren't bad.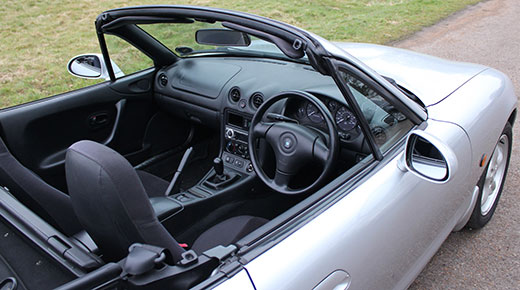 Thanks to its low weight, the suspension doesn't have to contend with much mass, meaning it's soft and compliant, damping out severe bumps and more gentle undulations with ease even after 12 years and 80,000 miles under its wheels.
The Mazda MX5 mk2 is all about the driving experience and the purity of the messages the car gives to you.
Add in the ability to remove the roof, and things get better again. A strong heater means a warm hat is sufficient for cold conditions, but having sky above you as you blat the mini Mazda down a back road transforms the experience. If you didn't click with the car before, you will with the cloth top folded.
The Mazda MX5 mk2 has reminded us of just how good earlier versions of the Japanese two-seat roadster is, but also how true to the original concept the early 2000s cars and today's modern MX5s are.
All the traits are there – an involving and interesting powertrain, a sublime chassis that blends dynamic ability with comfort and refinement, looks, and even practicality (the boot is big enough for two overnight bags).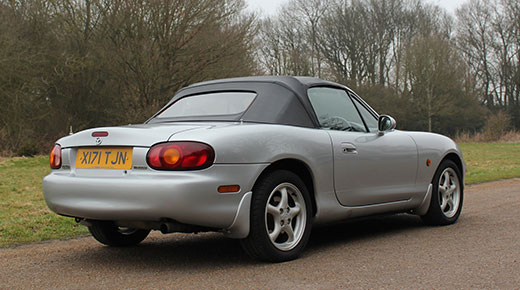 It's got us so interested that we're planning more, so keep an eye out for our Mazda MX5 used car buying guide.
In the meantime, why not let us know your thoughts on Mazda's simple but superb MX5 sports car. Have you owned and run one? Or maybe you just got behind the wheel for a fleeting few miles? Share your experiences below.
---
T W White & Sons have represented Mazda since 1984, bringing to you the latest MX-5's and RF's offering and deals. We also have a vast array of used Mazda approved MX-5's – All with a comprehensive three years parts and labour warranty, backed by RAC, 12 month RAC breakdown cover and MOT test insurance, giving you total peace of mind. Keep an eye on our Stock list here – Mazda MX-5 approved used stock.
Contact us now, and arrange a test drive at either of our Mazda showrooms in Surrey or Kent.
Similar Articles
Mazda consistently delivers innovative vehicles to the market, and the MX-30 is no exception. The launch of the MX-30, Mazda's first pure electric vehicle (EV) in 2020 marked the first step in Mazda's roadmap towards electrification. Available as both a pure EV and a new plug-in hybrid R-EV, the Mazda MX-30 models combine a sophisticated […]
Available in both a pure EV and Plug-In Hybrid R-EV, the Mazda MX-30 is centred around the carmaker's Kodo design philosophy. The innovative design creates a lasting impression, and its exciting features and equipment make a thoughtfully curated interior that combines style, comfort, and functionality. From cutting-edge technology to the seamless fusion of sophistication and practicality, Mazda's commitment […]
In the ever-evolving landscape of compact crossover SUVs, Mazda has once again proved its expertise with the revolutionary Mazda MX-30. Captivating the hearts of automotive enthusiasts, the MX-30 brings forth a harmonious fusion of power, innovation, and striking design. This remarkable vehicle represents Mazda's commitment to a sustainable future while staying true to its century-old legacy […]