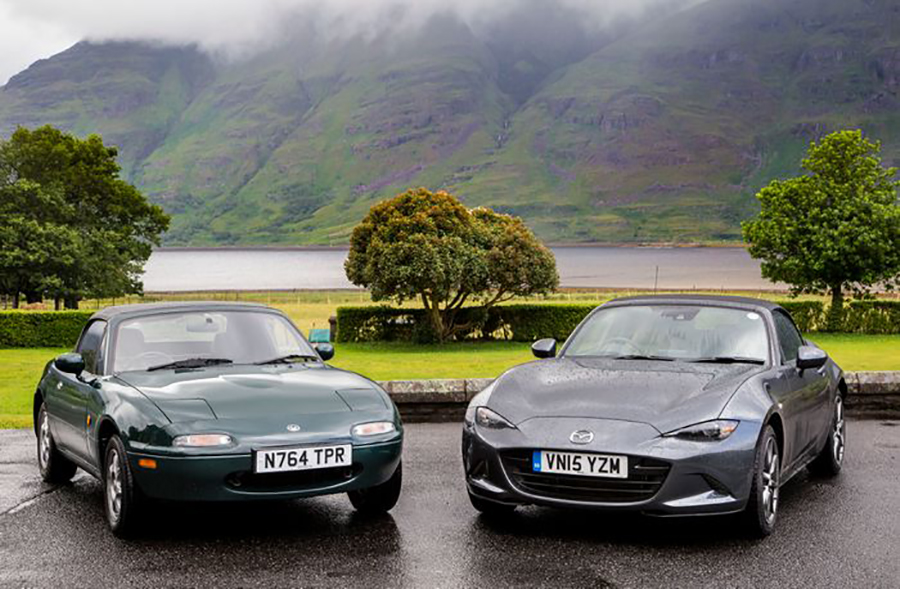 Classic Mazda MX5 buying guide
Following our review of the mk2 classic Mazda MX5, we've been thinking just how strong a used proposition either Mazda's first- or second-generation two-seater sports car is. So we've put together a used buying guide for the classic version of this iconic Japanese roadster, detailing out the most important things to check for to make sure you bag a good one.
Classic Mazda MX5 guide
ENGINES AND GEARBOX
In both the first and second generations of Mazda MX5, the engines are strong and reliable.
The original Mk1 cars come with either a 114hp 1.6-litre unit or a more powerful 1.8, putting out 128hp. In  1995 it was upgraded to a 133hp unit.
Mk2 cars also come with the same choice of engine capacity, with the smaller engine kicking out a gutsy 110hp while the larger 1.8 litre engine produces 140hp. Cars produced after 2001 produce 146hp.
Ultimately, the motors are reliable (would you expect anything less from a Mazda?) and love to be revved, so produce peak power when working at the higher end of the rpm band.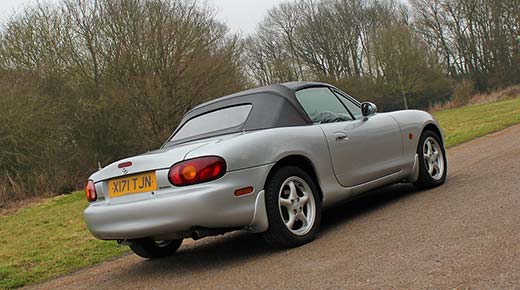 As expected, the 1.8 unit feels more punchy, but expect lower fuel efficiency over the smaller, more economical 1.6 varients. That said, the Mazda's low kerb weight (MK1 models come in at bang on a tonne, and even the more refined mk2 cars weigh little more) should mean fuel efficiency is still relatively strong.
However, who said saving petrol and economical driving is what an MX5 is about? It's not. This is a sports car through and through, and was designed to be used as such.
There are some things to look out for, though. Make sure any potential purchase has been properly serviced throughout its life, with all oil and filter changes carried out at the correct intervals – as well as clearance checks and new belts – and the right replacement parts and lubricants used.
All mk1s came fitted with a five-speed manual gearbox, with the same unit fitted to most mk2s. The early MK2 1.8 litre versions were offered with six-speed transmission, while latter Mk2 1.8litre versions were produced with the six-speed gearbox as standard. The six speed gearboxes offer closer ratios, meaning the engine is functioning in its "sweat-spot" more than the five-speed models.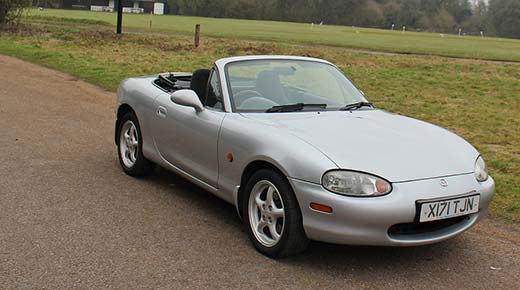 Reliability wise, both gearboxes are fairly similar, and its more a case of personal preference when behind the wheel. Even in cars with high mileage, however, the transmissions should feel nicely loose and willing to change gear, with a slick but positive mechanical action. The MX-5 has a weighted gearknob, creating a "positive shift" feel. This is all part of the drive experience, and if the gear changes feels sloppy, there could be something wrong with the selection mechanism.
MX5 CHASSIS
On the whole, both mk1 and mk2 Mazda MX5s have a strong build structure. However, these vehicles are now getting older –with the original MK1 MX-5s now being in their late 20s now! As such, it is important to perform regular checks and small maintenance jobs to keep them in tip-top condition, and to properly inspect the bodywork of any MX-5 you are considering buing.
For example, ensure drain holes aren't plugged and are flowing freely, allowing any accumulated water to dissipate easily. If these become plugged, items such as doors and sills can hold water, leading towards rusting and corrosion.
Ensure you check the state of the chassis underneath, and especially close to the jacking points for any signs of wear or repair work which may indicate a future of expensive work needed!
Don't instantly assume it's a bad thing if welding work has been carried out professionally. If done properly, this should prolong its life and mean the car is up to standard.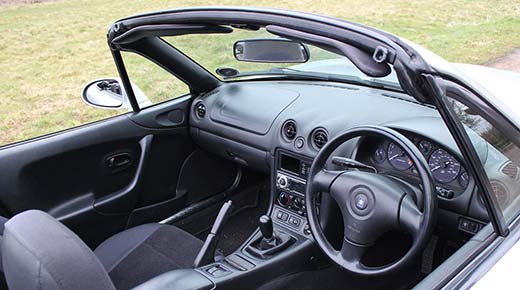 It's also worth checking areas such as wheel arches and subframe braces for signs of deterioration. This is true for both original UK spec cars and any imports – don't assume that because the Japanese don't grit salt their roads that an imported car will be automatically free of any problems – most imports are now nearly a decade old (minimum).
That said, there are still a number of incredibly well cared for examples out there and many of these are still close to pristine – It's worth waiting, and paying a little more money for one of these prized examples.
MX5 BRAKES
With not much weight to stop, the classic Mazda MX5's brakes are strong performers and shouldn't be a problem. Make sure brake pads and discs have been changed at the correct intervals though, as just like any car, poor maintenance can cause wear outside tolerances to arguably the most important aspect of the vehicle in terms of safety. However, this is something that isn't hard or particularly expensive to rectify, so if you find one in good condition otherwise, it's worth negotiating on the price so you factor in having the brake pads (and discs) replaced.
Some later mk1 vehicles got ABS anti-lock brakes, while all mk2 vehicles received this feature as standard. Consider this option seriosuly before you buy a car, depending on what you're looking for from your MX5.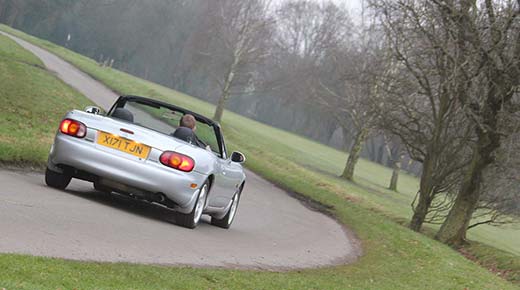 MX5 ELECTRICS
Electronic reliability is a classic Mazda MX5 strong point. If a vehicle has a heated rear windscreen, make sure the system is working, as the folding of the hood can sometimes cause minor problems with wiring.
Apart from that, the car's electrics should be good. The only other known – and very minor – issue is that electric windows sometimes fail, but it isn't due to the circuits, switches, or the motors.
The glass can sometimes stick inside its rubber runners and a liberal spray of silicon grease will cure the problem.
MX5 HOOD/ROOF
The hood on both mk1 and mk2 Mazda MX5s is a durable item, remaining waterproof in the most part despite its years – potentially quite a few of which may have been spent outside.
Some seals can perish with age, letting drops of water in at the corners of the roof or above the windows. However, these are inexpensive to replace and should really be budgeted either soon after purchase, or at some point in the future of MX-5 ownership.
Another thing to check carefuly are the catches on the header rail above the windscreen. Check they are functioning properly, too, as these (very rarely) do wear, meaning the top doesn't properly latch. Be careful if you are viewing a car with the roof down, and ensure you put it up and down several times to check its operation.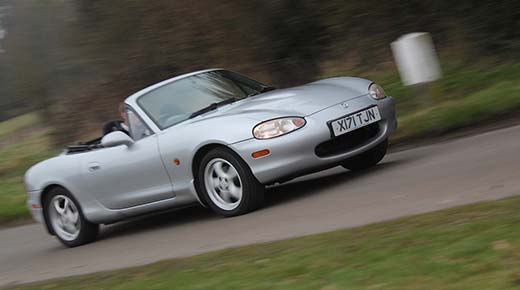 MX5 STEERING AND SUSPENSION
The incredible steering is one of the great attributes of the MX-5. Both mk1 and mk2 variants get power assisted setups, although Series 1 cars are arguably purer in terms of feel and feedback than later vehicles, interestingly, exactly the drive feel Mazda have later returned to with their latest MK4 generation model.
Mechanically the setup is sound, with the only real precautionary checks needed on power steering pump lines to ensure you catch any corrosion early.
The same goes for the suspension. The springs and dampers have to control a relatively low mass, so aren't loaded particularly hard. The car manages to be supple and compliant yet taut and controlled – a very clever trick and the sign of a brilliantly engineered chassis.
Double check the condition of the springs, checking for any corrosion or cracks, as well as oil leaks from the suspension dampers themselves. The springs do corrode, so its worth getting down on your hands and knees and checking the underneath carefully.
MX5 SAFETY
Despite its age, safety is still strong on the classic Mazda MX5. Only the post-2001 mk2 variants were put through Euro NCAP's rigorous crash safety tests, recording a strong result of four stars.
ABS is available on later Series 1 vehicles and is fitted as standard on Series 2 cars, while features such as extra bracing between subframes and seat belt towers – as well as strong side impact door beams – were fitted to all cars.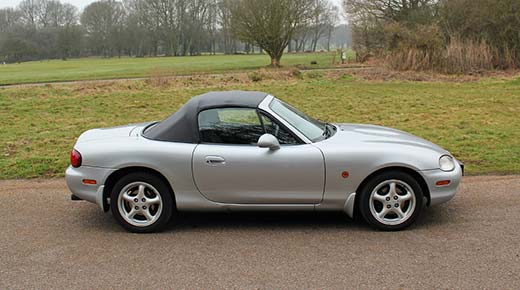 MX5 INSURANCE
Although you can expect to pay more to insure an imported MX5 compared to a UK-spec car, on the whole, insurance costs are relatively cheap. The combination of low power and a chassis that involves means the car is a low insurance rating (from group 23 to 29 out of 50) for a sports car, which can make it a very attractive proposition to many drivers.  A cheap to run and insure sports car with amazing dynamic ability to thrill and excite – what's not to like?
Not all cars – mk1 and mk2s – received any anti-theft equipment, so consider fitting an aftermarket alarm and immobiliser system to further help bring down insurance premiums.
MX5 REPLACEMENT PARTS AND REPAIRS
Should you need to either replace or repair anything on your second-hand classic Mazda MX5, there are a number of aftermarket parts suppliers and specialists in the UK who can help.
The popularity of these cars in Britain means there's a big scene for MX5 owners and therefore a large database of knowledge and expertise to call on should you need some advice.
All that's left to do now is go and hunt the classifieds for the perfect used Mazda MX5. Just remember to do your research and thoroughly check every car you view.
Don't be tempted to buy the first one you see, unless you're sure it's in perfect condition. Miles of smiles behind the wheel of this iconic Mazda sports car await…
---
T W White & Sons have represented Mazda since 1984, and are one of the largets and longest established dealerships in the United Kingdom. As well as offering Brand new MX5 Convertible and MX-5 RF's we also have a vast array of used Mazda approved MX5's – All which come with a comprehensive three years parts and labour warranty, backed by RAC, 12 month RAC breakdown cover and MOT test insurance, giving you total peace of mind. Keep an eye on our Stock list here – Mazda MX5 approved used stock. And while we don't typically stock any Mk1 or Mk2 models, our enthusiastic aftersales department will always be happy to offer help and advice on any service/care related questions you may have about your (potential) new car.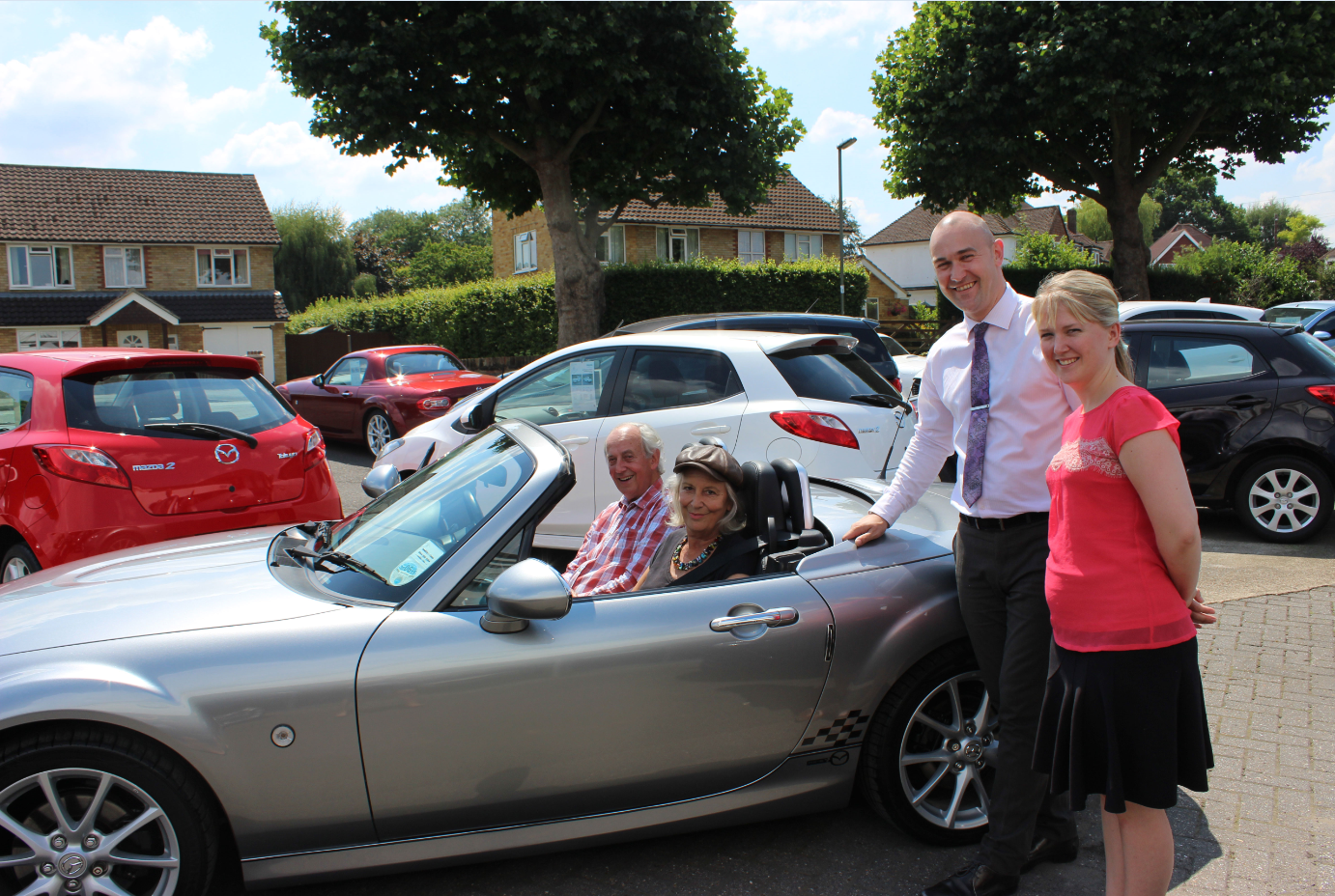 Similar Articles
Investing in a new car is a big decision, so you want to ensure that you pick the purchase or finance option that's right for you. You can buy a vehicle outright, but most people tend to opt for one of the finance options available. Car finance allows you to spread the cost of the […]
While buying a brand new car might be alluring, and being the first driver registered to the car certainly has its benefits, it's not necessarily the right choice for you. Before you make you decide, read our guide to pre-registered vehicles to see if it's the best option for your needs. When it's time to […]
Dispelling the myths and misconceptions surrounding average speed cameras, we get down to the truth of how they work and how you can avoid getting fined. While we can all understand the need to monitor speeds from a safety perspective, no one like seeing the yellow of a speed camera in the road ahead. With […]