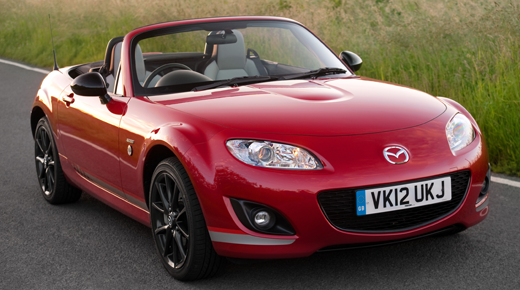 Mazda MX5 crowned Britain's most reliable car
The Mazda MX5 has been ranked as the most reliable car in Britain, according to What Car? magazine. The publication's annual reliability survey analysed over 50,000 vehicles, confirming the Mazda's number one position.
The consumer-focused magazine found that 96 per cent of MX5 sports cars built after 2005 are running completely fault-free.
The two-seater recorded a failure rate of just four per cent, the lowest of all cars in the 2012 survey and a significant way ahead of its next closest open-top rival at 15 per cent.
The impressive 96 per cent of fault-free vehicles meant the Mazda MX5 achieved an excellent Reliability Index score of just eight, a massive 92 points ahead of the national average.
The Reliability Index is calculated from the survey's results, as a function of the number of times a car fails, the cost of repair, the average time it spends off the road being repaired, its age and its mileage.
Even on the rare occasion the post-2005 Mazda MX5 model goes wrong, it was found that owners benefit from the lowest repair costs, with an average bill of just £165 to rectify the problem.
Mazda UK Aftersales Director, David Wilson-Green:
"It's no surprise that the MX5 scored so highly in the What Car? annual survey. The car has won many awards over the years and regularly achieves excellent reviews in the national media for the pure driving enjoyment it provides and its distinctive good looks.
"Our Japanese brand is renowned for its engineering expertise and for its remarkably reliable models."
For more information and special offers on the Mazda MX5 – the world's best-selling two-seater sportscar – visit our website today or drop into our dedicated Mazda showrooms in Bookham, Surrey and Orpington, Kent today.
Similar Articles
T W White and Sons are excited to announce that we have moved our longstanding Bookham dealership from its Lower Road location to the A246 Guildford Road, Bookham KT23 4HY. This heralds a new era for the Bookham branch which has been sited on Lower Road for nearly 40 years. We're very excited to welcome […]
The Ultra Low Emission Zone (ULEZ) in central London was introduced in April 2019. The ULEZ enforces a fee on certain vehicles driving through the designated area based on the manufacturer's declared emissions levels. Essentially, any car, motorbike, van, bus, coach or lorry used in the ULEZ zone must meet the minimum ULEZ emissions standards […]
Yet more awards for the Mazda 3, as it is crowned Best Small Hatchback at the 2020 UK Car of the Year Awards. In a world that seems dominated by SUVs, there's one car that proves why there will always be room for the hatchback – the All-new Mazda 3. It's already received plenty of […]