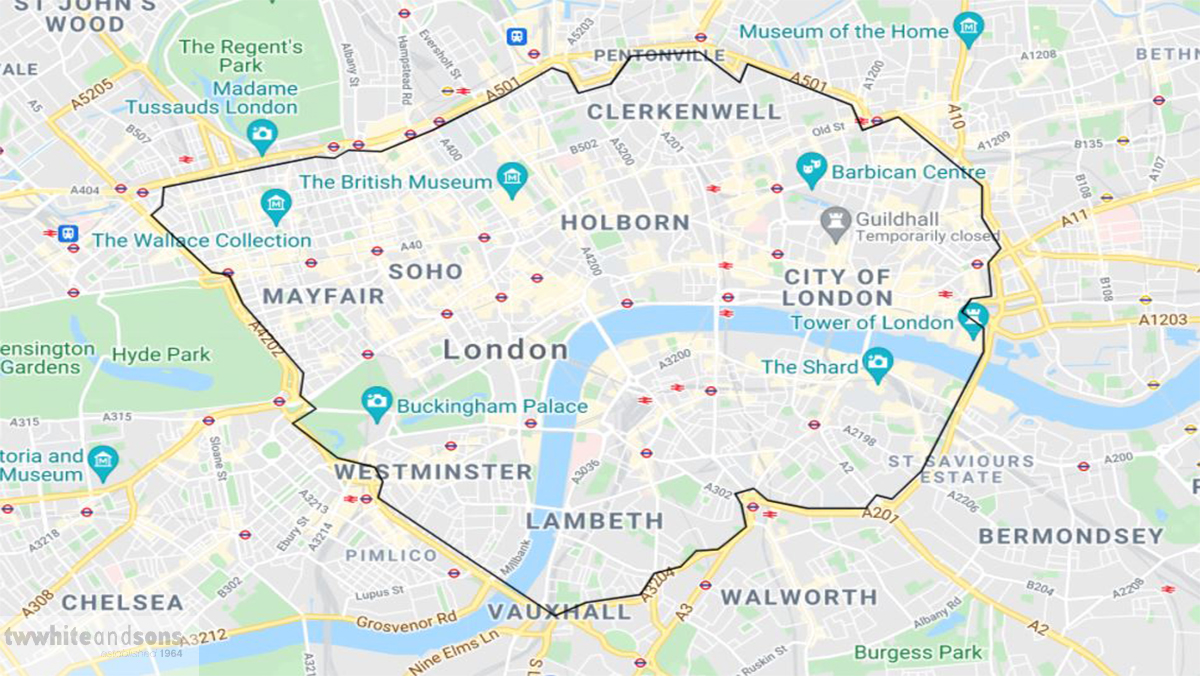 ULEZ Expansion, the upcoming changes to the Ultra Low Emission Zone
The Ultra Low Emission Zone (ULEZ) in central London was introduced in April 2019. The ULEZ enforces a fee on certain vehicles driving through the designated area based on the manufacturer's declared emissions levels. Essentially, any car, motorbike, van, bus, coach or lorry used in the ULEZ zone must meet the minimum ULEZ emissions standards or pay a daily charge.
The scheme was set out to reduce air pollution levels and carbon emissions from concentrated, large volumes of road traffic. While significant progress has been made since the launch, ULEZ has helped reduce the number of polluting vehicles in central London by 17,400 per day. As a result, the Mayor of London has announced plans to expand the ULEZ, which will come into effect in October 2021.
Aside from the expansion plans, the current operation times, vehicle criteria, charges and exemptions remain the same. So, to help you understand the changes, we've put together this short guide.
What and where are the upcoming ULEZ expansion changes?
As illustrated in the map, the ULEZ currently covers the same area as the Congestion Charge, which is most of central London, including the City and Westminster areas and the City of London.
From 25 October 2021, ULEZ is expanding to encapsulate a larger area of London which lies within the North Circular Road (A406) and South Circular Road (A205). However, the North and South Circular roads themselves are not included in the zone.
To find out if your journey or destination lies within the ULEZ, Transport for London have created a postcode checker where you can enter the street name, postcode or landmark when planning your journey.
Road signs have also been put up, signalling to drivers when entering the zone and third-party GPS applications alert drivers. There are no barriers or toll booths; instead, cameras will read your number plate as you drive within the zone and check your vehicle against a database.
What hours does the ULEZ operate?
The ULEZ operates 24 hours a day, 7 days a week, every day of the year except Christmas Day.
The ULEZ charge is not to be confused with the Congestion Charge, which operates between 07:00-22:00 every day of the year, except Christmas Day.
What is ULEZ compliant, and what are the emission standards?
In 1992 the European Commission imposed emission regulations on vehicles to protect air quality and reduce greenhouse gas emissions. As a result, car manufacturers wanting to sell their cars within the EU member states must meet the acceptable limits of exhaust emissions.
Euro 6 is the current guidelines, introduced in September 2015, with which manufacturers must comply. The aim of Euro 6 is to reduce levels of harmful vehicle exhaust emissions, both in petrol and diesel engines, by requiring the best technology available.
Which vehicles are affected by ULEZ?
The ULEZ emission standards use the Euro 1 – 6 rating system to determine which cars will have to incur the daily charge:
Cars affected by ULEZ
Petrol cars: need to meet Euro 4 (NOx)
Petrol cars that meet these current requirements are generally those first registered with the DVLA after 2005, although cars that meet the standards have been available since 2001.
Diesel cars: need to meet Euro 6 (NOx and PM)
Diesel cars that meet current standards are largely those first registered with the DVLA after September 2015.
Motorcycles, Mopeds, Motorised tricycles, Quadricycles affected by ULEZ
All the above vehicles need to meet Euro 3 (NOx)
In general, Euro 3 engines as those registered with the DVLA after July 2007.
Vans, minibuses and other vehicles affected by ULEZ
Petrol: Euro 4 (NOx)
All petrol vans registered with the DVLA from January 2006 meet the Euro 4 standards
Diesel: Euro 6 (NOx and PM)
All-new diesel vans sold from September 2016 predominantly meet the Euro 6 standard
Vehicles included under this category are:
Small vans (weighing up to and including 1.205 tonnes unladen weight)
Larger vans, 4X4 light utility vehicles, motorised horseboxes, pickups (over 1.205 tonnes unladen weight up to and including 3.5 tonnes gross vehicle weight)
Ambulances and motorcaravans (2.5 tonnes to 3.5 tonnes)
Minibuses (more than 8 passenger seats, not over 5 tonnes)
Lorries, coaches and larger vehicles affected by ULEZ
All vehicles in this category will need to meet Euro 6 (NOx and PM).
Vehicles included are:
Lorries
Buses* and coaches (more than 8 passenger seats, over 5 tonnes gross vehicle weight)
Motorised horseboxes (over 3.5 tonnes gross vehicle weight)
Breakdown and recovery vehicles
Snow ploughs
Gritters
Refuse collection vehicles
Road sweepers
Concrete mixers
Fire engines
Tippers
Removals lorries (over 3.5 tonnes gross vehicle weight)
* Buses operated under contract to TfL are not exempt from the ULEZ
For ease, Transport for London has an online vehicle checker where you will be able to find out if your vehicle will be subject to the ULEZ charge or not.
Non-UK registered vehicles are also affected under ULEZ.
Which vehicles are exempt from ULEZ?
Hybrid and electric cars
Hybrid cars with a petrol engine must comply with Euro 4 regulations
Diesel hybrids are only ULEZ-exempt if they meet Euro 6 standards
Which drivers are exempt from ULEZ?
There are several exemptions in place for Londoners, drivers and vehicles. Terms and conditions can be found on the Transport for London website:
Residents
Vehicles for disabled people
Taxis
Private hire vehicles (PHVs)
Historic vehicles
Other exempt vehicles
Discount for showman's vehicles
Minibuses used for community transport
How does ULEZ impact Mazda and Suzuki vehicles?
Whilst this is specifically an EU regulation, countries outside of Europe such as Japan have complied with these European regulations and the associated mandates for cleaner, efficient engines.
Mazda have introduced both SKYACTIV-D Diesel and SKYACTIV-G petrol engines, which are available across the entire new Mazda range and exceed Euro 6 emissions standards. Therefore, complying with the ULEZ standard.
The complete new Suzuki range is also Euro 6 compliant, also complying with the ULEZ standards.
What are the ULEZ charges?
If your vehicle does not meet the requirements of ULEZ, the daily charge is:
£50 for cars, motorcycles and vans (up to and including 3.5 tonnes)
£100 for heavier vehicles including lorries (over 3.5 tonnes), buses and coaches (over 5 tonnes)
This daily charge is in addition to the Congestion Charge if you drive in central London as well.
If you drive within the ULEZ area across two days, you will need to pay two daily charges. The charges apply to any journey short or long when entering the zone. However, if you are parked within the zone but do not drive, you will be exempt from paying the ULEZ charge.
How to Pay ULEZ? Penalty if you don't pay?
There are several ways to pay for the charge incurred: Auto Pay, TfL Pay to drive in London app, or over the phone. However, it is recommended to avoid paying through unofficial websites, which may not be secure and mislead you.
Any driver has up until midnight on the next working day after the first day of travel to pay the charge; otherwise, a Penalty Charge Notice for ULEZ will be issued. Fines will vary depending on the vehicle.
If you have any questions about your vehicle and ULEZ, please feel free to get in touch with a member of our team at T W White and Sons who will be delighted to assist. 
Similar Articles
T W White and Sons are excited to announce that we have moved our longstanding Bookham dealership from its Lower Road location to the A246 Guildford Road, Bookham KT23 4HY. This heralds a new era for the Bookham branch which has been sited on Lower Road for nearly 40 years. We're very excited to welcome […]
The Ultra Low Emission Zone (ULEZ) in central London was introduced in April 2019. The ULEZ enforces a fee on certain vehicles driving through the designated area based on the manufacturer's declared emissions levels. Essentially, any car, motorbike, van, bus, coach or lorry used in the ULEZ zone must meet the minimum ULEZ emissions standards […]
Yet more awards for the Mazda 3, as it is crowned Best Small Hatchback at the 2020 UK Car of the Year Awards. In a world that seems dominated by SUVs, there's one car that proves why there will always be room for the hatchback – the All-new Mazda 3. It's already received plenty of […]