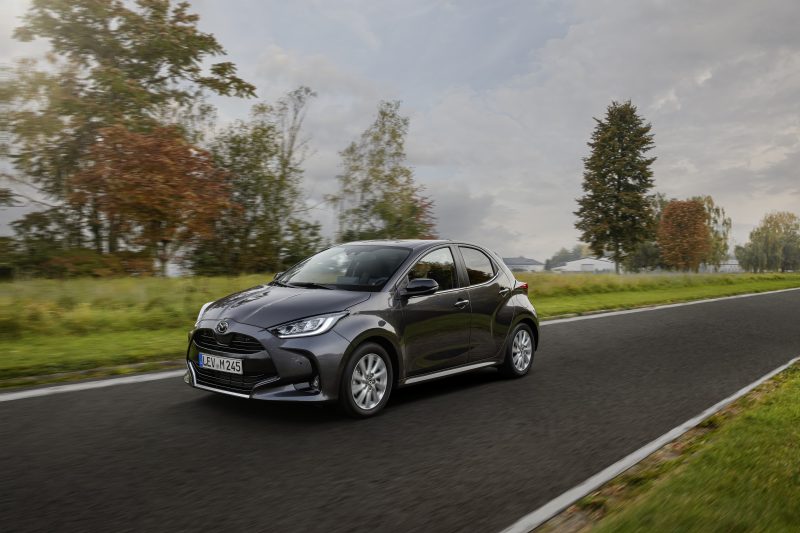 The all-new Mazda 2 Hybrid
The  Mazda 2 has just launched a new model to the award winning compact city car line up: the all-new Mazda 2 Self-Charging Full Hybrid. A collaboration using class leading Toyota hybrid technology, Mazda 2 Hybrid will help drive Mazda's commitment to a more sustainable future. The full hybrid supermini hatchback has two different power sources (petrol and electric), with three spec grades referred to as Pure, Agile, Select and seven new exciting colours to choose from. Available on sale in the UK now alongside the new Mazda 2 SKYACTIV model, offering customers a wider choice than ever before.
Using smart hybrid technology, the Mazda 2 hybrid requires no plug in but has the ability to drive in 'Electric Vehicle Mode' when operating from standstill to low speeds, for a smooth, refined and economical drive. When driving faster or when the battery runs low, the petrol engine kicks-in, switching into 'Power Mode' like a regular petrol-powered car.
Engine & Transmission updates – advantages of the Mazda 2 Hybrid
The Mazda 2 Hybrid is powered by a 1.5-litre three-cylinder petrol engine and a 79bhp electric motor producing a total system output of 114bhp. With the combined performance of petrol and electric motors, the Mazda 2 Hybrid cleverly optimises the most energy efficient mode to suit your drive.
The lithium-ion battery is compact in dimensions and self-charges itself by recycling energy back into the battery when you brake, commonly known as regenerative braking. Therefore, the Mazda 2 Hybrid offers lower CO2 emissions in comparison to conventional engines (CO2 emissions between 92-87g/km) and when driving in EV only mode will generate ZERO emissions.
What you need to know – specification features and class-leading safety features
Best described as striking with a subtle muscular stance, the entry level Pure model includes 15-inch steel wheels, automatic windscreen wipers, air-conditioning and a seven-inch infotainment system. The in-car infotainment system provides seamless connectivity between Mazda 2 Hybrid and smartphones.
The middle of the range Agile grade comes with a reversing camera, keyless entry and an eight-inch infotainment system, whilst the top of the range Select options comes packed with 16-inch alloy wheels, electrically folding door mirrors, a wireless smartphone charger and interior ambient lighting. Furthermore, additional safety features include blind-spot monitoring, front and rear parking sensors and parking assist sensors.
Every car in the range comes equipped with the latest advanced and innovative driver-supporting safety technologies; pre-collision system with vehicle, day and night pedestrian and daytime cyclist detection, pre-collision braking and emergency steering assist and Dynamic Radar Cruise Control. Notably, the car performed impressively in all four Euro NCAP test categories achieving a maximum five-star rating.
Available alongside our Mazda 2 SKYACTIV, Mazda 2 Hybrid will soon be available to test drive at our Mazda dealerships located in Bookham, Weybridge and Orpington. For more details please speak to a member of our showroom teams.
Similar Articles
Mazda consistently delivers innovative vehicles to the market, and the MX-30 is no exception. The launch of the MX-30, Mazda's first pure electric vehicle (EV) in 2020 marked the first step in Mazda's roadmap towards electrification. Available as both a pure EV and a new plug-in hybrid R-EV, the Mazda MX-30 models combine a sophisticated […]
Available in both a pure EV and Plug-In Hybrid R-EV, the Mazda MX-30 is centred around the carmaker's Kodo design philosophy. The innovative design creates a lasting impression, and its exciting features and equipment make a thoughtfully curated interior that combines style, comfort, and functionality. From cutting-edge technology to the seamless fusion of sophistication and practicality, Mazda's commitment […]
In the ever-evolving landscape of compact crossover SUVs, Mazda has once again proved its expertise with the revolutionary Mazda MX-30. Captivating the hearts of automotive enthusiasts, the MX-30 brings forth a harmonious fusion of power, innovation, and striking design. This remarkable vehicle represents Mazda's commitment to a sustainable future while staying true to its century-old legacy […]