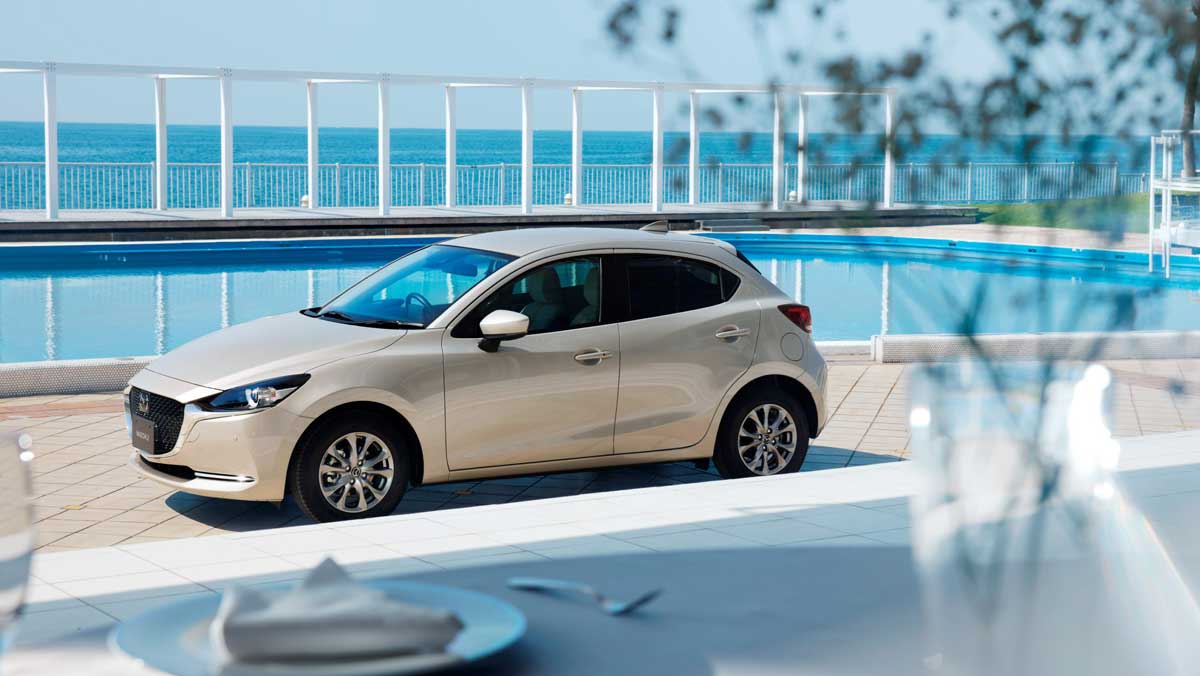 The New Mazda 2 2022
The new Mazda 2, is a perennially popular choice in the highly competitive city car market – competing with the likes of the Renault Clio, Skoda Fabia, Ford Fiesta and SEAT Ibiza.
The Mazda 2 can be split into 2 main derivatives. The Mazda 2 SKYACTIV and the Mazda 2 Hybrid – a brand new model introduced in 2022.
The Mazda 2 SKYACTIV 2022 has 4 models to choose from, and with huge improvements made in its eco credentials, safety and overall style, Mazda have pulled the stops out to produce a reliable, versatile all-around compact hatchback.
The new Mazda 2 trim levels include:
SE-L
Sport
GT Sport
GT Sport Tech
Engines and transmission available for the new Mazda 2:
The 2022 Mazda 2 SYACTIV sees the reintroduction of the 1.5-litre four cylinder Skyactiv-G petrol engine, which comes in three performance brackets:
115ps (GT Sport Tech)
90ps (GT Sport, Sport and SE-L models)
75ps (SE-L)
If you're an environmentally conscious driver, The Mazda 2 2022 features a solid set of eco credentials. Across all horsepower variants, the all-new Skyactiv-G features improvements in compression rates and exhaust manifolds that reduce CO2 emissions from previous models by up to 14g/km (around 13%), with the 90ps GT Sport, Sport and SE-L models coming in at 120g/km to 107g/km
For the very first time on a Mazda 2, the 90ps engine is also offered in GT Sport trim with a choice of manual or automatic transmission, with the high-end 115ps engine limited to manual only.
Mild Hybrid Engine
Apart from the SE-L version, all new manual variants of the new Mazda 2 2022 feature Mazda's SKYACTIV M Hybrid (mild hybrid) system. This popular feature allows you to get off to a quicker start from a standstill, by transferring power from braking and transferring it to the engine (and onboard electronics).
There's no plugging in or charging to worry about either, just a versatile, intelligent mild hybrid engine with an integrated starter generator (ISG) that gets you up to 60.1 mpg.
Don't confuse the Mild Hybrid engine of the Mazda 2 SKYACTIV with the Mazda 2 Hybrid model, which uses smart hybrid technology to switch the engine between electric, petrol, or a mixture of both.
Exterior Updates for the new Mazda 2
The Mazda 2 2022 has retained its universally popular KODO-inspired design aesthetic and stylish proportions, with the addition of a brand new colour to choose from – Platinum Quartz Metallic – as well as the standard 11 on offer from older models. Previously only available on Japanese versions of the new Mazda CX-8 and Mazda 2, Platinum Quartz Metallic is a gold-flecked, pearlescent colouring that provides an all-new elegance and mystique to the Mazda 2, using the ground-breaking Takuminuri painting process.
To help prevent bumps and scrapes, GT Sport models get a reversing camera as an added exterior feature as well as Colour Active Driving Display (head-up display), and the improved GT Sport Tech comes into its own with LED headlights, blind spot monitoring, rear smart city brake support and a high-res 360 degree camera.
Interior Updates for the New Mazda 2
The interior of the Mazda 2 has been given a substantial technological upgrade. The introduction of wireless Apple CarPlay (available on Sport trim and above) allows drivers to communicate with the outside world while they're on the road through a number of integrated features:
Use Apple Maps to get to your destination on time
Make and receive calls, with full voicemail functionality
Send messages direct from Siri on iOS
Access your Apple Music library
Calendar display
To accompany this, all models now benefit from a 7" HD touchscreen with an integrated multimedia wheel controller and a crystal-clear colour HUD on advanced models.
Overall, the Mazda 2 2022 looks and feels a lot more spacious and dynamic than previous versions, with the introduction of what Mazda calls the 'cockpit' zone – a series of design features that minimises driver distractions and focuses on safety and use-ability – a concept that's already featured in the sportier MX-5, but is now starting to make an appearance in Mazda's hatchbacks.
What are the different trim levels for the new Mazda 2
Mazda 2 SE-L
The Mazda 2 SE-L comes with Apple CarPlay® and Android Auto™ as standard. Basic models also feature an engine start button, and a hill launch option to keep you and your family safe and secure.
Mazda 2 Sport
The Sport grades are where the Mazda 2 starts to come into its own, with 16" bright alloy wheels, front and rear bumper mouldings, a stylish shark fin antenna and a keyless entry system. The Sport grade also features side and rear privacy glass as standard.
Mazda 2 GT Sport
For those who want to turn some heads, the GT Sport grades feature blue/grey leather seats with black Granlux® inserts and a range of luxurious interior features, including heated front seats, a heated leather steering wheel, a crystal-clear colour HUD and a reversing camera.
Mazda 2 GT Sport Tech
The top of the range GT Sport Tech has the 1.5-litre 115ps e-Skyactiv G and is jam-packed with additional safety features, including front and rear parking sensors, adaptive LED headlights and a versatile 360°, making it even easier to execute those tricky parking manoeuvres.
To find out more about the new Mazda 2, including the latest Mazda 2 offers and finance deals, please view our new car page, or don't hesitate to get in touch with our team at one of our Mazda dealerships located in Bookham, Weybridge and Orpington.
Similar Articles
Mazda consistently delivers innovative vehicles to the market, and the MX-30 is no exception. The launch of the MX-30, Mazda's first pure electric vehicle (EV) in 2020 marked the first step in Mazda's roadmap towards electrification. Available as both a pure EV and a new plug-in hybrid R-EV, the Mazda MX-30 models combine a sophisticated […]
Available in both a pure EV and Plug-In Hybrid R-EV, the Mazda MX-30 is centred around the carmaker's Kodo design philosophy. The innovative design creates a lasting impression, and its exciting features and equipment make a thoughtfully curated interior that combines style, comfort, and functionality. From cutting-edge technology to the seamless fusion of sophistication and practicality, Mazda's commitment […]
In the ever-evolving landscape of compact crossover SUVs, Mazda has once again proved its expertise with the revolutionary Mazda MX-30. Captivating the hearts of automotive enthusiasts, the MX-30 brings forth a harmonious fusion of power, innovation, and striking design. This remarkable vehicle represents Mazda's commitment to a sustainable future while staying true to its century-old legacy […]