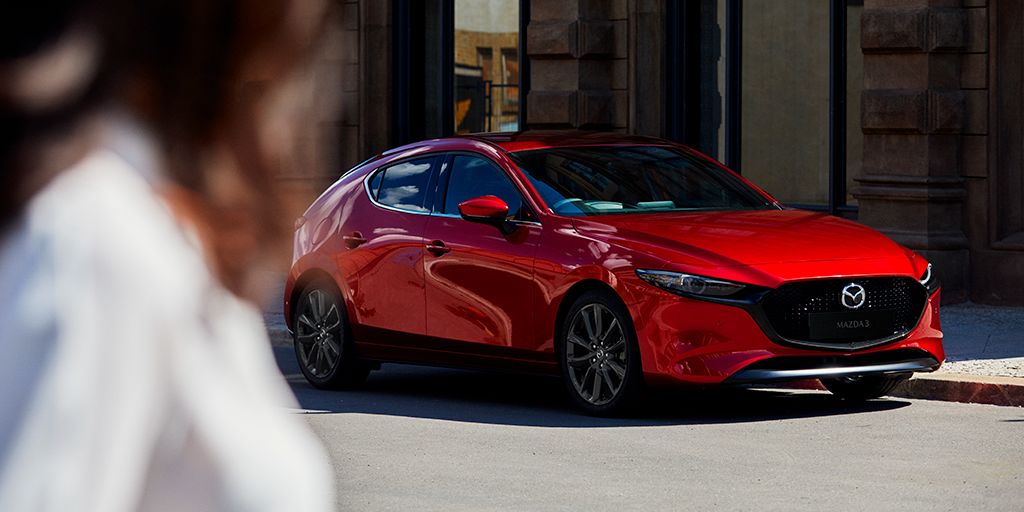 5-star Euro NCAP rating for All-new Mazda 3
The All-new Mazda 3 joins the list of Mazda cars with a 5-star Euro NCAP safety rating including a record-breaking score of 98% "adult occupant" safety.
It's another accolade ticked off for the All-new Mazda 3. It's already received awards for its striking evolved KODO: Soul of Motion design and refined, premium experience. And now, it's received one of the most sought after ratings when it comes to car safety – a 5-star Euro NCAP rating. The Euro NCAP is a rigorous series of crash test simulations that measure how safe a car is for the driver, the passengers, and pedestrians. It goes well beyond the safety tests carried out for a car to be allowed on sale, meaning a car that passes the required standard can still receive a poor score when tested by Euro NCAP.
With this in mind, it's a real achievement for a car to be awarded 5-stars by Euro NCAP. You can see the full report on the Euro NCAP rating.
Adult and child occupant safety
When testing a vehicle for occupancy safety, Euro NCAP breaks down safety into two categories – adult occupants and child occupants. The adult occupant tests are carried out from all seat positions. They then carry out a variety of crash scenarios from different directions and rate how well the car protects its occupants. For adult occupant safety, the All-new Mazda 3 received an almost perfect score of 98% – the highest given rating in this category by Euro NCAP.
For child safety, only seats where car seat restraints are installed are tested. Again, the Mazda 3 performed well on this test scored 87%, with the majority of the points being deducted for the limited positions where car seats can be anchored.
Pedestrian and cyclist safety
The All-new Mazda 3 also performed well on the Euro NCAP for its 'Vulnerable Road Users' score.  It received 81% overall, with the body shape providing good protection for both pedestrians and cyclists. The Smart City Brake Support was also tested to see how well it responded to pedestrians and cyclists, both at daytime and at night. Again, the All-new Mazda 3 performed well in all scenarios.
Safety technology
Euro NCAP also rates new cars for the safety technology available. Where some variants or trim levels might offer optional safety extras, 2 scores will be provided. This isn't necessary with the Mazda 3, however. From the entry-level SE-L, a wide range of safety features are included. Those tested by Euro NCAP specifically include Speed Assistance (such as Active Cruise Control), Seat Belt Reminder, Lane Support and AEB Interurban (i.e. Smart City Brake Support). For its safety technology, the Mazda 3 received a Euro NCAP rating of 73%. The majority of points were lost from the Lane Support system, as it alerts drivers but does not intervene and steer the car back into the lane.
As the All-new Mazda 3 represents the next era of vehicles for the Japanese manufacturer, this 5-star Euro NCAP rating is a fantastic start and proves once again that Mazda are committed to making cars that are not only fun to drive, but safe. And it joins the Mazda 6 and Mazda CX-5, which have both been awarded a 5-star Euro NCAP rating.
To find out more about the Mazda 3, visit our website or get in touch with a member of our Mazda showroom teams. They're located in Weybridge, Bookham, and Orpington.
Similar Articles
Mazda consistently delivers innovative vehicles to the market, and the MX-30 is no exception. The launch of the MX-30, Mazda's first pure electric vehicle (EV) in 2020 marked the first step in Mazda's roadmap towards electrification. Available as both a pure EV and a new plug-in hybrid R-EV, the Mazda MX-30 models combine a sophisticated […]
Available in both a pure EV and Plug-In Hybrid R-EV, the Mazda MX-30 is centred around the carmaker's Kodo design philosophy. The innovative design creates a lasting impression, and its exciting features and equipment make a thoughtfully curated interior that combines style, comfort, and functionality. From cutting-edge technology to the seamless fusion of sophistication and practicality, Mazda's commitment […]
In the ever-evolving landscape of compact crossover SUVs, Mazda has once again proved its expertise with the revolutionary Mazda MX-30. Captivating the hearts of automotive enthusiasts, the MX-30 brings forth a harmonious fusion of power, innovation, and striking design. This remarkable vehicle represents Mazda's commitment to a sustainable future while staying true to its century-old legacy […]