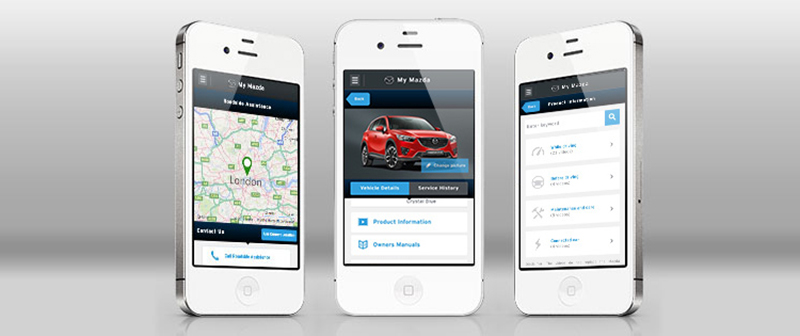 MyMazda app now available for your mobile
Mazda launched its MyMazda smartphone app to keep owners abreast of their vehicle's maintenance schedule, review their car's service history and even request roadside assistance (not that Mazdas breakdown very often).
The new app is available free of charge to all customers and is linked to the Japanese firm's Digital Service Records, a system that records all service events for Mazda cars on a central database.
Mazda Motors UK Aftersales Director David Wilson-Green explained: "The new app is another opportunity for us to demonstrate our excellent customer service. It is easy to register and simple to use, providing key facts about an owner's vehicle at the touch of a button."
The intelligent piece of software can call up your car's service history and take into account your driving patterns, reminding you when to book your next scheduled service.
It also has the facility for owners to edit their personal and vehicle details to help keep their own DSR record fully up-to-date and make the process of booking routine maintenance a smooth and easy procedure.
"If a Mazda owner is away from home and wants to visit another Mazda dealership, the app will direct them to the nearest location. In an emergency, it will even allow them to request roadside assistance, too" added Wilson-Green.
The MyMazda app is available on iPhone and Android-equipped handsets available from the iTunes store or the Google Play store.
For a demonstration, visit T W White's Mazda showroom in Weybridge, Surrey, Bookham, Surrey and Orpington, Kent
Similar Articles
Although Hybrid and Electric cars remain a niche market in the UK, their popularity is growing. A brief look at the SMMT registration data for 2022 can give you an idea of where the market currently stands: Battery Electric Vehicles (BEVs): 267,203 cars sold in 2022. A 40.1% increase from 2021. Plug-in Hybrid Electric Vehicles […]
Toyota Motor Corporation and Suzuki Motor Corporation today announced their next step in their collaboration. This will focus on Hybrid Car production, including plans to bring production of a new Suzuki hybrid car to Toyota's UK factories. On Wednesday, Toyota and Suzuki announced an agreement to begin collaboration on electric vehicles and other in-car […]
Mazda announces their long-term "Sustainable Zoom-Zoom 2030" plan, including the introduction of a spark plug free petrol engine in 2019 Back in February we wrote about Mazda's rumoured research into a compression based petrol engine to replace their current spark ignition technology.  At the time, their had been no word from Mazda on the topic. […]