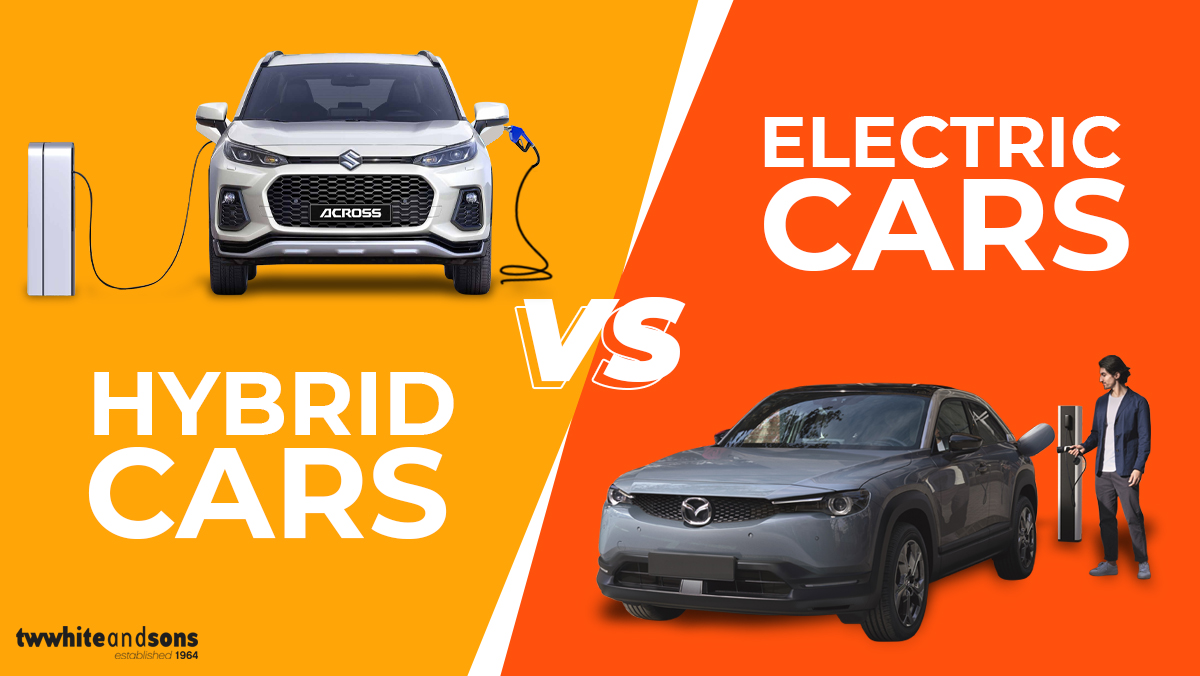 Hybrid vs Electric Cars Pros and Cons
Although Hybrid and Electric cars remain a niche market in the UK, their popularity is growing overall. A brief look at the SMMT registration data can give you an idea of where the market currently stands:
Battery Electric Vehicles (BEVs): September 2021 showed 32,721 cars sold, a 49.4% increase since 2020
Plug-in Hybrid Electric Vehicles (PHEVs): September 2021 showed 13,884 cars sold, an 11.5% increase from 2020
Hybrid Electric Vehicles (HEVs): September 2021 showed 24,961 cars sold, a 5.1% decrease from 2020
In 2020, battery electric vehicles (BEVs) and plug-in hybrid electric vehicles (PHEVs) represented 6.6% and 4.1% of the market share, respectively, with a total of 10.7% of all cars sold in the UK. Thus, over 10% of all new vehicles in the UK have some level of zero-emission capabilities.
Government Incentives for Low-Emissions Vehicles
The UK government seeks to lower the country's collective carbon footprint, and to do so it plans to fully transition to low-emission vehicles by 2030. While this is clearly a step in the right direction for the planet, the realisation of this plan has stirred up mixed reactions from motorists and the car industry at large.
The issue is not with the transition itself but rather with the time frame. Accordingly, the SMMT has publicly called upon the UK government to assist motorists in this endeavour by requesting zero tax on zero-emission capable vehicles.
Among other incentives required, the tax exemption will likely have the most significant impact on the largest number of motorists, including changing the minds of those who have no genuine interest in the transition to low-emission vehicles, despite its many benefits.
To be sure, the UK government has already and electric vehicles in various ways. Over £1.7 billion has already been paid out in purchase grants, and the government has made a
Depending on the car's purchase price, buyers are eligible for a £2,500 grant towards purchasing these vehicles and a 350 grant for buying an electric charger. Moreover, company car tax regulations have been , offering low-emission vehicles more favourable Benefit in Kind (BIK) based on the vehicles emissions levels.
A range of new hybrid and electric vehicles on the horizon benefit from advanced technology with a myriad of powertrains available. In this article, we break down the pros and cons of hybrid vs electric cars.
What are Hybrid Cars?
Combining conventional diesel or petrol engines with electric motors, hybrid cars are not as green as 100% electric cars, but they produce less CO2 emissions and use less fuel than conventional cars. Hybrid cars are classified into self-charging and plug-in hybrid cars.
What are Self-Charging Hybrid Cars?
Self-charging hybrids do not require charging through plug-in points. Instead, these vehicles are equipped with a small battery pack that works in tandem with a conventional engine.
How Do Self-Charging Hybrid Cars Work?
The self-charging hybrid's battery charges as you drive the car through regenerative braking by recovering the energy that your car would typically lose while braking or from the petrol engine.
Since the battery reduces the engine's effort while accelerating, it reduces the vehicle's fuel consumption. However, they have smaller battery packs than plug-in hybrids, making them much less efficient.
Self Charging Hybrid Models in the Mazda & Suzuki Range
Mazda calls its self-charging hybrid a 'mild hybrid' or 'M-Hybrid' as first seen in the new Mazda CX-30. The other cars in Mazda's self-charging range include the Mazda 3 and the Mazda 2. Their hybrid technology works by using a generator to capture the vehicles' energy typically wasted while braking. The energy saved powers the car's electrical components and saves fuel.
The Suzuki Ignis, the Vitara, the S-Cross, and the Swift are the vehicles available in Suzuki's self-charging hybrid range. They come in different builds allowing buyers to customise them to meet their needs.
The vehicles' batteries fuel its electrical system when sitting at traffic lights and other stops, saving fuel. When the car decelerates, its hybrid system generates electricity to charge its batteries.
What are Plug-in Hybrids (PHEV) Cars?
Unlike self-charging hybrids, PHEVs are hybrid vehicles with battery packs that you must plug in to charge.
How Do Plug-in Hybrid Cars Work?
PHEVs come with an electric motor plus a traditional diesel or petrol combustion engine. Their batteries are larger than those in a standard hybrid, allowing it to run longer on only electric power. Most plug-in hybrids can run on electric power between 20 and 30 miles, with some models going for up to 50 miles.
These plug-in hybrids typically run on electric power until almost depleting the battery. When this happens, they automatically switch to power from their petrol or diesel engine.
Plug-in Hybrid Models in the Mazda & Suzuki Range
Mazda does not currently have any plug-in hybrids in its range. However, Suzuki has two plug-in hybrids that have recently been released, the Suzuki Across and the Suzuki Swace.
Both these models feature an electric motor that can cover up to 46 miles on zero-emission electric power.
What are Range Extended Electric Vehicles (REX)?
REX vehicles represent the middle-ground between pure EVs and Hybrids. They are for people who are not yet ready to purchase a fully electric vehicle but want similar benefits.
How Do Range Extended Vehicles Work?
REX cars' electric motors drive the wheels. Having batteries powered by an external supply, they perform like BEVs. In addition, they come with a small combustion engine for recharging the battery if needed. However, the internal combustion engine never directly drives the wheels.
Range Extended Electric Models in the Mazda & Suzuki Range
Mazda has confirmed the release of its MX-30, equipped with a range extender in 2021. The vehicle comes with a battery range of 124 miles, and the range extender will improve the MX-30s range between charging stations.
Suzuki doesn't currently have a REX in its hybrid range.
What are Battery Electric Vehicles (BEVs)?
Battery Electric Vehicles operate entirely using electric power, storing their electricity in rechargeable batteries. These are zero-emission vehicles that significantly reduce your carbon footprint.
How do Battery Electric Vehicles Work?
Using electricity stored in a battery pack to power an electric motor and turn wheels, BEVs use grid electricity from a wall socket or charging unit to recharge. Considered "all-electric vehicles" because they do not use petrol or diesel, they do not produce tailpipe emissions when driven.
Electric Models in the Mazda & Suzuki Range
While Suzuki has not yet released a BEV, Mazda has the all-electric MX-30. The MX-30 has a 124-mile range and features rapid charge taking the battery from 20% to 80% in 36 minutes.
Benefits and Advantages of Self-Charging Hybrid vs Plug-in Hybrid vs Electric Cars
Both Hybrid and electric cars have significant advantages, depending on your needs. One of the most significant advantages is that they both have much better fuel economy than an equivalent petrol or diesel-powered car, resulting in substantial savings.
The driving dynamics are also different, as electric motors produce more power and torque when accelerating.
Hybrids
A hybrid car does not cost any more to maintain than a regular vehicle, with a replacement battery costing around $2000. That being said, batteries typically have an 8 -10 year warranty to give you peace of mind for long term reliability.
Hybrids can achieve longer distances compared to electric cars since they do not rely entirely on an electric charge. Thus, they offer greater flexibility if you drive long distances regularly. However, the downside is that hybrid cars still emit tailpipe emissions, so Government grants and tax breaks are lower for Hybrids than electric cars. In addition, as they have smaller batteries, they also can't match a BEVs' electric driving range.
Battery Electric Vehicles
BEVs have a driving range of 150 to over 250 miles on a single charge, making them ideal for short to medium-distance trips. They are an excellent option for city driving and shorter day trips since you can drive entirely on an electric charge. Their main downside is you have to plan in advance for longer journeys, ensuring that there will be a charging station available at your destination.
BEVs offer significant savings over hybrid and conventional cars, cutting fuel costs by more than 70%. You will also benefit from a range of grants and tax breaks when you purchase a BEV.
Hybrid and electric cars depreciate at a similar rate as conventional cars. There are over 25,000 charging points available across the UK, so you won't have to search far and wide to charge your vehicle.
If you need help understanding more about the technology, want to book a test drive at your home to experience for yourself, or need to discuss pricing, please don't hesitate to get in touch.
Similar Articles
Although Hybrid and Electric cars remain a niche market in the UK, their popularity is growing overall. A brief look at the SMMT registration data can give you an idea of where the market currently stands: Battery Electric Vehicles (BEVs): September 2021 showed 32,721 cars sold, a 49.4% increase since 2020 Plug-in Hybrid Electric Vehicles […]
Suzuki continues to shake up its engine line-up, announcing the introduction of a self-charging hybrid engine launching early next year Suzuki are bringing hybrid to their entire range* next year, with an all-new self-charging hybrid engine for the Swift Sport, Vitara and S-Cross. This new 48V hybrid will replace the outgoing 1.4-litre manual engine in […]
Suzuki are bringing some new and exciting concept cars to the 2019 Tokyo Motor Show. Suzuki are bringing the fun to the 2019 Tokyo Motor Show, including two all-new concept cars, as well as showcasing their continued commitment to overall mobility. This is all being done under this years theme – "WAKU WAKU for EVERYONE: […]