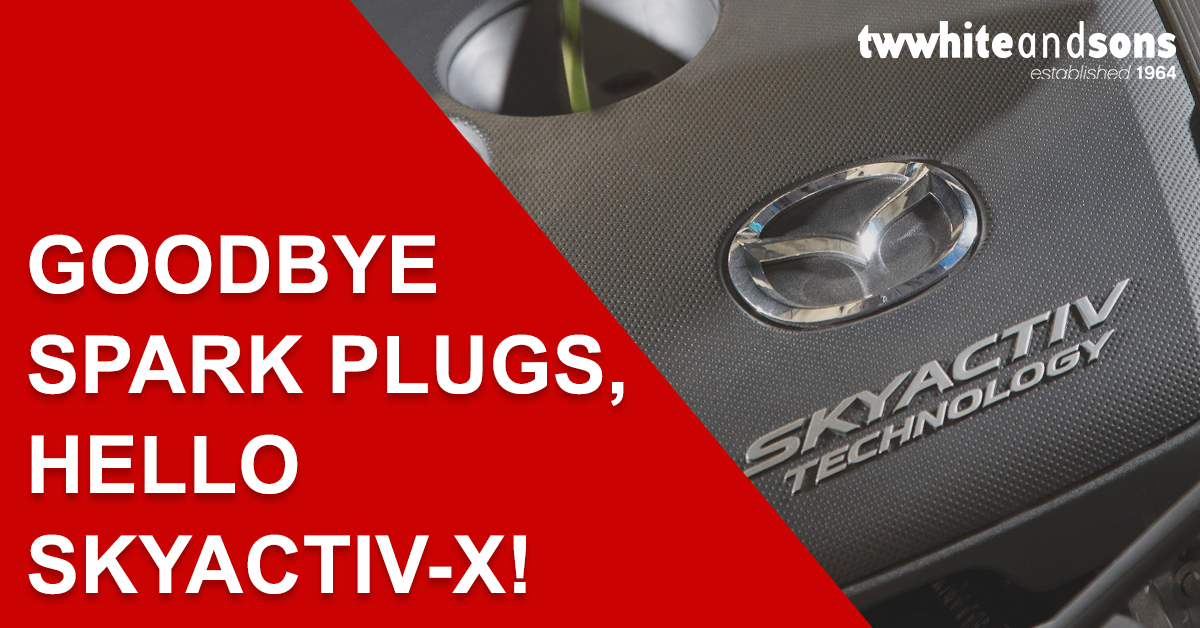 Goodbye spark plugs, hello SKYACTIV-X!
Mazda announces their long-term "Sustainable Zoom-Zoom 2030" plan, including the introduction of a spark plug free petrol engine in 2019
Back in February we wrote about Mazda's rumoured research into a compression based petrol engine to replace their current spark ignition technology.  At the time, their had been no word from Mazda on the topic.  And as Mazda would not be the first to try their hand at a spark-free petrol engine, there was every possibility that this clever tech would never hit the market.  But Mazda is always defying expectations.  Last week, the Japanese manufacturer announced their "Sustainable Zoom-Zoom 2030" plan, including the exciting news that the compression engine is not only happening, but will be on the market in 2019.  Here's everything you need to know about Mazda's long-term plans.
SKYACTIV-X
We've already touched on the biggest bit of news in the "Sustainable Zoom-Zoom 2030" announcement – SKYACTIV-X, Mazda's new compression petrol engine.  A lot of focus has been given to this announcement, as it's technology that bigger brands have tried and failed to perfect to the point were it was commercially viable.  If successful, SKYACTIV-X will improve engine efficiency up to 30% over the current SKYACTIV-G engines, the Japanese manufacturer claims.  If this proves true, it will make their petrol engine more efficient than diesel engines.
Improve 'well-to-wheel' efficiency
Mazda's plans to lessen the environmental impact of their vehicles doesn't end with SKYACTIV-X.  As part of their "Sustainable Zoom-Zoom 2030" plan, they aim to reduce corporate average 'well-to-wheel' carbon dioxide emissions to 50% of 2010 levels by 2030, and achieve a 90% reduction by 2050.  How do they plan on doing this?  The Japanese manufacturer are introducing a policy prioritising efficiency improvements and measures for cleaner emissions that apply to the real world.  In line with their SKYACTIV-X plans, Mazda will also be introducing electric vehicles and other electric drive technology for 2019.  They plan to introduce these vehicles in regions where sufficient infrastructure is already in place, and that are using high levels of clean energy for power generation.
Technology and design
Mazda aren't just pushing the technological boundaries when it comes to their engines.  "Sustainable Zoom-Zoom 2030" includes plans to develop more advanced safety technologies, including further standardisation of their i-ACTIVSENSE safety features.  While these features are already standard in Japan, the company plans to extend this to other markets starting in 2018.
Along with the development of more enhanced and standardised safety technology, Mazda are planning to throw their hat into the autonomous driving ring.  They are set to begin testing the technology currently in development in 2020, and aim to have the system as standard by 2025.
On a more conceptual level, Mazda have promised to pursue an enhanced 'Jinba Ittai' driving feel, and continue to raise the bar in terms of their KODO: Soul of Motion design language.
To find find out more about the Mazda range, visit https://www.twwhiteandsons.co.uk/mazda/new-cars/.    Or you can contact one of our Mazda sales teams.  We have showrooms located in Weybridge and Bookham in Surrey and Orpington in Kent.
Similar Articles
Although Hybrid and Electric cars remain a niche market in the UK, their popularity is growing. A brief look at the SMMT registration data for 2022 can give you an idea of where the market currently stands: Battery Electric Vehicles (BEVs): 267,203 cars sold in 2022. A 40.1% increase from 2021. Plug-in Hybrid Electric Vehicles […]
Toyota Motor Corporation and Suzuki Motor Corporation today announced their next step in their collaboration. This will focus on Hybrid Car production, including plans to bring production of a new Suzuki hybrid car to Toyota's UK factories. On Wednesday, Toyota and Suzuki announced an agreement to begin collaboration on electric vehicles and other in-car […]
Mazda announces their long-term "Sustainable Zoom-Zoom 2030" plan, including the introduction of a spark plug free petrol engine in 2019 Back in February we wrote about Mazda's rumoured research into a compression based petrol engine to replace their current spark ignition technology.  At the time, their had been no word from Mazda on the topic. […]