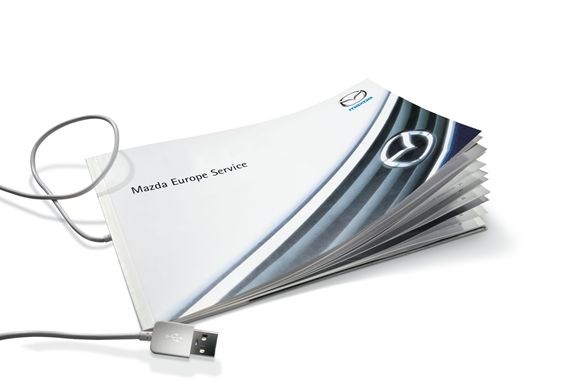 What is a Mazda Digital Service Record?
Cars with full service histories are worth more and easier to sell – it's a fact. Indeed, according to an investigation carried out by ICM Research, a full service history on a car could increase its value by 26%.
But with the traditional book and stamp arrangement, sometimes it can be difficult to keep track of all your paperwork and even, in some extreme cases, lead to a fraudulent service history.
Mazda Digital Service Record (DSR).
Mazda's Digital Service Record is an innovative electronic service booklet, which replaces the traditional booklet that you used to get stamped following a vehicle service. Making it easier for owners and potential buyers of used Mazdas to keep up to date with a car's full service history. Every Mazda's service history is stored digitally on a central Mazda database. After each service, you'll get an updated printout with confirmation of the service and any work that has been carried out.
Mazda UK Aftersales Director David Wilson-Green explains: "DSR replaces the traditional service record book which sits in the glovebox for 364 days of the year, emerging once every 12 months to be stamped when the car has its annual service. DSR is much more secure than the traditional paper service record. Service histories can be falsified; but with an electronic service record it is very difficult to be fraudulent."
ICM Research's findings showed that more than a third of buyers (34%) would not buy a car without a full service history. As a result, Mazda's DSR is a great way to tell if a genuine service has been conducted or if any items have been replaced, as well as checking the anti-perforation body panel warranty. It's a secure way of documenting any work done to a Mazda vehicle, and held on a central database, it means the information can't get lost, helping add value in a private sale or part-exchange.
And now, with Mazda's MyMazda app, you can keep track of all this information on your smartphone, helping you to keep on top of your car's service intervals and history, as well as the ability to request roadside assistance in an emergency.
With the Mazda DSR you also get piece of mind if you go travelling, as no matter where you are in Europe, every Mazda Authorised Repairer will have access to your vehicle's service history, ensuring your Mazda is looked after accordingly.
For more information on Mazda's Digital Service Record,  visit one of T W White's Mazda Dealerships in Bookham, Surrey and Orpington, Kent for a demonstration.
Similar Articles
Although Hybrid and Electric cars remain a niche market in the UK, their popularity is growing. A brief look at the SMMT registration data for 2022 can give you an idea of where the market currently stands: Battery Electric Vehicles (BEVs): 267,203 cars sold in 2022. A 40.1% increase from 2021. Plug-in Hybrid Electric Vehicles […]
Toyota Motor Corporation and Suzuki Motor Corporation today announced their next step in their collaboration. This will focus on Hybrid Car production, including plans to bring production of a new Suzuki hybrid car to Toyota's UK factories. On Wednesday, Toyota and Suzuki announced an agreement to begin collaboration on electric vehicles and other in-car […]
Mazda announces their long-term "Sustainable Zoom-Zoom 2030" plan, including the introduction of a spark plug free petrol engine in 2019 Back in February we wrote about Mazda's rumoured research into a compression based petrol engine to replace their current spark ignition technology.  At the time, their had been no word from Mazda on the topic. […]