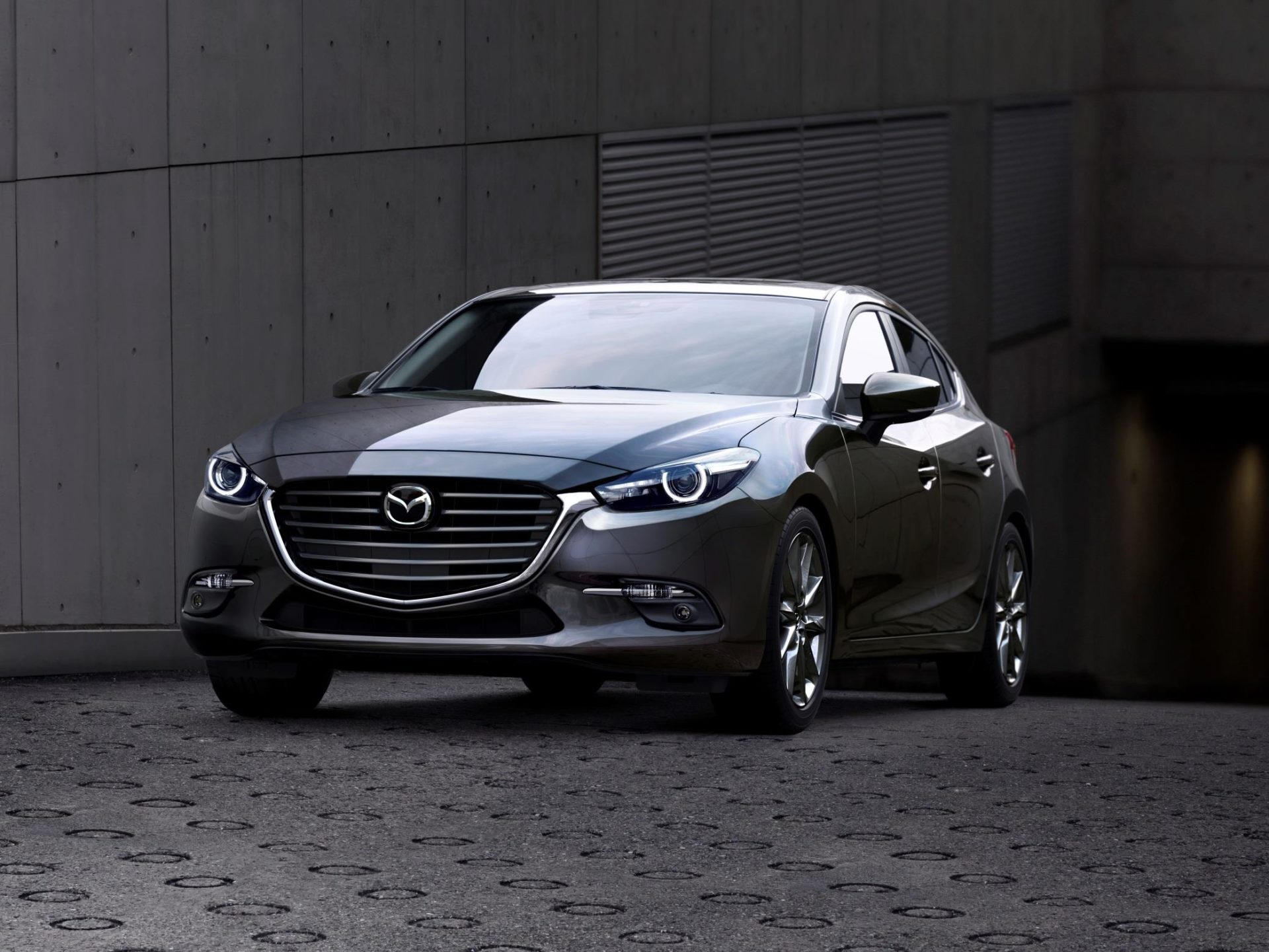 New 2017 Mazda 3 Upgrade Announced
Mazda have announced the 2017 Mazda 3 will be launched on 1st October 2016. This follows the recent upgrade of the Mazda 6 and Mazda CX-5 . With global production having passed the five million car mark at the end of April, it seemed about time that the first "6th generation SKYACTIV" car got an upgrade! It will feature subtle eye-catching exterior upgrades complete with an upgraded, redesigned interior cabin. This is  supported by a series of technical improvements under Mazda's SKYACTIV-vehicle dynamics programme.
Exterior upgrade
The new 2017 Mazda 3 features a number of exterior design enhancements. Firstly, Mazda's signature front grille has been given an upgrade, with a new upper and lower shaping out a stronger three-dimensional look and a new front fog light bezel.  On both the fastback and hatchback, revised door mirrors now include integrated indicators  wrapping around the mirror.  Equally, both the hatchback model will feature a new rear bumper.
The 2017 Mazda3 will be available in eight colours, and will be the first car on sale to feature Mazda's new Machine Grey Mica. This exciting colour was shown on the all-new Mazda MX-5 RF as it made its debut the 2016 New York Motor Show. The second all-new colour to make its production debut is Eternal Blue Mica, while Sonic Silver Metallic is offered for the first time on the Mazda 3. SE and SE-L Nav trim cars feature 16-inch alloy wheels, while Sport Nav models will have high-sheen finish 18-inch alloy wheels.
Interior upgrade
Inside the 2017 Mazda 3, the cabin has been further designed to improve driver-oriented interior space. Higher-quality switch panels and handle bezels on the doors, plus a new trim insert on the dashboard give the 2017 Mazda 3 a more luxurious feel. An electric parking brake creates space for a more spacious centre console, while a new leather steering wheel design enhances the feel and style. If combined with leather seating, the steering wheel is heated.
Performance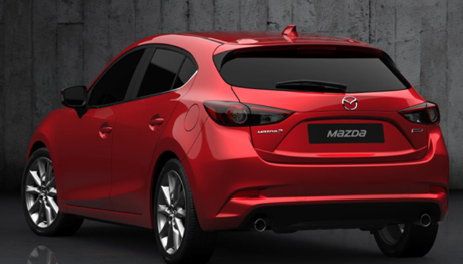 The Mazda 3 will be offered in a choice of petrol and diesel engines. There are 2 diesel options –  105ps 1.5litre or a 150ps 2.2 litre SKYACTIV-D  and 2 petrol engines- 120ps and 165ps 2.0 litre SKYACTIV-G.
Having added the smooth sub 100g/km 1.5-litre SKYACTIV-D diesel engine to the Mazda 3 line up last year, both this and the well-established 2.2-litre SKYACTIV-D engine now feature Transient Control, which reduces turbo lag, boosts torque and ensures a more positive throttle response, The result is a drive much more like a petrol engine feel.
Mazda have also introduced Natural Sound Smoother (NSS) technology to further refine the Mazda 3. NSS reduces knock noise during starting and low-speed acceleration on diesel engines. Equally, there is added noise suppression material in the roof, doors, dashboard and transmission tunnel area on all trim levels in the range.  Optimised door seals and additional vibration damping materials between the rear crossmembers further improve cabin comfort.
The 2017 Mazda 3 also marks the world debut of the first of Mazda's SKYACTIV Vehicle Dymanics technology: G-Vectoring Control (GVC). GVC varies engine torque to optimize load on each wheel. This provides more precise handling and improved comfort.
The 2017 Mazda 3 will be on sale from 1st October, and will be priced from £17,595 to £24,195.
For more information, please speak to a member of our sales team at our Mazda showrooms in Weybridge and Bookham, Surrey, and Orpington, Kent.
Similar Articles
Mazda consistently delivers innovative vehicles to the market, and the MX-30 is no exception. The launch of the MX-30, Mazda's first pure electric vehicle (EV) in 2020 marked the first step in Mazda's roadmap towards electrification. Available as both a pure EV and a new plug-in hybrid R-EV, the Mazda MX-30 models combine a sophisticated […]
Available in both a pure EV and Plug-In Hybrid R-EV, the Mazda MX-30 is centred around the carmaker's Kodo design philosophy. The innovative design creates a lasting impression, and its exciting features and equipment make a thoughtfully curated interior that combines style, comfort, and functionality. From cutting-edge technology to the seamless fusion of sophistication and practicality, Mazda's commitment […]
In the ever-evolving landscape of compact crossover SUVs, Mazda has once again proved its expertise with the revolutionary Mazda MX-30. Captivating the hearts of automotive enthusiasts, the MX-30 brings forth a harmonious fusion of power, innovation, and striking design. This remarkable vehicle represents Mazda's commitment to a sustainable future while staying true to its century-old legacy […]