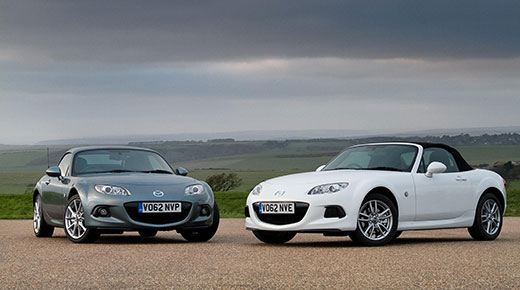 Iconic Mazda MX5 just got better with new Venture Edition
Mazda has upgraded its awesome Mazda MX5 two-seater with a revised Venture Edition trim level for both the Soft Top and fixed roof Roadster Coupe cars.
The Japanese manufacturer's amazingly agile sports car now benefits from more equipment fitted as standard, including heated tan leather sports seats, tan door inserts, a tan roof for Soft Top models and a new 17-inch "bright finish" alloy wheel design.
The latest Mazda MX5 Venture Edition also incorporates the package of enhancements and changes made for the 2013 model year car, recently introduced at the beginning of December 2012.
That means even fresher looks, with a new bumper and bonnet design to help improve pedestrian protection in the event of a crash, as well as side airbags to further occupant safety.
Inside the cabin there's a few changes too, including an integrated TomTom satellite navigation system now fitted as standard.
Boasting an amazing equipment spec, the Mazda MX5 Venture Edition also benefits from the same mechanical updates to further improve this sparkling sports car's performance.
Mazda has recalibrated the manual version of its MX5's accelerator pedal to further improve feel and feedback for the driver, as well as giving an even greater linear response and more control.
Alongside the extra control over the car's engine power, Mazda has also tweaked the brakes, again to give even more control and feel, making braking performance smoother.
Customers wanting to sample Britain's most popular convertible can choose between either a 1.8- or 2.0-litre petrol engine – the former producing 126hp, the later 160hp.
Both are revvy and willing, delivering excellent performance and superb thrills, just like a small sports car should. 0-62mph comes up in a range-best time of 7.6 seconds, but don't think that this means efficiency is hampered.
Mazda's lightweight engineering philosophy gives the MX5 superb handling, with brilliant poise and balance, but it also means fuel economy in the 1.8i Soft Top stands at a superb 39.8mpg with 167g/km CO2 emissions. Impressive indeed.
But even with a fresh new look, more equipment than before and an intoxicating mix of speed, handling and acceleration – as well as brilliant efficiency – the new Mazda MX5 Venture Edition model doesn't cost the Earth.
The car is on sale now for the same great price of £18,495. Drop into our Bookham, Surrey or Orpington, Kent Mazda dealerships to check it out, or call us on 0844 539 6753 for more information.
Similar Articles
Mazda consistently delivers innovative vehicles to the market, and the MX-30 is no exception. The launch of the MX-30, Mazda's first pure electric vehicle (EV) in 2020 marked the first step in Mazda's roadmap towards electrification. Available as both a pure EV and a new plug-in hybrid R-EV, the Mazda MX-30 models combine a sophisticated […]
Available in both a pure EV and Plug-In Hybrid R-EV, the Mazda MX-30 is centred around the carmaker's Kodo design philosophy. The innovative design creates a lasting impression, and its exciting features and equipment make a thoughtfully curated interior that combines style, comfort, and functionality. From cutting-edge technology to the seamless fusion of sophistication and practicality, Mazda's commitment […]
In the ever-evolving landscape of compact crossover SUVs, Mazda has once again proved its expertise with the revolutionary Mazda MX-30. Captivating the hearts of automotive enthusiasts, the MX-30 brings forth a harmonious fusion of power, innovation, and striking design. This remarkable vehicle represents Mazda's commitment to a sustainable future while staying true to its century-old legacy […]