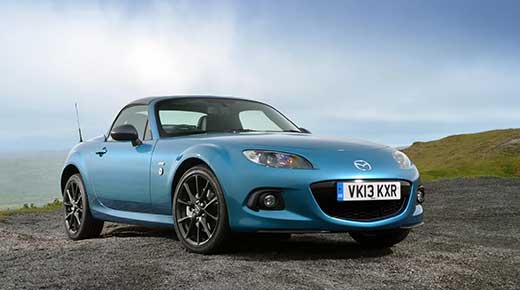 Revealed: exclusive new Mazda MX5 Sport Graphite Limited Edition
The new Mazda MX5 Sport Graphite Limited Edition has broken cover for the summer, with the new, exclusive version of the famous Japanese two-seater roadster boasting some bespoke features.
The specification on the latest version of Mazda's iconic sports car is fantastic – the MX5 gets a 5.8-inch colour sat-nav system, fully integrated Bluetooth and heated leather seats as standard.
And to add to that, exclusivity will be assured – just 500 models will be available in the UK, making it a truly Limited Edition.
Despite its rarity, it's still amazingly affordable – another one of the MX5's traditional strong points – with the car on sale from £20,995. That's actually an £800 saving over the similarly specified MX5 2.0 Sport Tech Nav.
It offers the same great performance as the rest of the range, too. Available with either a 126hp 1.8-litre engine or the more potent 160hp 2.0-litre Mazda unit, 0-62mph comes up in a best of 7.9 seconds.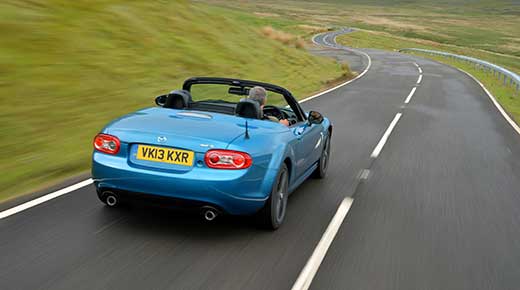 Despite all this go, efficiency is still brilliant for a high-performance two-seater – The Mazda MX5 Sport Graphite will return 39.8mpg combined, meaning you really can have your cake and eat it.
The new model gets some neat styling features, including 17-inch dark gunmetal alloys, contrasting grey stitching for the black leather upholstery, Meteor Grey door mirrors and a colour co-ordinated folding hard top.
On that last point, you'll be able to specify your Mazda MX5 Sport Graphite in three stunning colours: Aquatic Blue Mica, Zeal Red Mica, or Aluminium Silver Metallic.
So it's ticked the boxes for performance, efficiency and style, but what about equipment?
As you'd expect, it's generously specified inside, with the Mazda MX5 Sport Graphite edition boasting some naty aluminium sports pedals, a six-speaker audio system with iPod input, electric windows, heated electrically adjustable mirrors and climate control to go with the clever sat-nav system. The larger-engined 2.0-litre cars get cruise control fitted as standard, too.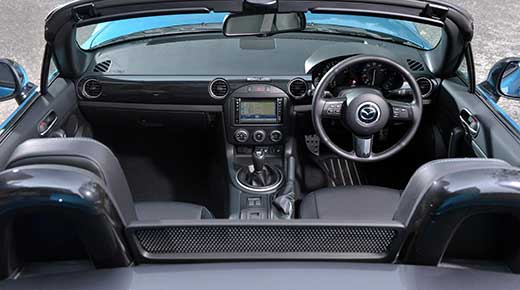 While the MX5 is all about having fun behind the wheel, it's also reassuringly safe. The Sport Graphite Limited Edition gets Dynamic Stability Control (DSC), traction control and a sophisticated Anti-lock Braking System to keep things in check.
There's something about the Mazda MX5 you just have to try for yourself. Statistics tell one story, but the feeling you get when you sit behind the wheel with the wind in your hair is another – the way all the controls feedback information with amazing detail really has to be experienced.
So why not come and test-drive a new 2013 Mazda MX5 at T W White & Sons this weekend? We've got specialist Mazda showrooms in Bookham, Surrey and in Orpington, Kent, so to book an appointment, contact our sales team on 0844 539 6753.
You never know, you might want to put an order in for a Sport Graphite model following your first five minutes at the wheel of Mazda's famous roadster…
Similar Articles
Mazda consistently delivers innovative vehicles to the market, and the MX-30 is no exception. The launch of the MX-30, Mazda's first pure electric vehicle (EV) in 2020 marked the first step in Mazda's roadmap towards electrification. Available as both a pure EV and a new plug-in hybrid R-EV, the Mazda MX-30 models combine a sophisticated […]
Available in both a pure EV and Plug-In Hybrid R-EV, the Mazda MX-30 is centred around the carmaker's Kodo design philosophy. The innovative design creates a lasting impression, and its exciting features and equipment make a thoughtfully curated interior that combines style, comfort, and functionality. From cutting-edge technology to the seamless fusion of sophistication and practicality, Mazda's commitment […]
In the ever-evolving landscape of compact crossover SUVs, Mazda has once again proved its expertise with the revolutionary Mazda MX-30. Captivating the hearts of automotive enthusiasts, the MX-30 brings forth a harmonious fusion of power, innovation, and striking design. This remarkable vehicle represents Mazda's commitment to a sustainable future while staying true to its century-old legacy […]