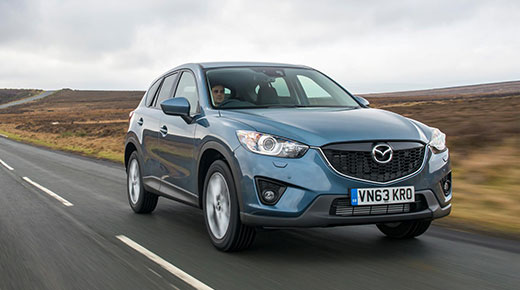 Mazda CX5 gets upgrades for 2014
As if the Mazda CX5 wasn't well equipped enough, for 2014 the Japanese firm is upgrading the car's specification across the range.
The award-winning Mazda CX5 retains its amazing qualities – the efficiency, the safety, the performance and the equipment – but adds two new exterior colours to chose from: Blue Reflex Mica and Deep Crystal Blue Mica.
The new Mazda CX5 gets a revised suspension setup across the range to improve handling dynamics and control, as well as furthering the already impressive ride comfort and refinement.
A new safety feature is also fitted to CX5 manual models – if the driver stalls, the new clutch restart system means all they have to do is dip the left pedal within three seconds to restart the engine.
Cars with automatic gearboxes now get the 'straight-gate' gear lever, improving ergonomics inside the cabin.
Mazda CX5 SE-L Lux and Sport vehicles also now get a memory function for the electrically adjustable driver's seat, and a powered passenger seat, too. Leather comes as standard on these grades, while Light Stone leather from the new Mazda 3 has been added as a £200 option.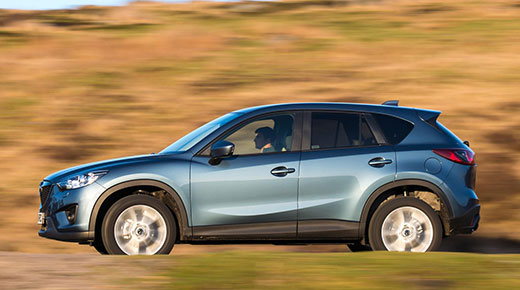 Performance is as strong as ever, with the 175hp 2.2-litre turbodiesel sprinting from 0-62mph in 8.8 seconds. As with all modern Mazdas, the Japanese firm's Skyactiv technology means superb efficiency is on offer as well.
The most frugal car in the range is the 150hp two-wheel drive manual, which returns an incredible 61.4mpg combined with just 119g/km CO2 emissions.
It's not just us that thinks the Mazda CX5 is a cracking prospect, though.
Once again, What Car? magazine crowned Mazda's crossover as the best buy SUV under £25,000 for the second year running:
"A large part of its [the Mazda CX5's] appeal is down to the 2.2 diesel engine which is spectacular.
"It keeps emissions down to 119g/km, is one of the most refined units around and pulls strongly throughout the rev range.
"Practicality is another big plus point with plenty of space for four adults and the large boot has a flat loading lip. There's also generous equipment and low running costs."
So, really it's quite the all-rounder. From £21,595 it's brilliant value, too, so why not drop into one of T W White & Sons' Mazda showrooms in Bookham, Surrey or Orpington, Kent and try the car out for yourself.
For more information, contact our sales team on 0844 539 6753.
Similar Articles
Mazda consistently delivers innovative vehicles to the market, and the MX-30 is no exception. The launch of the MX-30, Mazda's first pure electric vehicle (EV) in 2020 marked the first step in Mazda's roadmap towards electrification. Available as both a pure EV and a new plug-in hybrid R-EV, the Mazda MX-30 models combine a sophisticated […]
Available in both a pure EV and Plug-In Hybrid R-EV, the Mazda MX-30 is centred around the carmaker's Kodo design philosophy. The innovative design creates a lasting impression, and its exciting features and equipment make a thoughtfully curated interior that combines style, comfort, and functionality. From cutting-edge technology to the seamless fusion of sophistication and practicality, Mazda's commitment […]
In the ever-evolving landscape of compact crossover SUVs, Mazda has once again proved its expertise with the revolutionary Mazda MX-30. Captivating the hearts of automotive enthusiasts, the MX-30 brings forth a harmonious fusion of power, innovation, and striking design. This remarkable vehicle represents Mazda's commitment to a sustainable future while staying true to its century-old legacy […]