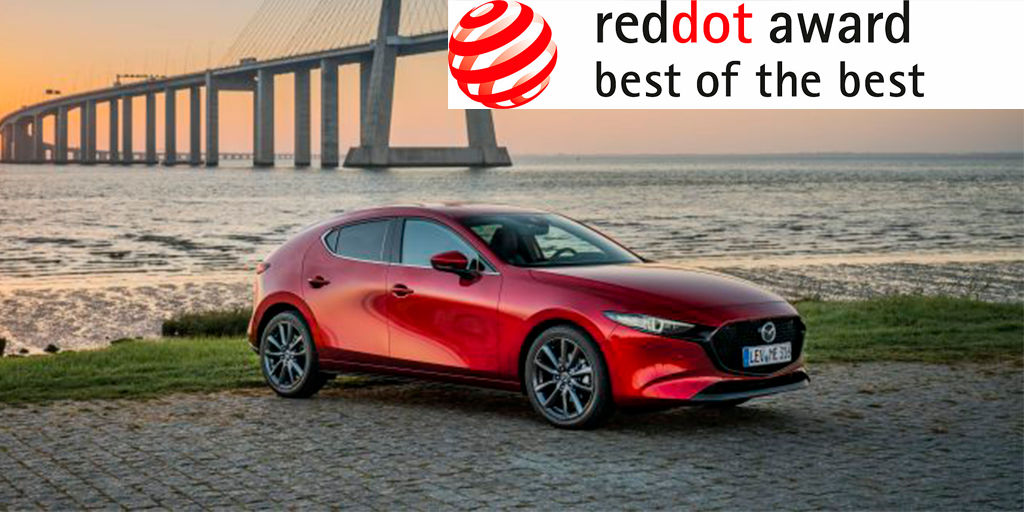 All-new Mazda 3 wins Red Dot Award
The All-new Mazda 3 is already being recognised for its evolved KODO – Soul of Motion design, winning the "Red Dot: Best of the Best" prize at the 2019 Red Dot Product Design Awards.
Ahead of its May release, the All-new Mazda 3 has been receiving praise from all corners, with journalists raving about its elegant design and refinement. And now it adds another incredible accolade to the collection – the "Red Dot: Best of the Best" award.  This award is given to the products that have truly excelled in terms of design, offering something groundbreaking and visionary.
The Mazda 3 represents an evolution of Mazda's iconic KODO: Soul of Motion philosophy. It shifts the focus to expressing Japanese aesthetics in a simple, single form.  When asked about what inspired the All-new Mazda 3's eye-catching design, chief designer Yasutake Tsuchida said, "Beauty through subtraction is the key principle behind the Mazda3's design. But it's more than just minimalism. Coming up with such a pure design requires much effort and refinement through trial and error. And it's something we believe can only be created by the human hands of our expert clay modellers."
The Red Dot Award covers a wide range of products, with more than 5,500 entries received from 55 countries, with only 100 being awarded the "Best of the Best" prize. The selection criteria looks at a variety of things, including innovation, functionality, ergonomics and longevity. Dr. Peter Zec, founder and CEO of Red Dot had this to say on the "Best of the Best" award: "Winning the 'Red Dot: Best of the Best' is a very special honour because only a very small percentage of entries are granted this distinction. It is well-deserved recognition for a wonderful design achievement and proof that the award-winning companies are among the best in design.
This is not the first time Mazda have been recognised by the Red Dot.  To date, they've won seven Red Dot prizes for a variety of KODO models. In 2017 it won for the MX-5 RF; in 2015 for the MX-5 soft top, CX-3 and Mazda 2; the previous generation Mazda 3 in 2014; the Mazda6 in 2013.  This long history of accolades reflects the continued success and innovative nature of Mazda's KODO – Soul of Motion design philosophy.
[su_carousel source="media: 10793,10794,10795,10796,10797,10798″ link="custom" height="320″ items="1″ title="no" pages="yes"]
To find out more about the All-new Mazda 3, which goes on sale 18th May 2019, visit our website or contact one of our Mazda showrooms in Bookham, Weybridge and Orpington.
Similar Articles
Mazda consistently delivers innovative vehicles to the market, and the MX-30 is no exception. The launch of the MX-30, Mazda's first pure electric vehicle (EV) in 2020 marked the first step in Mazda's roadmap towards electrification. Available as both a pure EV and a new plug-in hybrid R-EV, the Mazda MX-30 models combine a sophisticated […]
Available in both a pure EV and Plug-In Hybrid R-EV, the Mazda MX-30 is centred around the carmaker's Kodo design philosophy. The innovative design creates a lasting impression, and its exciting features and equipment make a thoughtfully curated interior that combines style, comfort, and functionality. From cutting-edge technology to the seamless fusion of sophistication and practicality, Mazda's commitment […]
In the ever-evolving landscape of compact crossover SUVs, Mazda has once again proved its expertise with the revolutionary Mazda MX-30. Captivating the hearts of automotive enthusiasts, the MX-30 brings forth a harmonious fusion of power, innovation, and striking design. This remarkable vehicle represents Mazda's commitment to a sustainable future while staying true to its century-old legacy […]