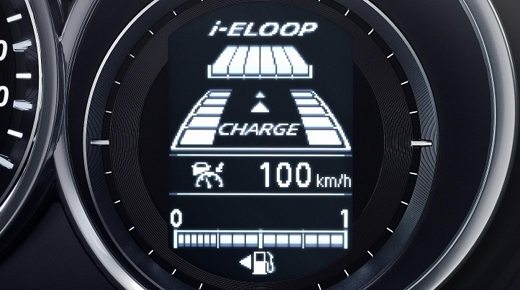 Explained: Mazda's i-ELOOP energy recovery system
Recovering kinetic energy from a moving vehicle, using it to help power on-board electronic systems is not a new idea – hybrid cars have been using this technology for a while.
But Mazda's approach to solving the problem is.
The i-ELOOP system, unique to the Japanese manufacturer, uses capacitors to store its energy in favour of a battery – short for "intelligent Energy Loop", it's the world's first passenger car system to use this hardware as a method of energy storage.
It's part of the firm's Skyactiv philosophy of reducing fuel consumption and improving efficiency. According to Mazda Motors UK Managing Director Jeremy Thomson, i-ELOOP is "a unique solution to the challenge of how to harvest free engine power."
Other manufacturers employ traditional battery technology, but the advantage of the capacitor is the speed at which it can be charged and discharged.
Traditional lead-acid starter batteries pose significant drawbacks in terms of the time it takes to store and release the energy gained through kinetic recovery during deceleration.
As these phases typically last for around 10 seconds only, the ability to rapidly take in and deploy energy is paramount.
That's why Mazda's engineers opted to design and build an electric double-layer capacitor, which recharges fully in only a few seconds.
A 12V – 25V variable voltage alternator generates the electricity to charge the capacitor, with a transformer used to convert the electricity into a usable supply to power on-board systems, such as the air conditioning and stereo. Any surplus electricity gets sent to the battery to keep charge levels up.
A full capacitor charge can run the vehicle's electrical hardware for around one minute and reduces load on the alternator so as to improve fuel efficiency.
This means the i-ELOOP system goes hand-in-hand with Mazda's i-stop technology, as launched on the Mazda CX5 crossover and all-new Mazda 6 saloon and estate variants.
The stop-start system shuts the vehicle down when stationary, turning to the capacitor to supply electricity – there's no need to revert to battery power, in turn draining the starting system's charge.
As a result, i-ELOOP can produce most if not all of a vehicle's electricity needs compared to other configurations, which require some of the engine's output just to drive the alternator in generating power.
Freeing up this engine capacity means improved fuel economy under all driving conditions – around 10% in stop-start urban environments.
It's one small part in Mazda's Skyactiv ethos, but it's a proven piece of technology using smart thinking and small changes to deliver huge results.
Similar Articles
Although Hybrid and Electric cars remain a niche market in the UK, their popularity is growing. A brief look at the SMMT registration data for 2022 can give you an idea of where the market currently stands: Battery Electric Vehicles (BEVs): 267,203 cars sold in 2022. A 40.1% increase from 2021. Plug-in Hybrid Electric Vehicles […]
Toyota Motor Corporation and Suzuki Motor Corporation today announced their next step in their collaboration. This will focus on Hybrid Car production, including plans to bring production of a new Suzuki hybrid car to Toyota's UK factories. On Wednesday, Toyota and Suzuki announced an agreement to begin collaboration on electric vehicles and other in-car […]
Mazda announces their long-term "Sustainable Zoom-Zoom 2030" plan, including the introduction of a spark plug free petrol engine in 2019 Back in February we wrote about Mazda's rumoured research into a compression based petrol engine to replace their current spark ignition technology.  At the time, their had been no word from Mazda on the topic. […]