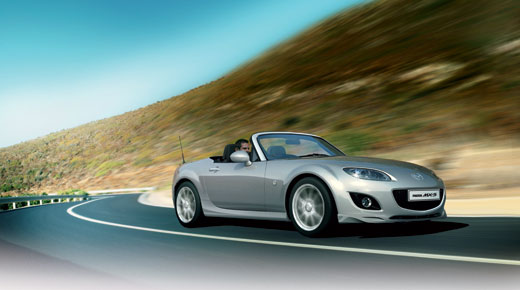 Mazda MX5 a future classic
The Mazda MX5 is being hotly tipped to become the most popular classic car in the UK in 50 years time, according to a survey by classic vehicle insurance broker, Footman James.
7% of classic vehicle owners predicted the two-seat Mazda sports car would most likely be a future classic half a century from now – beating the Bugatti Veyron and Audi TT into second and third position respectively.
The survey took in the opinions of 3,500 classic vehicle owners asked which modern-day motor they expected to keep its appeal long into the future, with the Mazda coming out on top.
Now in its third iteration, with a facelift recently announced, original Mazda MX5s – also know as the Miata in North America and the Eunos Roadster in Japan – are widely regarded as modern classics, having first gone into production in 1989.
Now it seems official classic car status is destined for the popular Mazda too.
The current generation vehicle is already extremely popular thanks to its strong blend of performance, reliability, dynamic ability and efficiency, as well as excellent value for money.
Footman James' managing director, Adrian Fairchild:
"It is fascinating to obtain an insight into what classic vehicle owners deem to be the classics of the future. With regards to which ones can claim iconic status in 50 years time – I guess we will just have to wait and see!"
With the Mazda MX5's popularity spanning 23 years and a host of upgrades on the horizon, the iconic roadster looks set to have a rosy future as a desirable classic automobile.
Similar Articles
Mazda consistently delivers innovative vehicles to the market, and the MX-30 is no exception. The launch of the MX-30, Mazda's first pure electric vehicle (EV) in 2020 marked the first step in Mazda's roadmap towards electrification. Available as both a pure EV and a new plug-in hybrid R-EV, the Mazda MX-30 models combine a sophisticated […]
Available in both a pure EV and Plug-In Hybrid R-EV, the Mazda MX-30 is centred around the carmaker's Kodo design philosophy. The innovative design creates a lasting impression, and its exciting features and equipment make a thoughtfully curated interior that combines style, comfort, and functionality. From cutting-edge technology to the seamless fusion of sophistication and practicality, Mazda's commitment […]
In the ever-evolving landscape of compact crossover SUVs, Mazda has once again proved its expertise with the revolutionary Mazda MX-30. Captivating the hearts of automotive enthusiasts, the MX-30 brings forth a harmonious fusion of power, innovation, and striking design. This remarkable vehicle represents Mazda's commitment to a sustainable future while staying true to its century-old legacy […]