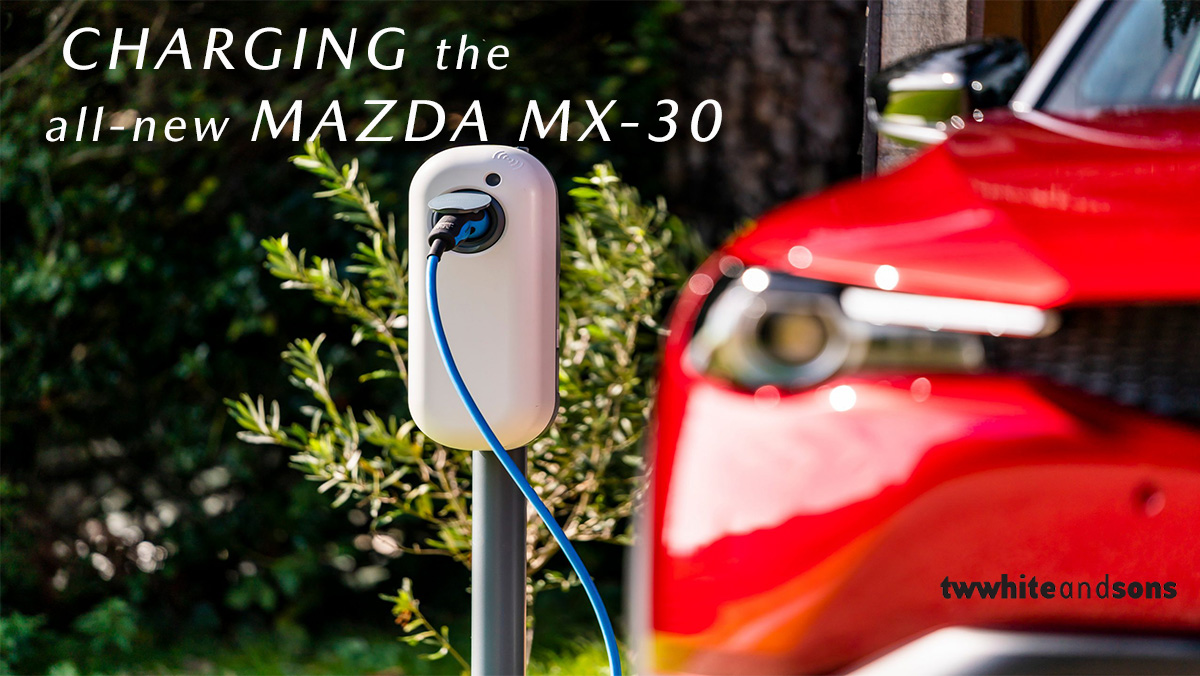 The Mazda MX-30 charging guide: everything you need to know about charging the Mazda MX-30
The all-new Mazda MX-30 is an all-electric vehicle (EV) which operates on a 35.5 kWh battery that is fast, flexible and straightforward to charge at home or on the go, an exciting evolution of the traditional internal combustion engine, which is an affordable and sustainable way of driving.
With conventional vehicles typically using petrol or diesel fuel, it has been common practice to wait until the tank is almost empty to then fill it up. However, the MX-30 can be charged or "topped up" at home, petrol stations, supermarkets, multi-storey car parks, train stations and many other public places. So, finding a charge point when out driving is increasingly easy and convenient.
The combined range for the Mazda MX-30 is 124 miles on a full charge. Mazda MX-30 owners have multiple options to stay charged, each offering different power outputs and their respective charging speeds vary accordingly. It is important to note that the weather will not prohibit charging the Mazda MX-30 but the charging time may be affected by ambient temperatures.
So, here is everything you need to know about charging the all-new Mazda MX-30.
What kind of charger does a Mazda MX-30 use?
The Mazda MX-30 uses the Combined Charging System (CCS) which is the industry's universal standard for charging electric vehicles. It uses the Combo 1 and Combo 2 connectors to provide power up to 350 kilowatts. Essentially, as the name suggests the "combined" system can support both slow and fast AC charging and rapid DC charging.
Mazda MX-30 Slow and Fast AC charging
Two Type 2 (a 7-pin plug design) cables are included in the cost of a new Mazda MX-30 for charging at home, work or at a public charging point, along with a charging cable storage bag. Mazda recommends to keep both cables in the boot of the car at all times, or a preferred safe place, as customers will need to use their own charging cables when charging at a public AC charge point.
One of the two Type 2 cables provided, can be connected to a regular wall socket using a 3-pin plug. This is the slowest option of charging the MX-30. However, you can connect it to wherever you have access to a regular socket and there are no installation costs incurred. The average charging time when opting for this method of charge, is approximately 16 hours from empty to full charge.
The second Type 2 to Type 2 cable included in the purchase price is there to be used with a recommended 7kW charge point socket. Designed to be used for home use, when installed by a qualified electrician, and for commercial use. This cable is the most popular and faster charging option, arguably the most efficient too. The recommended home ChargePoint socket can charge the vehicle from 0% to 100% in around 6 hours, or from 20% to 80% in approximately 3 hours for an additional range of 74 miles! The same applies to charging at public places.
Mazda have currently partnered up with the UK's leading provider and installer of at-home electric vehicle charging points, Pod Point, to help customers choose and install a charging unit. Other providers can also be used if preferred. There is a cost for installing the at-home charger but to offset this the current Government is offering grants such as the Office for Zero Emission Vehicles Plug-in Car and Electric Vehicle Home charge Scheme*, which the Mazda MX-30 is eligible for. (The Mazda MX-30 also benefits from £0 road tax and £0 London Congestion Charge).
*Government grant and price may be subject to change. Terms and conditions apply. Please speak to your local T W White and Sons Mazda dealer for more information.
Mazda have created a Charging Calculator to help prospective customers envisage roughly how long it will take to charge their vehicle.
Mazda MX-30 Rapid DC charging
Rapid DC charging is the fastest way to charge the MX-30 and can be typically found at motorway services or locations close to main routes. This is not an available option for home installation. These dedicated charging stations require significantly more electricity and are designed for charging a vehicle whilst en route somewhere. These stations require a fee to use them and depending on the network provider, may either require setting up an account that can be set up beforehand on a smartphone or more commonly can be paid for using contactless payment methods. All rapid DC charging stations provide CCS connector cables for MX-30s.
Essentially, the rapid DC (direct current) charging stations convert AC (alternative current) power to DC power within the charging station and deliver DC power directly to the battery. The average charge time from 20% to 80% charge will take approximately 36 minutes!
Helpfully, Zapmap and other third-party websites now offer readily available information for customers to check where the nearest rapid charger station is, either locally or near a chosen destination.
In the UK, there are now more than 42,000 charge point connectors across the UK in over 15,500 locations which include regular AC and rapid DC charging stations.
Step by step guide to charging the Mazda MX-30
Charging the MX-30 is as simple as plugging in a phone charger, one end plugs into the vehicle socket and the other into the charge point or wall socket itself.
Please see below a step by step guide to charging your Mazda MX-30:
Shift the select lever to the Park 'P' position
Switch the power button off
Remove charging cable from storage bag, recommended to be always kept in the boot
Press to open charge cap by pushing in the cap for it to release open (driver rear side of car)
Remove choice of charging port cap (to match required charging cable)
Connect charge plug to a wall socket
Plug in charge connector to the car charge port
Charging will then commence.
Lock the car
The green light to the right of the car charge inlet will flash, indicating the vehicle is being charged. When charging has completed the light will stop flashing and the light will turn off.
Once the vehicle has finished charging:
Unlock the car
Remove the charge connector from the car charge port
Close the charge port cap
Unplug the charging cable from the wall outlet
Return the charging cable to the storage bag and return to the boot
MyMazda Application
For ease of use, the MyMazda App offers the ability to monitor the MX-30's charging status remotely and is free of charge with all Android and IOS phones. You can program charging reminders, get live updates on charging status and information on charging stations nearby.
Frequently asked questions
Similar Articles
The all-new Mazda MX-30 is an all-electric vehicle (EV) which operates on a 35.5 kWh battery that is fast, flexible and straightforward to charge at home or on the go, an exciting evolution of the traditional internal combustion engine, which is an affordable and sustainable way of driving. With conventional vehicles typically using petrol or […]
Parking Guide Infographic – An infographic by T W White & Sons NOTE: This article has been updated to include a description of the bay parking instructions.  It was originally posted on 10th April 2013. Ever found yourself going backward and forwards as you hold up a whole queue of drivers while you try and […]
With the hot weather hitting the UK  you might not think the increased temperatures will have too much of an effect on your car. However, it is essential to regularly check and top up your engine coolant level when needed. Don't dismiss the warm weather's impact on your vehicle, as letting your engine coolant level drop […]