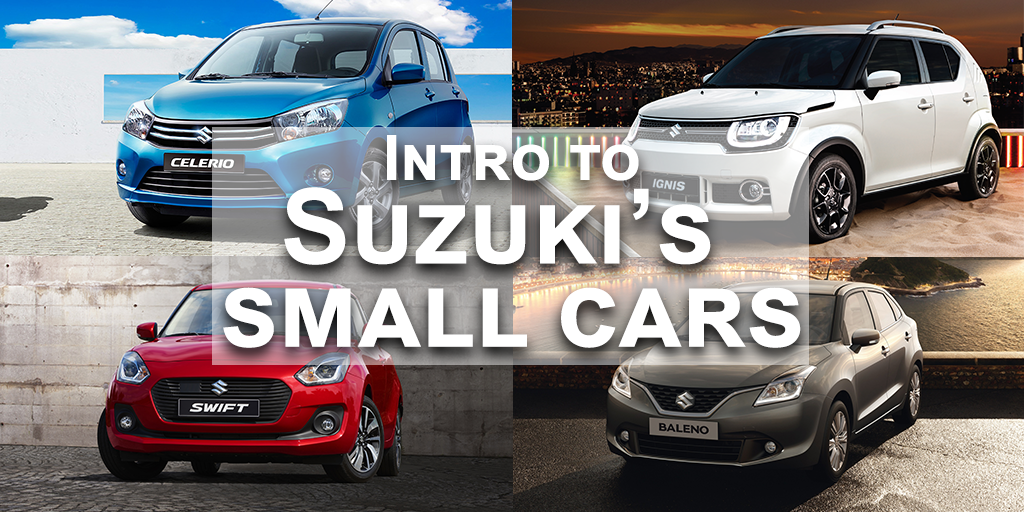 Intro to Suzuki's Small Car Range
We take a look at Suzuki's small car range to you decide which one is the right choice for you
Although the roads seem to be dominated by SUVs and crossover vehicles, it's still small cars that make up the majority of new car sales in the UK.  According to statistics gathered by the Society of Motor Manufacturers & Traders, cars falling into the city car and supermini classes make up just under half of all new car sales in 2017 so far.  But when it comes to small cars, one size definitely does not fit all.  Luckily Suzuki has got you covered, offering four fantastic small cars to choose from: the Suzuki Celerio, the Suzuki Ignis, the all-new Suzuki Swift and the Suzuki Baleno.  With so many options available, it's hard to know which is the right car for you. To help make things a little bit clearer here's our run down of the Suzuki small car range.



Let's start with the smallest and cheapest car in the Suzuki range, the Suzuki Celerio.  Its on the road price starts at just £7,499*.  But the small price tag doesn't mean you lose out on a great drive and some fab features.  The Celerio comes 5-doors and 5 seat capacity and DAB radio as standard.  Going up to the top-end SZ4 trim, the Celerio is packed full with features: Bluetooth connectivity, air-conditioning, USB connector, front and rear electric windows, 14″ alloy wheels, remote central locking and ABS with EBD and Brake Assist function.
Although it is only available in one engine size, a 1.0-litre three-cylinder, it's more than enough to make the light and compact Celerio nippy on faster A-roads and motorways.  And the small engine means better efficiency and lower fuel costs, boasting a combined fuel economy of 65.7mpg.
How does the Celerio do in terms of space?  For a car that comes in at just 3.6m long and 1.6m wide, it's surprisingly spacious.  There's plenty of head room and lots of handy storage spots dotted throughout the interior.  And despite its modest size, the Celerio has a 5 seat capacity.  We would caveat that having 3 adults in the back is a bit of a squeeze, but it's a fab feature for the occasional emergency.  The boot is also larger than most other city cars, and the 60/40 folding rear seats provide added flexibility.
Best suited for…
The Suzuki Celerio is the perfect small car if you're looking for something cheap, compact and efficient.  Even if you go for the top-of-the-range SZ4, the on the road price stays under £10,000*.



Just a tad larger than the Celerio is the eye-catching Suzuki Ignis.  This new addition to the Suzuki range offers something quite unique to the small car market – a city-sized car with 4-wheel-drive capabilities and design.  This striking mini-SUV may only measure in at 3.7m long, but its higher stance, flared wheel arches and angular lines give it the rugged appearance of a proper off-roader. And those roof rails aren't just for show, they are load-bearing! Combine that with a tonne of features and a starting price of £10,499*, the Ignis presents an appealing package.
So what features does it include?  From its entry level SZ3 trim, the Suzuki Ignis comes air conditioning, Bluetooth connectivity, DAB radio, USB connector, automatic headlamps, front and rear electric windows and remote central locking as standard.  By the time you get to the top-spec SZ5 trim level, the Ignis is practically bursting with tech and other handy features: Dual City Brake Support, keyless entry and start, satellite navigation, and rear parking camera, to name a few.
A benefit of the Suzuki Ignis' SUV styling is that it offers unrivalled space for a city-sized car.  In the entry level SZ3, the Ignis offers 5-seats, with a 3-seat 60/40 split in the rear bench, although, like the Celerio, 3 adults could get a bit cosy. But once you go up to the SZ-T and SZ5 trims, the rear bench turns two individually adjusting seats and offers enough space for 4 adults could happily travel in comfort.  The sliding rear seats also offer fantastic flexibility with the boot space and can fold down 50/50.
The Ignis as a couple more engine options that the Celerio, too.  While the only size on offer is 1.2-litre, it comes in both standard and hybrid.  And the larger engine doesn't mean you lose out in terms of efficiency.  The Ignis offers a combined fuel economy of 61.4mpg.
Best suited for…
If you're after a small car that can give you versatility while still fitting comfortably down the smallest of city roads, then the Suzuki Ignis is the car for you.

Having just hit the market this July, the new Suzuki Swift has taken the fun driving and styling that everyone loved from its predecessor and built on it.  At 3.84m long, it's a bit larger than the previous version, and they've used this extra room to improve the space for all passengers.  The seats are low enough that tall drivers or passengers will comfortably have enough head room.  And in the rear, passengers can sit in comfort without their knees touching the front seats.  Another convenience of the new Swift is that all models come in 5-door, so no folding seats and awkward manoeuvres to get into the back.
As you would expect for a car aimed primarily at a younger generation of drivers, the swift features a good range of mod-cons from the entry level SZ3, including Bluetooth connectivity, DAB digital radio, air conditioning and remote central locking.  Once you get up to the top-end SZ5 model, the Swift offers a plethora of features – keyless entry, advanced forward detection system, adaptive cruise control, smartphone linkage display audio, satellite navigation.
The real selling point of the Suzuki Swift, however, is how fun it is.  Whether you go for the turbocharged 1.0-litre or the 1.2-litre Dualjet (with or without the SHVS mild hybrid), the Swift has the oomph needed to make driving it a true joy. On a cosmetic level, the variety of colours available (7 single tone and 3 dual tone options) and the modern styling reflects its fun driving style.
Best suited for…
If you're looking for a small car that's fun to drive and will turn heads with its design, you can't go wrong with the Suzuki Swift.
Suzuki Baleno

The largest of Suzuki's small cars is the Suzuki Baleno.  This hatchback's understated design shouldn't be taken to mean the Baleno is a more conservative car in terms of features.  In reality, the Suzuki Baleno is one of the most specced out cars in the current Suzuki line-up.  The entry level SZ3 model comes with Bluetooth connectivity, LED daytime running lights, automatic headlamps, DAB digital radio, USB and AUX connectors and air conditioning as standard.  And all of this tech doesn't mean a huge starting price.  The on the road price for the Baleno SZ3 is just £11,999*.  And to get the top-spec SZ5 you're only looking at an extra £3,000*.  What does that £3,000* buy you? Smartphone linkage display audio, automatic headlights, satellite navigation, automatic air conditioning, keyless entry and start, Radar Brake Support with brake assist function, reversing camera and hill hold control (auto only).  And that's not even close to the full list of features!
The Baleno is also the most spacious of Suzuki's small cars.  Its additional 15cm length compared to the Swift has been put to incredible use.  Even with a full car of 5 passengers, there's enough room for it to not feel cramped.  And the boot is far larger than any of the other cars on this list – 320-litres with rear seats up.
Best suited for…
If you love tech, then the Baleno is a great choice.  Even from its lowest trim level, it's got a generous amount of on-board technology.  And the price jump between the SZ3 and SZ5 seems well worth it when you see just many additional features you get.
The Baleno is also the best choice of small car if you often find yourself in need of lots of storage as well as multiple passengers.  Even with the rear seats up, the boot space is generous and there's still plenty of room for you and your passengers to be comfortable.
It's clear that Suzuki is determined to have a small car suited to every driver's priorities.  If you want to try any or all of these cars for yourself, they're all available to test drive at our Suzuki Showroom in Effingham, Surrey.
*All prices shown in this article are correct at time of publication and based on the on the road price excluding metallic paint. Actual price may vary.
Similar Articles
Investing in a new car is a big decision, so you want to ensure that you pick the purchase or finance option that's right for you. You can buy a vehicle outright, but most people tend to opt for one of the finance options available. Car finance allows you to spread the cost of the […]
While buying a brand new car might be alluring, and being the first driver registered to the car certainly has its benefits, it's not necessarily the right choice for you. Before you make you decide, read our guide to pre-registered vehicles to see if it's the best option for your needs. When it's time to […]
Dispelling the myths and misconceptions surrounding average speed cameras, we get down to the truth of how they work and how you can avoid getting fined. While we can all understand the need to monitor speeds from a safety perspective, no one like seeing the yellow of a speed camera in the road ahead. With […]