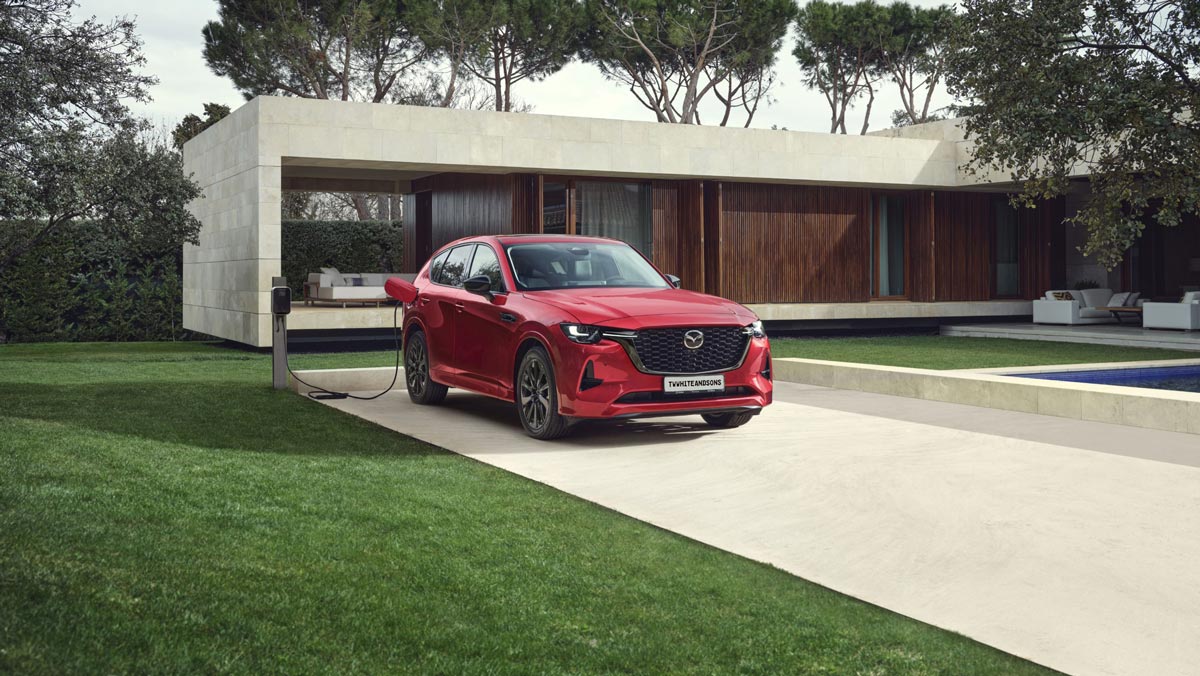 Mazda CX-60 Specs and Model Range Comparison
If you're looking for a 300-horsepower, all-wheel drive plug-in hybrid today, you are in luck. The newest entrant, Mazda CX-60, packs a punch. The new Mazda CX-60 PHEV epitomises all that Mazda has ingrained in its DNA over the past 100 years, including the best Japanese craftsmanship, exceptional external and interior design, cutting-edge human-centric technology, and industry-leading powertrains.
Table of Contents
The stunning front-engine, rear-wheel drive SUV architecture of the Mazda CX-60 is rugged and beautifully dynamic, communicating the intelligence and beauty of the most recent innovations in Kodo design. In addition, the exquisite, high-end interior design incorporates various materials and textures, including maple wood, Nappa leather, intricately woven Japanese fabrics, chrome accents, and specially detailed stitching on the instrument panel.
The Jinba-Ittai driving experience has been perfected using human-centric technologies that have been rethought and improved to better satisfy the demands of each driver.
The CX-60's design expresses stability akin to how a living organism uses its skeletal system and muscles to firmly grasp the ground. This sums up Kodo design at its core. The Mazda CX-60 takes advantage of its sturdy architecture to express its skeleton appeal when viewed from any angle. While the signature wing now has a lighting function with integrated indicators to accentuate the formidable look of the grille further, the front grille adopts an adjusted aspect ratio that shows off the grille's height more than on other Mazda's. The Mazda CX-60's headlamp configuration incorporates vertically stacked lights and an L-shaped lighting signature to produce a unique expression that portrays the power of an SUV.
As standard across the range, the Mazda CX-60 is offered with an eight-speed automatic gearbox and features Mazda's latest i-Activ All-Wheel Drive system. It boasts a remarkable 39-mile electric range and features a 2.5-litre petrol engine with an electric motor with a total power output of 323 horsepower. The Mazda CX-60 currently comes in three trim levels. Let's look at the different grades and compare the specs:
Mazda CX-60 Exclusive Spec
The Mazda CX-60 Exclusive line offers numerous features as standard. The exterior has 18-inch alloy wheels, a hands-free power liftgate, LED headlights, rugged black wheel arch mouldings and smart keyless entry. With the Smart Keyless Entry system, you never need to take the key out of your pocket. Instead, simply push the corresponding button on the car to lock or unlock the door or liftgate. You can also use the key fob's buttons like you would on a conventional keyless system.
Inside, the Mazda CX-60 Exclusive line offers a wide range of technologies to enhance safety and driving comfort. Key highlights include a generously proportioned 12.3" colour entertainment screen with Mazda's Connect infotainment system and a 360-view monitor, which provides a complete bird's eye view of the vehicle to assist with manoeuvring into and out of tight spots. Additional comfort features include a heated steering wheel, heated front seats, and black leather seats.
To assist with road handling, the CX-60 features Mazda's Kinetic Posture Control technology which helps to stabilise the vehicle when cornering by minimising body roll
The head-up feature displays the most important data on an accessible yet unobtrusive portion of the windscreen. You can choose between street information (current speed and speed limit) or directions from the navigation system.
Customer choice is further enhanced with the option to add three option packs: Convenience Pack, Driver Assistance Pack, and a Comfort Pack. We look at these in more detail later further below.
Mazda CX-60 Homura Spec
Stepping up to the Homura line will get you 20-inch alloy wheels, a honeycomb front grille, ambient interior lighting, heated rear seats, ventilated front seats, and a 12-speaker Bose stereo system. You also get electrically adjustable seats and steering wheel and an added option for a panoramic sunroof.
The CX-60 Homura looks arguably more stylish than the Exclusive line thanks to its body-coloured wheel arch mouldings, gloss black door mirrors, a dark plated signature wing grille surround, and honeycomb grille treatment. In addition, the 20-inch black alloy wheels complete the distinctive external design of the Homura.
The Homura grade's interior includes ambient lighting, seat heating for the outer rear seats, and the revolutionary Mazda Driver Personalization System. This cutting-edge technology uses facial recognition to identify the person in the driver's seat and automatically adjust the environment, including the seat, steering wheel, mirrors, sound, head-up display, and climate control settings, to fit both their physical characteristics and personal preferences. There's also the option to add the Convenience Pack and Driver Assistance Pack.
Mazda CX-60 Takumi
The Takumi is the top-of-the-line CX-60 model. It has 20-inch black diamond cut alloy wheels, a chrome-plated signature wing grille treatment, body-coloured mirrors, and a radiator grille with a bar-like design exclusive to this flagship grade. Additionally, Takumi models have a white Nappa leather-trimmed interior trim with a delicate Japanese stitching pattern that extends across the facia, leather upholstery, and maple wood in the facia, door casings, and centre console.
Similar to the Homura, you can add the Convenience Pack and Driver Assistance Pack.
What are the Mazda CX-60 Packs?
The Mazda CX-60 model has three packs available to purchase, offering you several bundled enhancements. They include the Comfort Pack, the Convenience Pack and the Driver Assistance Pack.
Comfort Pack
Available only with the Exclusive-Line, the Comfort Pack includes premium items such as 20-inch alloy wheels, rear seat heaters, electric front seats, front seat ventilation, and the Mazda Driver Personalisation system tech.
Convenience Pack
Some highlights of the Convenience Pack include the privacy glass, 360-degree monitor with a see-through view, and wireless phone charging.
Driver Assistance pack
The Driver Assistance Pack adds significant active safety technology such as Adaptive LED Headlights, Rear Cross Traffic Brake (RCTB), Front Cross Traffic Alert (FCTA), and i-Adaptive Cruise Control.
Conclusion
The Mazda CX-60 has all the makings of becoming another best-selling Mazda, with a quality interior, advanced safety technologies, a ton of standard kit, and outstanding driving dynamics. The Mazda CX-60 marks the beginning of a new era for Mazda. It raises the bar for interior quality, design, and technology, emphasising Mazda's path as a distinctively premium vehicle that can easily hold its own against German rivals.
The Mazda CX-60 is a vehicle designed for those who value distinctively Japanese aesthetics and a solid but elegant appearance. A wide range of subtly integrated features and driver-focused technology are available in the relaxing, graceful cabin, which is likely to go above and beyond your expectations. Indeed, it is an SUV designed for progressive drivers who truly appreciate excellence and exhilarating driving dynamics.  For more information about the Mazda CX-60, read our complete guide, or reach out to us today. T W White & Sons are your ultimate home for Mazda cars.
Similar Articles
Mazda consistently delivers innovative vehicles to the market, and the MX-30 is no exception. The launch of the MX-30, Mazda's first pure electric vehicle (EV) in 2020 marked the first step in Mazda's roadmap towards electrification. Available as both a pure EV and a new plug-in hybrid R-EV, the Mazda MX-30 models combine a sophisticated […]
Available in both a pure EV and Plug-In Hybrid R-EV, the Mazda MX-30 is centred around the carmaker's Kodo design philosophy. The innovative design creates a lasting impression, and its exciting features and equipment make a thoughtfully curated interior that combines style, comfort, and functionality. From cutting-edge technology to the seamless fusion of sophistication and practicality, Mazda's commitment […]
In the ever-evolving landscape of compact crossover SUVs, Mazda has once again proved its expertise with the revolutionary Mazda MX-30. Captivating the hearts of automotive enthusiasts, the MX-30 brings forth a harmonious fusion of power, innovation, and striking design. This remarkable vehicle represents Mazda's commitment to a sustainable future while staying true to its century-old legacy […]