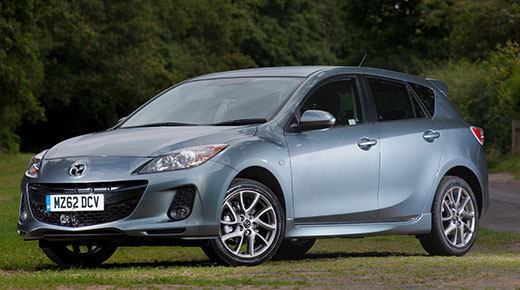 New Mazda 3 Venture Edition and Sport Nav models for 2013
Mazda has updated its Mazda 3 Venture Edition and Sport Nav models for 2013, with the new Venture and Sport Nav range.
That means over the current models, updated Mazda 3 Venture and Mazda 3 Sport Nav vehicles receive a range-upgraded equipment, including rear parking sensors, 17-inch bright finish alloy wheels and Black Mica door mirrors.
Inside, there's also a sporty black cloth interior with contrasting red stitching and some unique exterior colours – such as the new Zeal Red Mica hue – to set it these vehicles apart from the rest of the range.
If red isn't your thing, you can choose from Aluminium Silver, Black Mica, Crystal White Pearlescent, Graphite Mica, Indigo Lights Mica or Arctic White.
On top of the enhanced levels of standard-fit kit, all revised Mazda 3 Venture and Sport Nav variants also get privacy glass, a unique rear roof spoiler, a 5.8-inch Sanyo TomTom sat nav system, Bluetooth, cruise control, USB connectivity for personal music players, automatic headlights and wipers and heated front seats.
Sport Nav models also get a heated front windscreen for a quick clear on those frosty mornings and LED taillights.
All new Venture and Sport Nav models benefit from the same great range of punchy performing but parsimonious engines.
That means a 185hp 2.2-litre turbodiesel that'll complete the 0-62mph sprint in 8.2 seconds, while the 1.6 Diesel returns an amazing 65.7mpg combined with just 115g/km CO2, meaning only £30 annual road tax.
Best of all, prices for the updated range of vehicles haven't changed, kicking off at £17,495.
For more information on the superbly equipped Mazda 3 Venture and Sport Nav models, why not drop into our Bookham, Surrey or Orpington, Kent showrooms? Alternatively, contact our sales team on 0844 539 6753.
Similar Articles
Mazda consistently delivers innovative vehicles to the market, and the MX-30 is no exception. The launch of the MX-30, Mazda's first pure electric vehicle (EV) in 2020 marked the first step in Mazda's roadmap towards electrification. Available as both a pure EV and a new plug-in hybrid R-EV, the Mazda MX-30 models combine a sophisticated […]
Available in both a pure EV and Plug-In Hybrid R-EV, the Mazda MX-30 is centred around the carmaker's Kodo design philosophy. The innovative design creates a lasting impression, and its exciting features and equipment make a thoughtfully curated interior that combines style, comfort, and functionality. From cutting-edge technology to the seamless fusion of sophistication and practicality, Mazda's commitment […]
In the ever-evolving landscape of compact crossover SUVs, Mazda has once again proved its expertise with the revolutionary Mazda MX-30. Captivating the hearts of automotive enthusiasts, the MX-30 brings forth a harmonious fusion of power, innovation, and striking design. This remarkable vehicle represents Mazda's commitment to a sustainable future while staying true to its century-old legacy […]