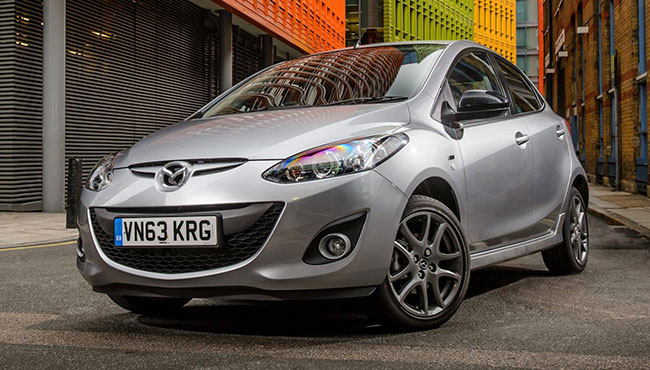 New Mazda 2 'Colour Edition' models join upgraded line-up
Mazda has added another two great models to its Mazda 2 supermini range, with the Mazda 2 Colour Edition and Sport Colour Edition.
The new variants offer customers even more style and equipment alongside superb value – priced from £11,745 and £12,845 respectively, the new Mazda 2 Colour Edition and Sport Colour Edition are fantastically affordable.
The new vehicles come in three different body colours, with matching body colour-coded interior design highlights. Buyers will be able to choose from True Red, Crystal White pearlescent and Aluminium Silver Metallic.
The new cars get unique finishes for the alloy wheels and an incredible level of standard-fit kit, too.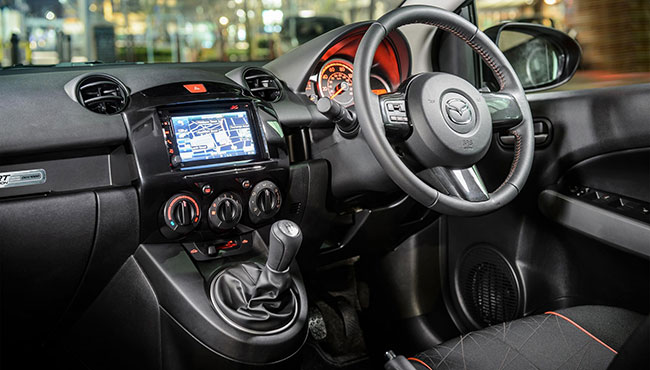 MAZDA 2 COLOUR EDITION
The Mazda 2 Colour Edition is powered by a 75hp 1.3-litre petrol unit that delivers great performance around town, while returning a parsimonious 56.5mpg combined with just 115g/km CO2.
The car benefits from an impressive 11 items of additional equipment above the SE Air Con trim level. This extensive list of features includes 15-inch dark grey alloys, privacy glass, Jet Black door mirrors and the same finish for the rear spoiler.
Inside, the seats receive red piping that contrasts neatly with the black trim, a leather steering wheel with wheel-mounted audio controls, gloss dark grey interior inserts to match the wheels and a Parrot Bluetooth system.
To keep the Colour Edition theme running, the car's door trim and outer air vents are painted in the same colour as the body – quite a neat touch, we think.
Priced from £11,745 the Colour Edition is great value when you consider all the extra equipment on offer.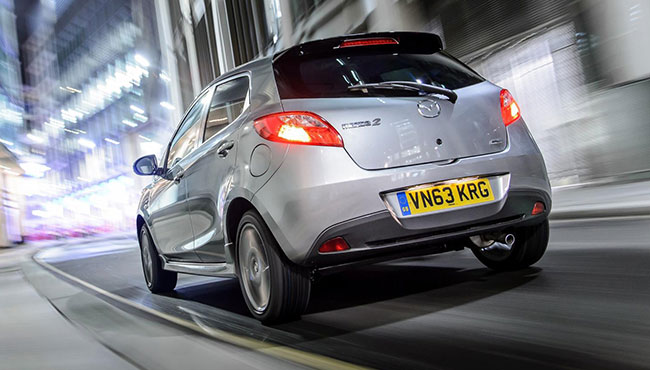 MAZDA 2 SPORT COLOUR EDITION
For those that want a touch more dynamic ability, however, there's always the Mazda 2 Sport Colour Edition.
This car gets a more powerful 85hp 1.3-litre engine giving the agile supermini even more poke.
Just like the regular Colour Edition, the Sport gets even more equipment, too – 11 pieces ON TOP of the Colour Edition, in fact.
The upgraded spec features 16-inch dark grey alloy wheels, a sporty body kit, Sports headlamps and front fog lamps.
Inside, there's a 6.1-inch satellite navigation system with Bluetooth, a trip computer, leather gear knob, all-round electric windows, two extra speakers for the stereo and side and curtain airbags, so safety is strong as well.
The Sport Colour Edition costs an unbelievably affordable £12,845 and joins the strong existing line-up of Mazda 2 models.
If you fancy a splash of Colour (be it Sport or regular) get in touch with us on 0844 539 6753 or visit our Mazda showrooms in Bookham, Surrey or Orpington, Kent.
In the meantime, we want to hear what you think about the new range of funky Mazda 2 Colour Editions. Like the looks and the extra equipment? Let us know on twitter or Facebook.
Similar Articles
Mazda consistently delivers innovative vehicles to the market, and the MX-30 is no exception. The launch of the MX-30, Mazda's first pure electric vehicle (EV) in 2020 marked the first step in Mazda's roadmap towards electrification. Available as both a pure EV and a new plug-in hybrid R-EV, the Mazda MX-30 models combine a sophisticated […]
Available in both a pure EV and Plug-In Hybrid R-EV, the Mazda MX-30 is centred around the carmaker's Kodo design philosophy. The innovative design creates a lasting impression, and its exciting features and equipment make a thoughtfully curated interior that combines style, comfort, and functionality. From cutting-edge technology to the seamless fusion of sophistication and practicality, Mazda's commitment […]
In the ever-evolving landscape of compact crossover SUVs, Mazda has once again proved its expertise with the revolutionary Mazda MX-30. Captivating the hearts of automotive enthusiasts, the MX-30 brings forth a harmonious fusion of power, innovation, and striking design. This remarkable vehicle represents Mazda's commitment to a sustainable future while staying true to its century-old legacy […]