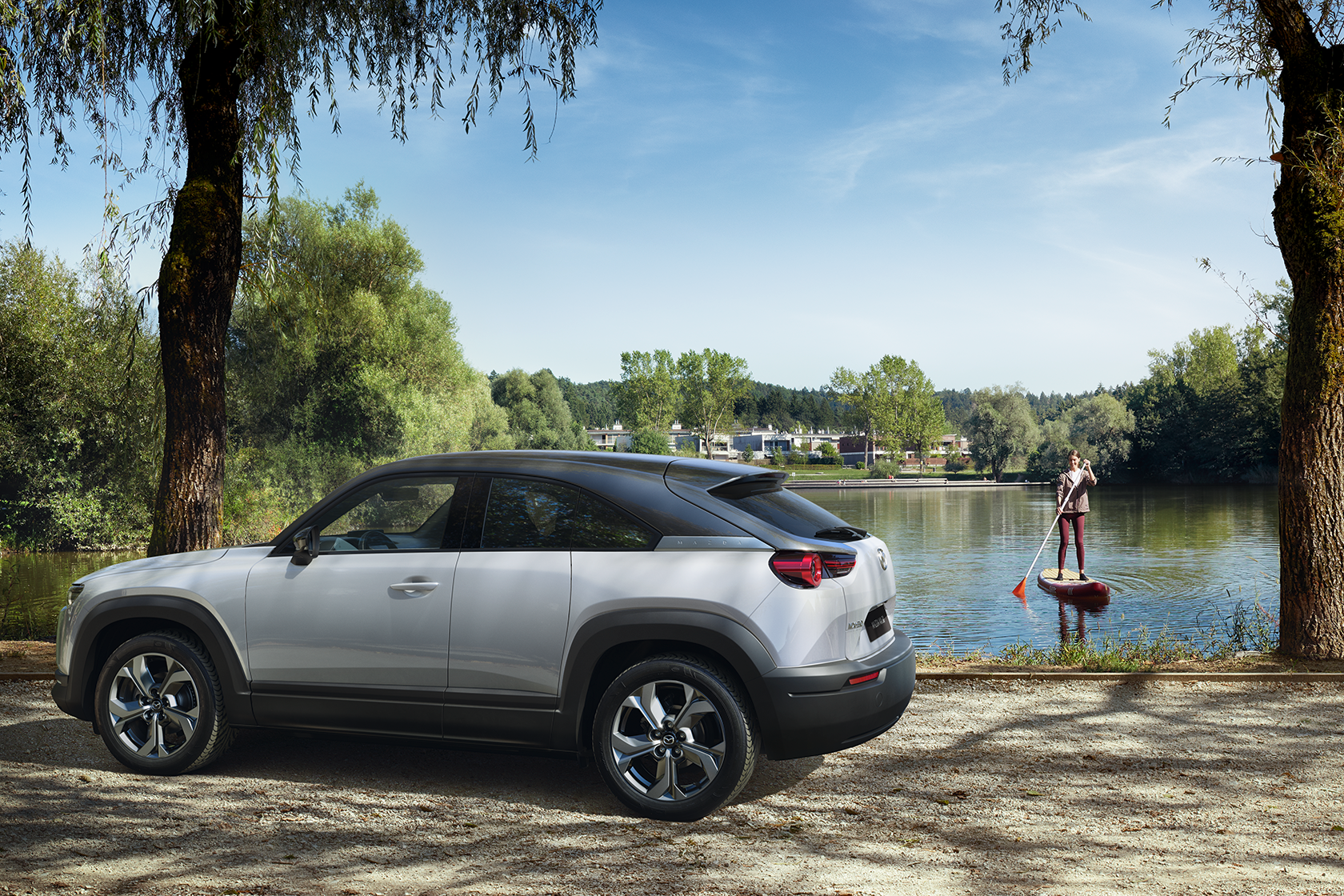 Mazda MX-30 First Edition
Mazda announces pricing for Mazda MX-30 First Edition, their first electric car which will be arriving in the UK early 2021.
Anticipation for Mazda's first all-electric vehicle has been high since its launch at the 2019 Tokyo Motor Show. Now, Mazda have finally released details of the very first version to make its way to the UK in early 2021 – the Mazda MX-30 Launch Edition. Limited to just 500 models, the Launch Edition the available to pre-order now ahead of its arrival next year.
It's priced at £30,495 on-the-road, but including the OLEV grant, the price comes down to just £27,495. And, as an added bonus to those who pre-order, the MX-30 First Edition will receive a free wall box charger from Mazda. This allows you to charge your MX-30 conveniently at home.
Evolved KODO: Soul of Motion design
Mazda is renowned for their unique and evocative design language, known as KODO. It focuses on the feeling of motion in the shape of the car, with every Mazda looking as if it moving, even when stationary. The Mazda MX-30 represents the next evolution of this design philosophy. Its body has been sculpted to capture and play with the light. And, although an SUV, its shape also takes strong influence from the sleek lines you'd expect to see on a coupe. However, it doesn't lose the rugged appeal of an SUV, with large wheel arches and bold lower trims contrasting with the smooth upper lines.
When talking about the design of the Mazda MX-30, it's impossible not to mention the free-style doors. Similar to those found on the RX-8, they offer a smoother side profile while still offering great access to the rear seats.
Another thing that makes Mazda stand out is there rich and iconic colour range, notably Soul Red. For the MX-30 First Edition, you'll have a choice of 4 colour combinations. In all-over colours, it will be available in Polymetal Grey Metallic and Ceramic Metallic. Or, for an added bit of flair, you can get the MX-30 First Editon in three-tone. This contrasts either Ceramic Metallic or Soul Red Crystal Metallic with a Brilliant Black roof and Grey Metallic side pillars.
Modern interior design
Like everything at Mazda, the focus when designing the interior was the people who'd be in it. This human-centred approach means the inside of the Mazda MX-30 First Edition has high quality and sustainable materials. The layout has been designed around the driver, making sure everything can be used with ease, reducing distractions. A stand-out feature of the MX-30's interior design is the floating console, which provides additional storage space under the centre console.
The MX-30 launch edition also features the latest technology. An 8.8-inch Colour entertainment display with Mazda Connect system sits back in the dashboard, while the air conditioning can be controlled by 7-inch colour touchscreen display in the centre console. For information on the go, there's a windscreen projected Active Driving Display. And safety is assured with Mazda's i-Activsense Safety technology.
Join the exclusive online live steam reveal event – Tuesday 13th October 
Intrigued to find out more about the all-new Mazda MX-30? Mazda are hosting an online exclusive live stream reveal from Tuesday 13th October which will take you on a tour, one like never before. And any questions you may have can be answered by the Mazda product experts during the Q&A live sessions.
Arriving in flesh in 2021
Dare to be the first? The exclusive Mazda MX-30 First Edition is now available to pre-order and deliveries will be available in early 2021.
Similar Articles
The  Mazda 2 has just launched a new model to the award winning compact city car line up: the all-new Mazda 2 Self-Charging Full Hybrid. A collaboration using class leading Toyota hybrid technology, Mazda 2 Hybrid will help drive Mazda's commitment to a more sustainable future. The full hybrid supermini hatchback has two different power […]
With 4 models to choose from, and huge improvements made in its eco credentials, safety and overall style, Mazda have pulled the stops out to produce a reliable, versatile all-around compact hatchback.
Excited for the launch of Mazda's first plug in hybrid? The all-new Mazda CX-60 SUV will face its World premiere on 8th March, when more details about this exciting new model will be unveiled. Watch the live stream here: https://mzd.tools/Mazda-CX-60-Launch The Mazda CX-60 is the first of two new models from Mazda's "Large Product Group" […]