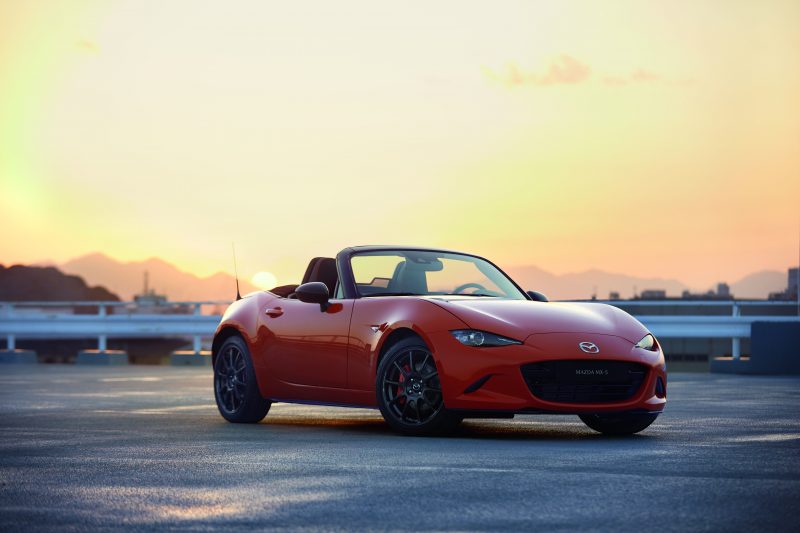 New 2019 Mazda MX-5 30th Anniversary Edition
Three decades after the 1989 Chicago Motor Show was the stage for the debut of the original MX-5, Mazda have now unveiled the MX-5 30th Anniversary Edition.
After 30 years and more than 1 million units sold, Mazda feels that the MX-5 has grown into more than simply Mazda's creation. It now belongs to the enthusiasts around the world who have supported the development of the model and helped it become the world's best-selling two-seater roadster. Launched as both a tribute to these MX-5 fans and as a mark of the high hopes the firm has for the future of its sports car, the 30thAnniversary Edition is exclusively offered in the newly developed Racing Orange body paint, a strikingly vivid colour that marks out this special MX-5.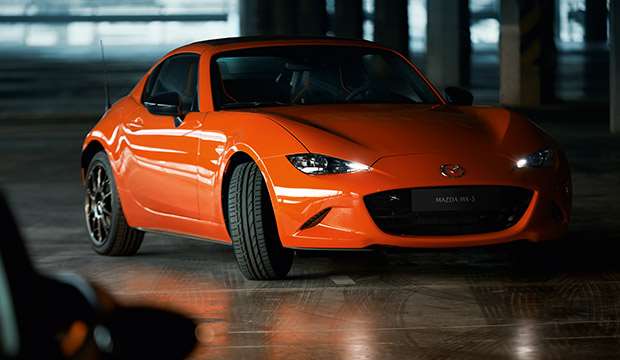 In addition to Racing Orange, the MX-5 30th Anniversary Edition features forged aluminium Rays wheels developed exclusively for the MX-5 and a 30th anniversary badge displaying the model's serial number. Other unique features include orange brake callipers, and for the first time in the UK, Brembo front brakes.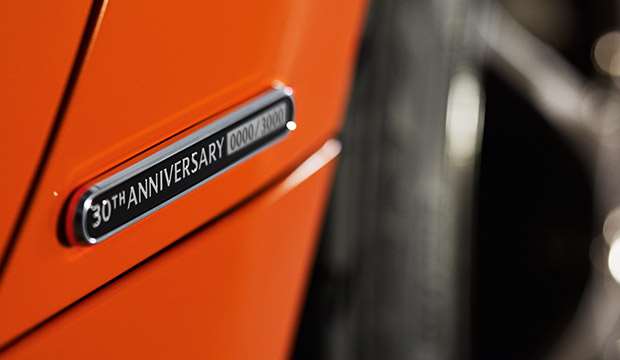 Inside, the bespoke feel continues with orange accents on the seats, door trim, dashboard, steering wheel, air vents and gear lever, while Recaro seats and Alcantara trim on the door trim and instrument panel add a sense of exclusivity. The 30thAnniversary Edition also features Apple Carplay and Android Auto as standard.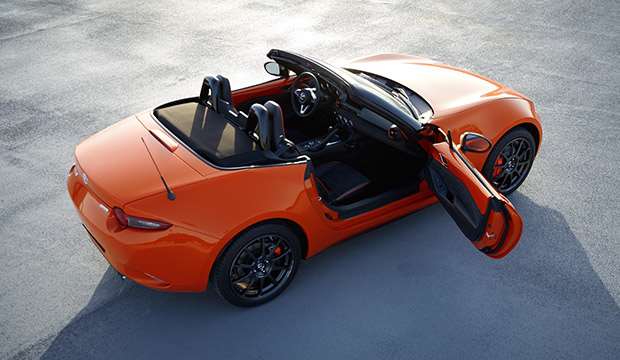 Commenting on the launch of 30th Anniversary MX-5, Mazda Motors UK Managing Director, Jeremy Thomson, said: "in the three decades since the launch of the original model over 130,000 Mazda MX-5s have been sold in the UK. This is a sports car that has resonated with enthusiastic British drivers ever since its debut and four generations on it's as popular as ever. Along the way, it has remained true to the original principle of being an affordable, lightweight and above all fun-to-drive roadster. Today it is the very essence of the Jinba Ittai driver-and-car-as-one philosophy that goes into every Mazda." As with all 2.0-litre 2019 Mazda MX-5 models, the 30th Anniversary features the new 184ps version of the Skyactiv-G engine, while across both body types this range-topping special edition comes with a six-speed manual gearbox, Bilstein dampers, strut-brace and limited slip differential. Available to order now, the first UK customer deliveries will begin in the summer.
Want to find out more about the MX-5 or any other models in the Mazda range? Get in contact with one of our three Mazda showrooms here; Bookham, Weybridge or Orpington.
If you have any other questions, ask us on our social media! We are @twwhiteandsons on Facebook and Twitter. Check out our Blog for more content as well!
Similar Articles
Mazda consistently delivers innovative vehicles to the market, and the MX-30 is no exception. The launch of the MX-30, Mazda's first pure electric vehicle (EV) in 2020 marked the first step in Mazda's roadmap towards electrification. Available as both a pure EV and a new plug-in hybrid R-EV, the Mazda MX-30 models combine a sophisticated […]
Available in both a pure EV and Plug-In Hybrid R-EV, the Mazda MX-30 is centred around the carmaker's Kodo design philosophy. The innovative design creates a lasting impression, and its exciting features and equipment make a thoughtfully curated interior that combines style, comfort, and functionality. From cutting-edge technology to the seamless fusion of sophistication and practicality, Mazda's commitment […]
In the ever-evolving landscape of compact crossover SUVs, Mazda has once again proved its expertise with the revolutionary Mazda MX-30. Captivating the hearts of automotive enthusiasts, the MX-30 brings forth a harmonious fusion of power, innovation, and striking design. This remarkable vehicle represents Mazda's commitment to a sustainable future while staying true to its century-old legacy […]