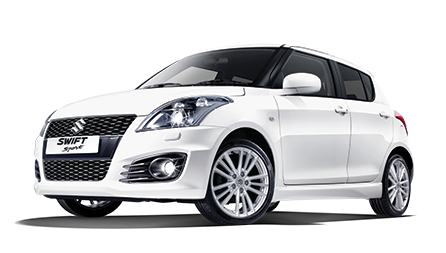 Suzuki Swift Dualjet Engine
The Suzuki Swift range is set to get an upgrade in 2015 with a new "Dualjet" 1.2 litre petrol engine, which will see significant increases to fuel efficiency and CO2 emissions.
The Suzuki Swift Dualjet engine, is set to average 65.7mpg, in comparison to the current 1.2 litre petrol engine which currently averages 56.5mpg.  That's a fantastic 16% improvement in fuel consumption.
Another benefit of Dualjet technology is reduced CO2 emissions of 99g/km, (current emissions are 116g/km), meaning that Swift models with this engine are now exempt from Vehicle Excise Duty.
These improvements have been achieved by a number of engine upgrades by Suzuki. Firstly, rather than just one fuel injector per cylinder, the new Dualjet engine will have 2. That means that each of the eight intake ports in the 16-valve engine gets its own injector, rather than the two intake ports of every cylinder having to share one, resulting in more precise control and finer fuel atomisation.
Using an injector per port also means that the injector itself can be positioned closer to the back of the intake valve, further improving atomisation and delivering additional efficiency gains.
The piston crowns have also been modified with a slight bowl shape to achieve higher air turbulence inside the cylinder, and the pistons have cooling oil jets to help reduce internal temperatures. Additionally, a new type of Exhaust Gas Recirculation (EGR) system is used which helps avoid abnormal combustion or 'knocking'.
The new Dualjet technology for Swift will initially be available as an optional engine choice on SZ4 two-wheel drive models and is expected to cost around an additional £500.
Similar Articles
Although Hybrid and Electric cars remain a niche market in the UK, their popularity is growing. A brief look at the SMMT registration data for 2022 can give you an idea of where the market currently stands: Battery Electric Vehicles (BEVs): 267,203 cars sold in 2022. A 40.1% increase from 2021. Plug-in Hybrid Electric Vehicles […]
Toyota Motor Corporation and Suzuki Motor Corporation today announced their next step in their collaboration. This will focus on Hybrid Car production, including plans to bring production of a new Suzuki hybrid car to Toyota's UK factories. On Wednesday, Toyota and Suzuki announced an agreement to begin collaboration on electric vehicles and other in-car […]
Mazda announces their long-term "Sustainable Zoom-Zoom 2030" plan, including the introduction of a spark plug free petrol engine in 2019 Back in February we wrote about Mazda's rumoured research into a compression based petrol engine to replace their current spark ignition technology.  At the time, their had been no word from Mazda on the topic. […]