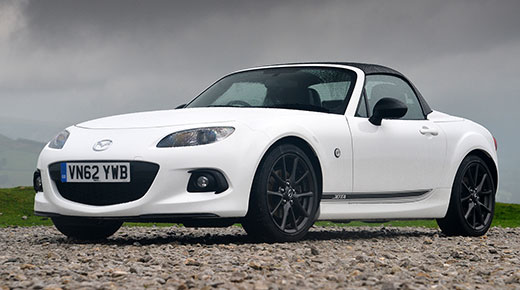 203hp Mazda MX5 GT by Jota goes on sale
We've slightly twisted our Motorsport Monday slot this week to focus on the new Mazda MX5 GT by Jota – a motorsports inspired Mazda road car that brings race track performance to the road.
When it comes to tweaking MX5s, the Jota race team knows what it's doing, having campaigned one in the British GT championship for a number of years.
So, to create an even more performance-focused MX5 Jota has turned the power dial up to 11. The Mazda MX5 GT by Jota makes an amazing 203hp from its 2.0-litre engine, which slashes the 0-60mph time to just 6.4 seconds – that's a whopping 1.5 seconds faster than the standard car, which you could never really call slow.
It'll steam on to a top speed of 140mph, but best of all this performance doesn't mean the fettled MX5 loses one of its strongest selling points: value.
The Mazda MX5 GT by Jota costs £29,995.
The GT uses the standard Mazda MX5 Roadster Coupe Sport Tech's 2.0-litre engine tuned to produce 203hp. But it's not just about extra straight-line performance.
Upgraded Bilstein suspension dampers improve the already agile handling, while a carbon fibre rear diffuser means better aerodynamics and a sportier look at the rear.
That theme is continued inside, with a pair of new leather Recaro seats to help comfort and better hold you in place when you want to explore the performance of the Mazda MX5 GT.
Customers can opt from three different colour choices for the new car, including White Pearl, True Red and Aluminium Silver Metallic, all with a Brilliant Black roof and Anthracite alloy wheels.
Like the look of the Mazda MX5 GT but fancy a more hardcore appearance still? Tick a few options boxes and you'll be able to spec a carbon fibre boot lip spoiler, a carbon fibre front splitter.
If the Bilstein kit doesn't quite suit your needs – and you'll have to be a hardcore track driver if it doesn't – then there's also Jota's Ohlins road and track suspension kit to fit.
Fettled by Le Mans specialists Jota, the Mazda MX5 GT was first seen at the 2012 Goodwood Festival of Speed, where it received high praise from enthusiasts.
It's no surprise, then, that the package of upgrades have eventually made it onto the Japanese sports car.
And at under £30,000, you're getting a properly race-honed, competition-bred performance car.
So what do you think of it? Fancy an MX5 with even more poke? Maybe you'd prefer the more hardcore chassis options and the styling additions? Let us know on Twitter @twwhiteandsons or on our Facebook page.
Similar Articles
Mazda consistently delivers innovative vehicles to the market, and the MX-30 is no exception. The launch of the MX-30, Mazda's first pure electric vehicle (EV) in 2020 marked the first step in Mazda's roadmap towards electrification. Available as both a pure EV and a new plug-in hybrid R-EV, the Mazda MX-30 models combine a sophisticated […]
Available in both a pure EV and Plug-In Hybrid R-EV, the Mazda MX-30 is centred around the carmaker's Kodo design philosophy. The innovative design creates a lasting impression, and its exciting features and equipment make a thoughtfully curated interior that combines style, comfort, and functionality. From cutting-edge technology to the seamless fusion of sophistication and practicality, Mazda's commitment […]
In the ever-evolving landscape of compact crossover SUVs, Mazda has once again proved its expertise with the revolutionary Mazda MX-30. Captivating the hearts of automotive enthusiasts, the MX-30 brings forth a harmonious fusion of power, innovation, and striking design. This remarkable vehicle represents Mazda's commitment to a sustainable future while staying true to its century-old legacy […]