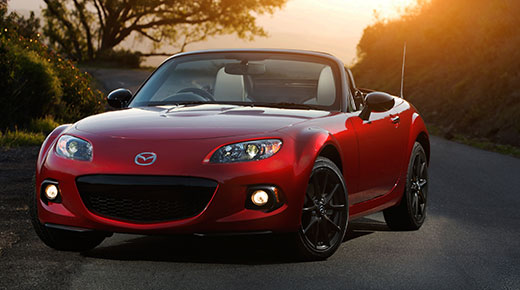 Mazda MX-5 25th Anniversary
To celebrate a quarter of a century of two-seater sports car excellence, Mazda have launched a limited edition MX-5 Roadster Coupe. Only 1,099 of these unique cars have been produced worldwide, 750 of which are available in the UK.
The Mazda MX-5 proudly holds the title of the world's Best Selling Two-Seater Sports Car of all time. Based on the 2.0 MX-5 Roadster Coupe, the25th Anniversary Limited Edition represents the finest in Mazda craftsmanship. It's designed to remind you of the car's dynamic handling, and the individual styling unique to this iconic car.
This stunning model is distinguished by striking Soul Red metallic paint, 17" Dark Gunmetal alloy wheels and hand painted interior detailing. Each one is customised with an individual 25th Anniversary Limited Edition badge showing its unique production number.
Throughout the MX-5 Anniversary Edition's cabin you'll find contrasting red stitching that stands out. It appears on the heated Light Stone leather sports seats, premium leather steering wheel, the centre arm rest and gear stick.

With 160hp and a positive feel, short-throw six-speed manual gearbox, the 25th Anniversary Mazda MX-5 will sprint from 0-62mph in 7.9 seconds and push on to a top speed of 136mph.
Best of all, the performance is accompanied by a sweet four-cylinder husky soundtrack, something the Mazda MX-5 is renowned for.
Perfect 50:50 weight distribution and a chassis honed over years of development also mean this MX-5 has incredible balance and poise to match the performance. The lightweight two-seater's precise steering means you can enjoy every bend, guided by the 6.1" Mazda Satellite Navigation System.
Available to buy from T W White & Sons Mazda showrooms and competitively priced at £22,995, owning a piece of MX-5 history has never been more affordable.
All in all, this head turning car radiates class and style of a car that has been 25 years in the making.
Similar Articles
The  Mazda 2 has just launched a new model to the award winning compact city car line up: the all-new Mazda 2 Self-Charging Full Hybrid. A collaboration using class leading Toyota hybrid technology, Mazda 2 Hybrid will help drive Mazda's commitment to a more sustainable future. The full hybrid supermini hatchback has two different power […]
With 4 models to choose from, and huge improvements made in its eco credentials, safety and overall style, Mazda have pulled the stops out to produce a reliable, versatile all-around compact hatchback.
Excited for the launch of Mazda's first plug in hybrid? The all-new Mazda CX-60 SUV will face its World premiere on 8th March, when more details about this exciting new model will be unveiled. Watch the live stream here: https://mzd.tools/Mazda-CX-60-Launch The Mazda CX-60 is the first of two new models from Mazda's "Large Product Group" […]