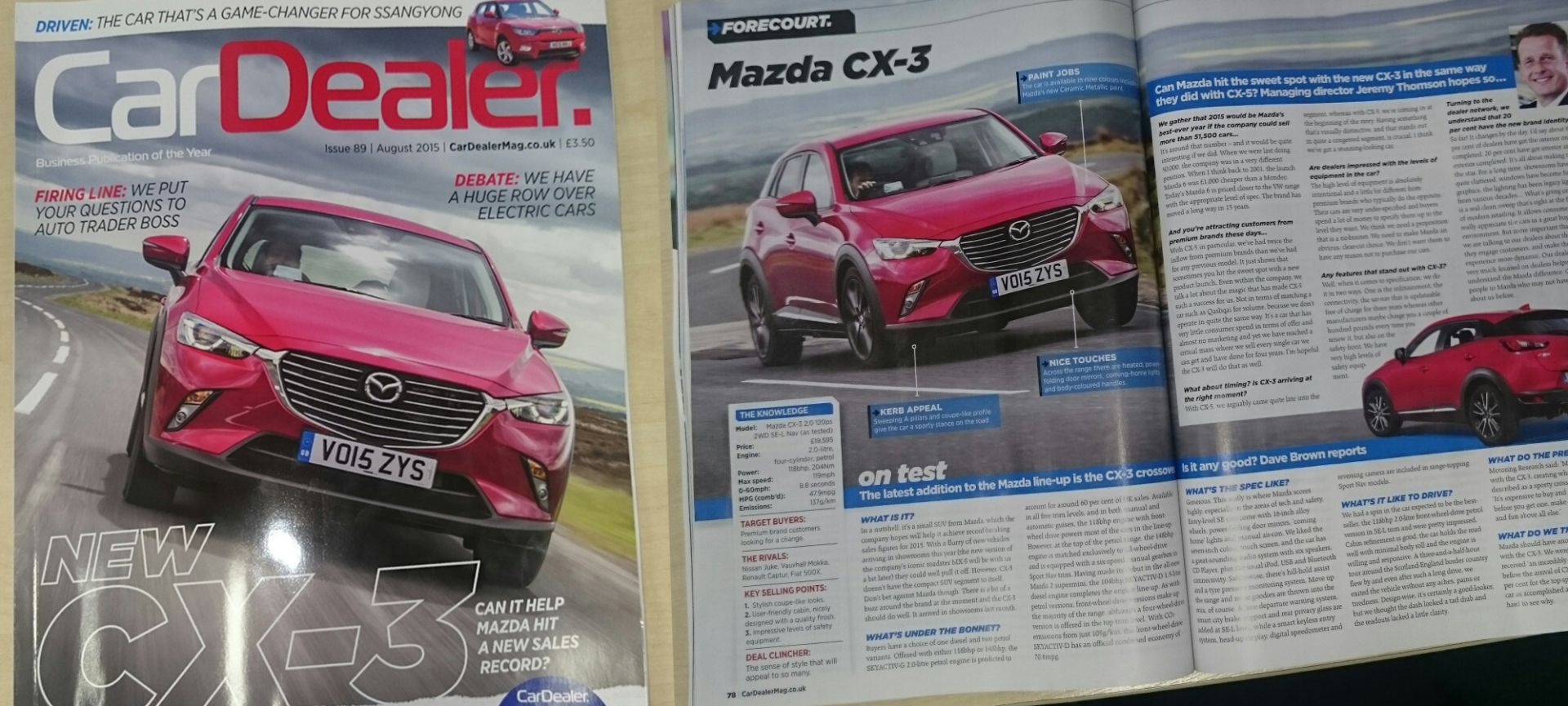 Mazda CX-3 review by Car Dealer Magazine
Production Editor Dave Brown of Car Dealer magazine writes up their view of the all-new Mazda CX-3 with glowing reviews
"Mazda should have another winner on its hands with the CX-3. We were told that the company received 'an incredibly rich mix of pre-orders' before the arrival of the CX-3 in showrooms, with 80 per cent for the top-spec Sport Nav. And with a car as accomplished and likeable as this, it's not hard to see why."
The team at Car Dealer Magazine took the all-new Mazda CX-3 on a three-and-a-half-hour tour around the Scotland-England border and were very impressed. The car holds the road well with minimal body roll and the engine is willing and responsive. They felt the specification of the Mazda CX-3 was very generous, especially in the areas of tech and safety.
The Mazda CX-3 arrived in our Orpington and Bookham showrooms last month after it's debut preview at the Surrey county show. The Mazda CX3, was hugely popular with families and couples and the responses were great.
You can read up more on the Mazda CX-3 performance and Safety, as well as see the latest offers and book a test drive here 
The Knowledge:
Model: Mazda CX-3 2.0 120ps 2WD SE-L Nav    Engine: 2.0 litre, four-cylinder, Petrol    Power: 118bhp,204Nm    Max Speed: 119mph    0-60mph: 8.8 seconds    MPG: 47.9 mpg    Emissions: 137g/km
The Rivals: Nissan Juke, Vauxhall Mokka, Renault Captur, Fiat 500x
Similar Articles
The  Mazda 2 has just launched a new model to the award winning compact city car line up: the all-new Mazda 2 Self-Charging Full Hybrid. A collaboration using class leading Toyota hybrid technology, Mazda 2 Hybrid will help drive Mazda's commitment to a more sustainable future. The full hybrid supermini hatchback has two different power […]
With 4 models to choose from, and huge improvements made in its eco credentials, safety and overall style, Mazda have pulled the stops out to produce a reliable, versatile all-around compact hatchback.
Excited for the launch of Mazda's first plug in hybrid? The all-new Mazda CX-60 SUV will face its World premiere on 8th March, when more details about this exciting new model will be unveiled. Watch the live stream here: https://mzd.tools/Mazda-CX-60-Launch The Mazda CX-60 is the first of two new models from Mazda's "Large Product Group" […]