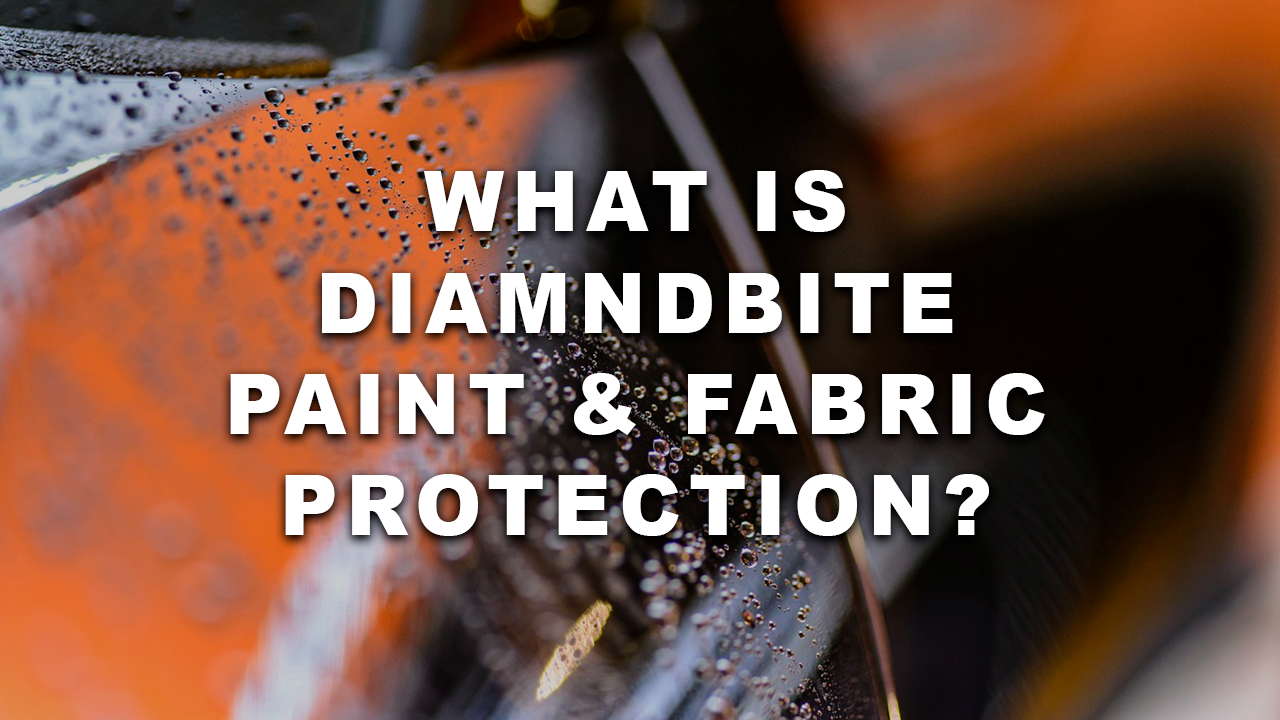 What is Diamondbrite Paint and Fabric Protection?
If you've ever looked at buying a new car, one thing you're sure to have been asked about is paint and fabric protection. While there are several brands of this particular add-on – we offer Diamondbrite, ourselves – they all offer the same thing. But what is that, how does it work, and is it something you should get when you buy your next car? To help you answer these questions, we've put together this guide.
What is Diamondbrite paint and fabric protection?
The hard, high gloss protective skin that Diamondbrite creates prevents road salts, traffic film, acid rain, tree sap, insect fluid and other atmospheric pollutants from contacting directly with your car's paintwork. It also comes with a guarantee which gives cover against colour fading, as well as from damage caused by bird droppings if washed off within 7 days.
Once it has been used on your vehicle, you'll never have to polish your car again. Your vehicle will look as good as it did when it left the showroom, thereby improving its resale value. Another major benefit of Diamondbrite's high gloss finish is the ease with which dirt and grime can be washed off the paintwork.
To maintain the vehicles appearance, simply wash down using the Diamondbrite Car Shampoo. We recommend this is followed by the use of Diamondbrite Conserver (on a monthly basis as a rinse). Both the shampoo and conserver are supplied with your car after the initial paint protection has been applied.
And it's not just your car's paintwork that is protected by Diamondbrite, your interior upholstery is also coated in an invisible resin-based material. This protects not only your seats but carpet and leather interior features from everyday spills and stains. It does this by creating a protective layer between the fabric and spill, making it easy for you to simply wipe away.
Why do we need Diamondbrite?
Due to environmental demands, car manufacturers now have to use water-based paints. Whilst being environmentally safe, they are prone to fading and oxidization. Diamondbrite is made from refined rock oils that are formulated into a two-stage process so that each product compliments the next and builds up to create a tough durable glaze. The two-stage process is as follows; the first stage cleans, prepares and adds the initial first stage protection to the painted surface ready for the second stage, which is simply the application onto your vehicle.
For a more detailed explanation of everything you need to know about Diamondbrite, watch the video below to see how it can benefit your vehicle!
*EXLUSIVE OFFER* T W White and Sons are offering Diamondbrite for free on all Suzuki new cars registered by 31st March 2019, on top of a free first service as well! To find out more information please get in contact with our Effingham Suzuki Showroom! Or to find out more about the Suzuki new car range visit https://www.twwhiteandsons.co.uk/suzuki/new-cars/.
Similar Articles
T W White and Sons are excited to announce that we have moved our longstanding Bookham dealership from its Lower Road location to the A246 Guildford Road, Bookham KT23 4HY. This heralds a new era for the Bookham branch which has been sited on Lower Road for nearly 40 years. We're very excited to welcome […]
The Ultra Low Emission Zone (ULEZ) in central London was introduced in April 2019. The ULEZ enforces a fee on certain vehicles driving through the designated area based on the manufacturer's declared emissions levels. Essentially, any car, motorbike, van, bus, coach or lorry used in the ULEZ zone must meet the minimum ULEZ emissions standards […]
Yet more awards for the Mazda 3, as it is crowned Best Small Hatchback at the 2020 UK Car of the Year Awards. In a world that seems dominated by SUVs, there's one car that proves why there will always be room for the hatchback – the All-new Mazda 3. It's already received plenty of […]