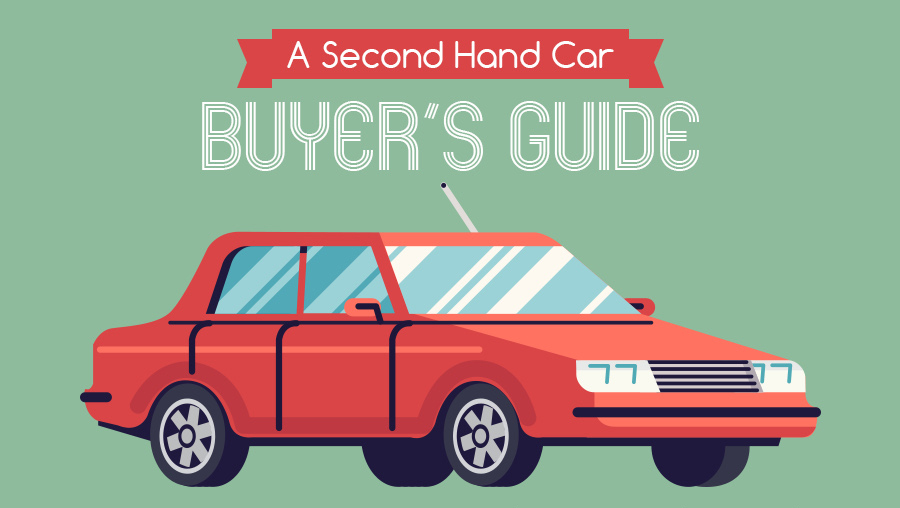 A Second Hand Car Buyer's Guide Infographic
While nothing quite beats the feeling of driving away in a brand new car with only a few miles on the clock, there are many advantages to buying a second hand car over a brand new car. Firstly, second hand cars are cheaper to buy than new cars and they won't depreciate in value as soon as you slip it into gear and drive it for the first time. Secondly, they are often cheaper to insure than new vehicles. And while you don't get the automatic confidence of a Manufacturer supplied 3 (or more) year warranty, if you chose to buy your second hand car from a dealership, many will offer you some form of guarantee on your car.
However, with all vehicles being required to meet a series of road-worthiness specifications in order to be considered worthy of your purchase, you need to rest easy that you're getting a car that will fulfil its primary function of getting you from point A to B. If you chose to buy a second hand car, make sure you undertake a thorough inspection of the car so that you're completely happy with it before purchasing. This is especially important if you chose to buy a car privately, rather than through a dealership where it is unlikely to have a full mechanical check prior to sale. Check all of the vehicle's inside and outside and inspect under the bonnet. Test all of the controls to see if they're working fully. Ask to take it for a test drive to see how it handles the open road. Also, don't neglect important paperwork such as a vehicle registration certificate and MOT details.
If you are unsure about how to conduct any of the checks mentioned below, it may be worth taking it to your local authorized dealer or call out the RAC to do a pre-purchase vehicle inspection for you. These checks, which cost about £99 will help give you confidence and piece of mind when buying a vehicle privately that you are getting a good deal for your money.
When purchasing a used car from a dealership, it should have had a mechanical check prior to being advertised, and will often come with a warranty. At T W White & Sons, all our used cars undergo a details 101 multi-point inspection prior to sale, and come with a 3 year RAC warranty.
First Aid Wheels, a wheel repair centre in London, created this infographic with plenty of advice for buying a car second hand. Just to note that, contrary to what is mentioned below, you are not obliged to display a valid tax disc, but otherwise this is a very worthwhile infographic and certainly makes for recommended reading for anybody in the market for a second hand car. Check it out below.
Similar Articles
Investing in a new car is a big decision, so you want to ensure that you pick the purchase or finance option that's right for you. You can buy a vehicle outright, but most people tend to opt for one of the finance options available. Car finance allows you to spread the cost of the […]
While buying a brand new car might be alluring, and being the first driver registered to the car certainly has its benefits, it's not necessarily the right choice for you. Before you make you decide, read our guide to pre-registered vehicles to see if it's the best option for your needs. When it's time to […]
Dispelling the myths and misconceptions surrounding average speed cameras, we get down to the truth of how they work and how you can avoid getting fined. While we can all understand the need to monitor speeds from a safety perspective, no one like seeing the yellow of a speed camera in the road ahead. With […]