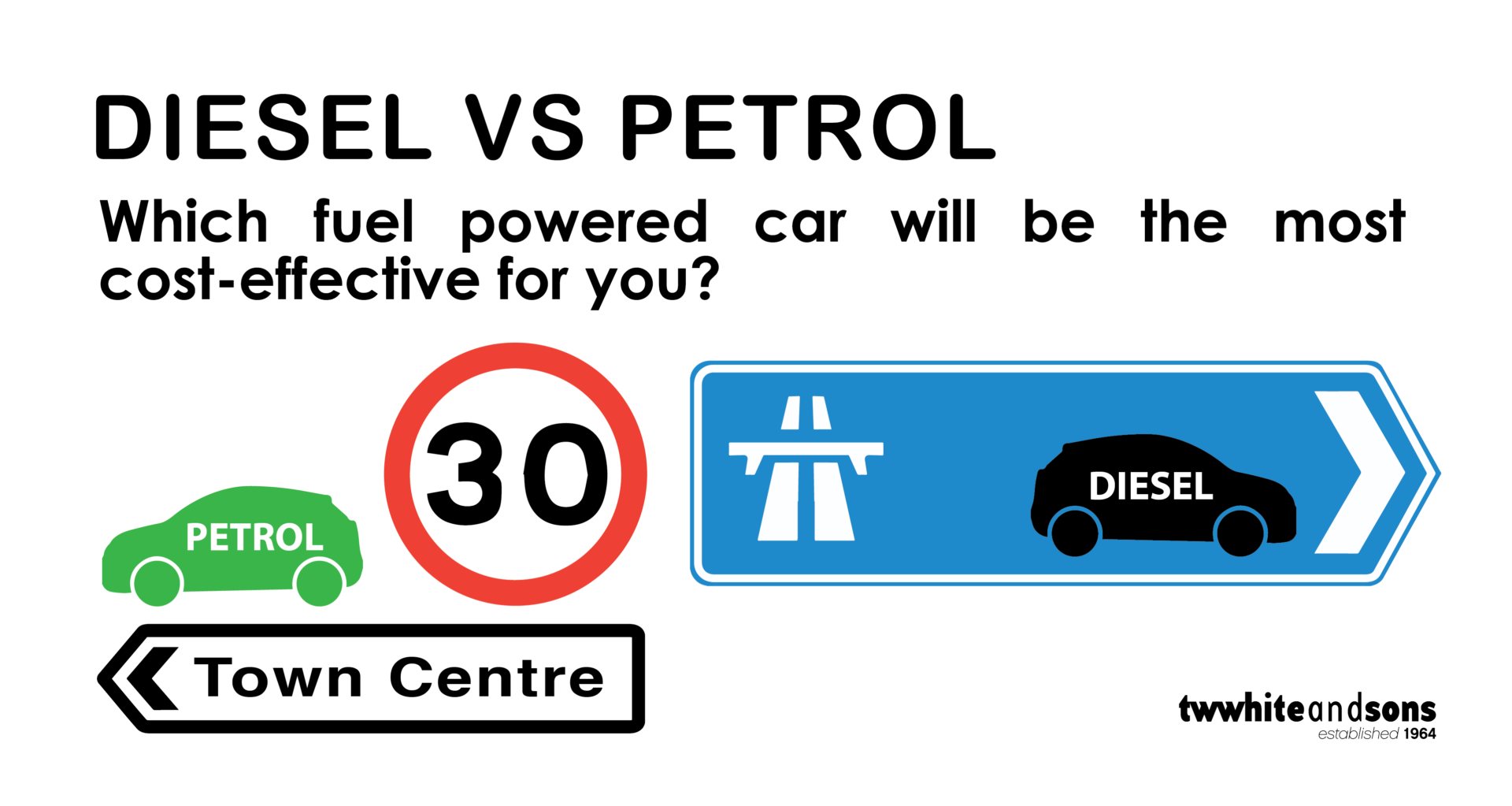 Diesel or Petrol – Which fuel is best – Infographic
Diesel or Petrol? A long standing question which crosses most of our minds when deciding what fuel of car to go for when buying a new vehicle. And with automotive technology advancing all the time, we constantly see new cost-effective, fuel-efficient vehicles on the market. That's before you even consider some of the newer technologies like hybrids, fully electric cars, or hydrogen fuel cells!!
But with petrol and diesel engine cars still owning the majority of our UK roads, one of the most asked questions in our dealerships is… "Do I choose diesel or petrol?".
So why not use our simple infographic guide to help you decide.

Share this Infographic on your site
---
Diesel or Petrol
Diesel cars are known for being more economical than petrol, in that you get more miles for your money per litre, and with the price per litre leveling out at almost the same, you would think the question of diesel or petrol would be a fairly straight forward decision?
Diesel engines produce lower CO2 emissions, resulting in a very pleasing lower annual road tax than comparative petrol engines. They hold their resale better than comparative mileage petrol cars and with engineering advances on diesel engines they now also drive as smoothly as a petrol.
However they can cost more to buy compared to their petrol equivalent, and can sometimes incur slightly higher servicing costs.
So which fuel is right for me?
Ask yourself…
[su_heading size="15″]"How many miles on average do you cover in a year?"[/su_heading]
[su_heading size="15″]"What type of roads do you drive on the most?"[/su_heading]
[su_heading size="15″]"How long do you intend to keep the car for?"[/su_heading]
Petrol Head
If you drive less than 12,000 miles a year – buying a petrol engine car will ultimately be a more cost-effective route for you, on the assumption that you'll own your car for about 3yrs. You'll save money straight off, as petrol engine cars are usually cheaper than their diesel alternatives. Lower miles on slower roads will also lend a hand in cheaper car insurance too.
As shown in the infographic, we worked out the costs for both the diesel & petrol version of the Mazda2 1.5 Hatchback. If you were to run each side by side for 10,000 miles a year over a 3yr period, you would spend more overall on the diesel version. Should you drive the car further and for longer then you would find that the diesel engine offers a more economical option.
Diesel Head
If you drive more than 12,000 miles a year, the majority of your journeys are spent on motorways, and you see yourself keeping the car for more than 5 years, (although no harm in upgrading after 3yrs) a diesel car may be your best option. We worked out the costs for both the diesel & petrol models of the Suzuki Vitara 1.6 SZ5,  as shown in the infographic. If you were to run each side by side for 20,000 miles a year, over a 5yr period you would spend more on the petrol model, (albeit not a massive difference overall) – Bringing us to the ultimate second question "What type of journeys do you make most?".
It's important to remember that diesel cars are fitted with a special DPF (diesel particulate filter) that 'self clean' when the vehicle is run at motorway speed. Should you fail to run the engine fast enough or for long enough on a regular basis to clear the DPF, you could find yourself with a rather expensive repair bill. If you're mainly an in & around town driver we recommend a petrol engine car for the above reason. An exception to this would be if you were looking at buying a car for towing purposes, when you may want to consider a diesel engine, as they provide more torque at lower speeds.
So, if you are a motorway user accumulating a fair few miles each year, you can benefit from cheaper road tax, better fuel economy and in the long term save money buying a diesel engine powered car.
However, if most of your driving is around town, or you do less than 10,000 miles per year, you will probably find a petrol engine car a cheaper alternative.
---
For more information in choosing the right car for you, speak to a member of our team at any of our locations, who will be more than happy to assist with your enquiry.
Similar Articles
Investing in a new car is a big decision, so you want to ensure that you pick the purchase or finance option that's right for you. You can buy a vehicle outright, but most people tend to opt for one of the finance options available. Car finance allows you to spread the cost of the […]
While buying a brand new car might be alluring, and being the first driver registered to the car certainly has its benefits, it's not necessarily the right choice for you. Before you make you decide, read our guide to pre-registered vehicles to see if it's the best option for your needs. When it's time to […]
Dispelling the myths and misconceptions surrounding average speed cameras, we get down to the truth of how they work and how you can avoid getting fined. While we can all understand the need to monitor speeds from a safety perspective, no one like seeing the yellow of a speed camera in the road ahead. With […]