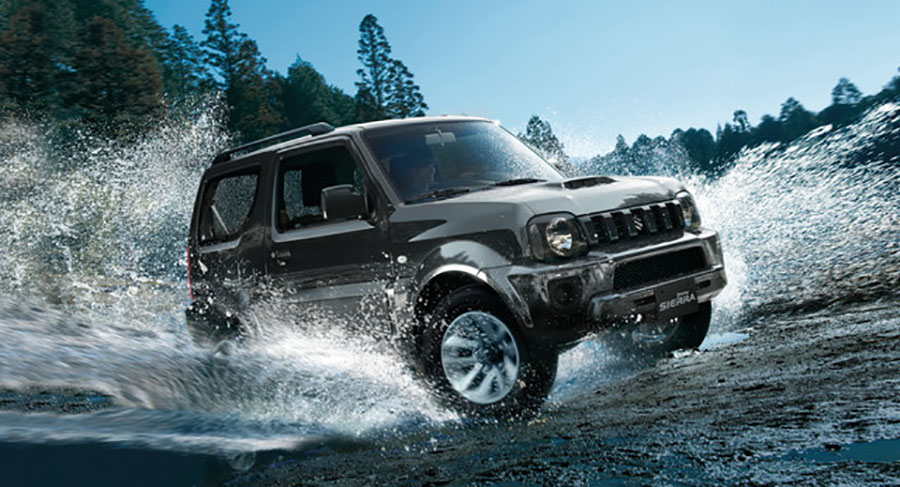 It's a Jimny adventure!
Celebrating an Offroading Classic with the Suzuki Jimny Adventure
To announce the release of the brand new limited edition Suzuki Jimny Adventure we've taken a look back at its heritage to where the story began, and how the Suzuki family has developed over the years with a focus on the classic Jimny 4×4.
The Jimny History
A car with some history is a car worth having and the Suzuki Jimny can be traced directly back to the Suzuki LJ10 which was first launched 45 years ago. The LJ10 made history being Suzuki's first 4×4 and it was also the first mass-production 4×4 in Japan's domestic mini-car market. The LJ stood for Light Jeep, with Jimny referring to a language miscommunication between some Japanese Suzuki delegates visiting Scotland for the first time. After deciding to call the new model Jeep Jimmy, somewhere between Scotland and Japan they lost the translation and so it became Jeep Jimny.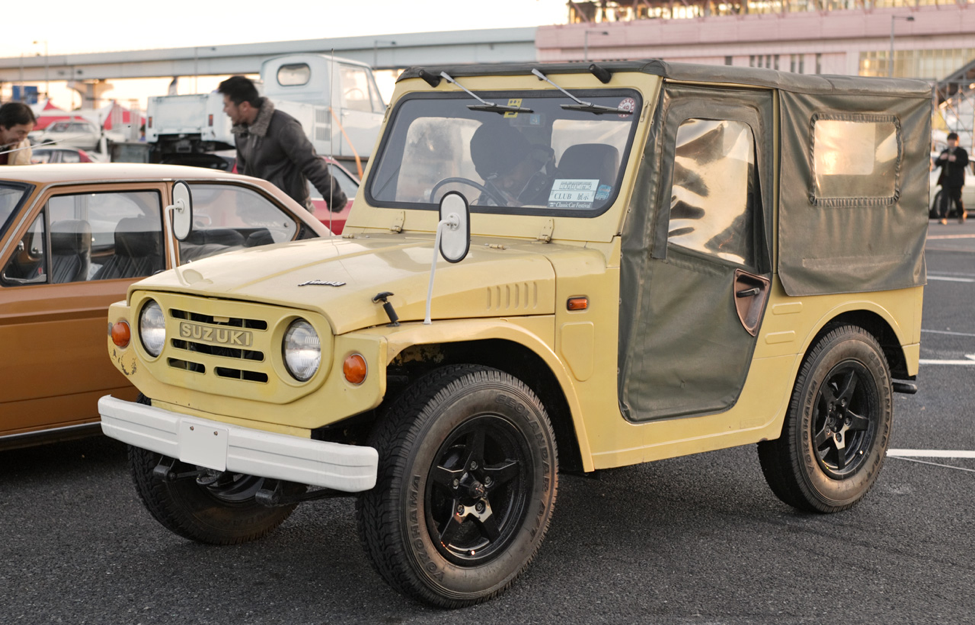 The Suzuki LJ10 became available in 1970 and the power for this 4×4 came from a Mitsubushi 360cc two-stoke, air-cooled engine which produced 19kw; although this may not seem a lot it wasn't bad for such a light and tiny 4×4. Adding to its originality it was marketed with only three seats. Why? The fourth seat space a became place for the spare tyre, fitting directly behind the front passenger's seat, not ideal in today's market. However the Jimny now has 4 full seats so no need to panic!
Not long after, 1972 brought the LJ20 with an improved 24kw water-cooled engine and in 1975 they released the LJ50, slowly getting bigger and better. Now with a 550cc three-cylinder and water-cooled two-stroke unit it gave that power customers wanted. You will be glad to know the spare wheel also moved to the outside giving this Suzuki two rear passenger seats, more convenient and comfortable. The LJ50 was available in hard and soft-top versions and soon gained its reputation as a fun and easy ride.
The tiny vehicle's off-road ability, low cost, and sheer fun factor, guaranteed sales and allowed for new models to be released every few years. The LJ80 was next to arrive and brought most of its change under the bonnet, giving it a brand new engine. This was a four-cylinder, water-cooled 800cc four-stroke unit producing 41bhp, bigger and better was selling well and Suzuki were slowly becoming an established 4×4 manufacturer.
In 1981 Suzuki's SJ410 truly broke into new markets with their little offroader. It is hard to believe but it offered a brand new design that truly offered a new statement in fashionable driving. Under this new bodywork, there was a whole new interior and a brand new engine, a four-cylinder 1000cc four-stroke delivering 45bhp.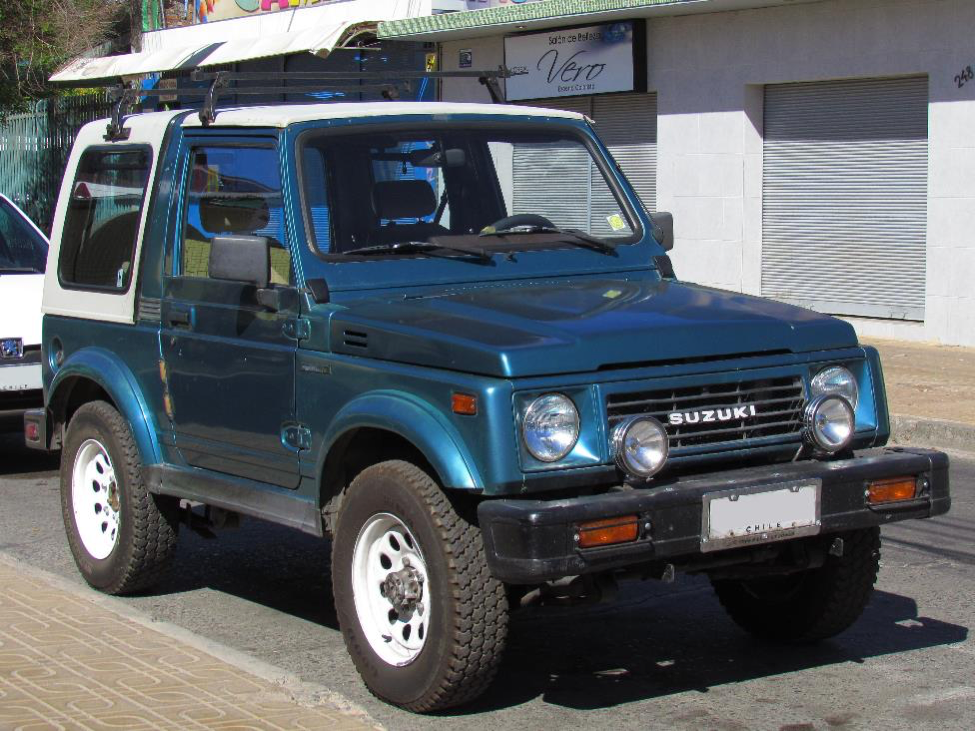 Although the SJ models were still tiny compared to the rest of the 4WDs, Suzuki brought out the popular SJ413 (1.3L) in 1984, an upgraded model with increased comfort levels and a five-speed gearbox. By this time the popularity of the Suzuki 4×4 was due to its affordable price, off road performance and reliability, selling in numerous countries around the world. The SJ413 was the basis for what was to be called the Samurai which went on to sell 47,000 units by the end of their first year. Not only was it the top-selling convertible in the United States, but it also captured the best first-year sales record of any Japanese car company, not too bad considering the bouncy, playful ride it was famous for.
As sales were increasing, so did the Suzuki 4×4 family with the release of the Vitara 3 door in 1988. The 1.6-litre engine was accompanied by comfort as the leaf springs of earlier models were replaced with coil springs and the functional interior became equally as stylish. Expanding the range in 1991, Suzuki brought out a longer wheelbase, 5-door model, providing more leg room and more luggage capacity for 90's holiday makers.
Expanding this empire, 4 years on and the new sophisticated 2.0 litre Vitara was released. Inside this new model were electric windows and central locking, seems so simple nowadays but in the 90's these were high spec features especially for a small offroader. The Suzuki Vitara is still going strong and was recently awarded the Honest John Car of the Year 2016 and Most Popular Crossover 2016.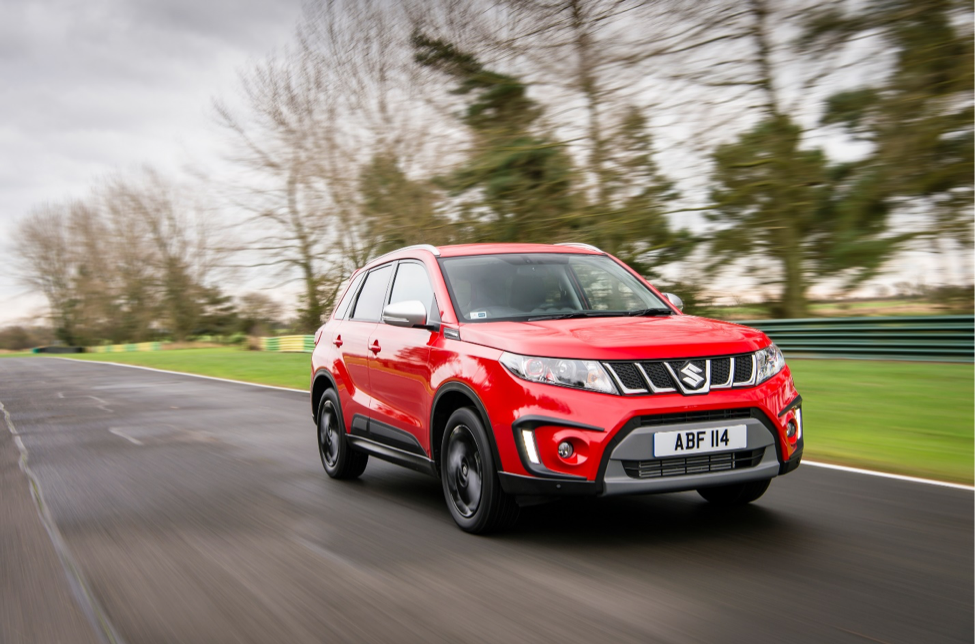 1998 heraled the new era of performance and style and the release of the brand new Suzuki Jimny! It's a cute-looking cult classic 4×4 with decent off-road ability and reasonable performance. The Jimny is the smallest go-anywhere 4×4 on the market which isn't the only aspect making it a one of a kind. The current model is available nowadays only as a three-door body style, as the two-door canvas-topped version was dropped some years ago. The Jimny is small, light and ideal for both town driving and heading off-road.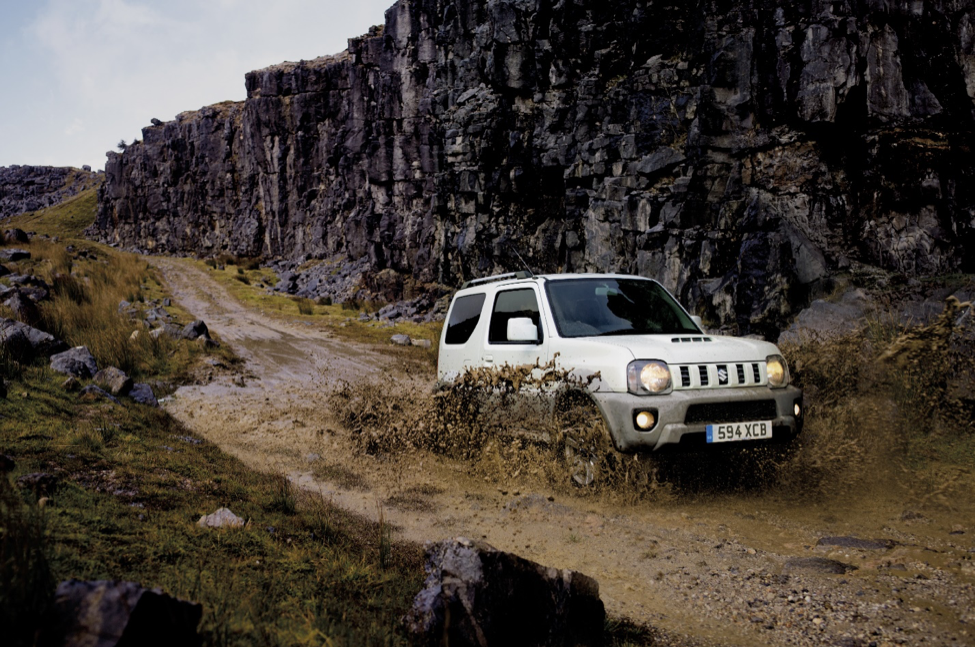 Introducing The Jimny Adventure
After 18 years Suzuki are finally celebrating the classic iconic shape and have brought the Jimny back into the limelight. This year Suzuki have added to the heritage and introduced the brand new limited edition Jimny Adventure. Only 200 units of the new 4×4 are available and are finished in a two-tone white and grey metallic colour scheme. Since the first Jimny model in 1998 the new Adventure model has an established status and reputation to uphold amongst its 24,000 loyal UK owners, will it succeed?
Embracing the classic shape with a new high spec and modern interior the Jimny Adventure offers a lot more features to catch your attention. Technology and manufacturing have developed a lot since the 90's and the new Jimny Adventure now includes full screen satellite navigation and full Bluetooth connectivity. The interior brings new synthetic leather seats, air conditioning and rear privacy glass. It also comes with a hard spare wheel cover with the 'Adventure' logo on it, it really is the little touches that count for this small off-roader.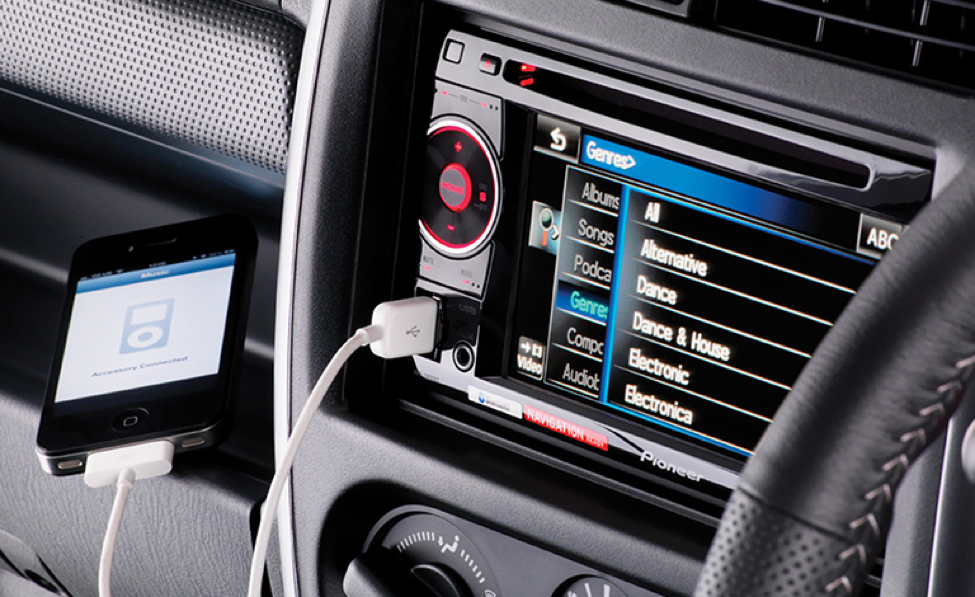 Critics' views on the Jimny Adventure are divided, however it's light and easy for parking and as soon as you head off-road the Jimny is in its element. This exciting little SUV is so much fun to drive and you can select rear wheel drive when you're cruising around town or all wheel drive when you're venturing off the beaten path.
Under the bonnet of the Jimny Adventure a 1.3-litre engine with variable valve timing and 16 valves is an economic option. Although this may seem small you can adapt your driving depending on your terrain so you certainly don't need a bigger engine to have fun in this off-roading machine that weighs just 1,090kg.
Offering excellent value for money the limited edition Jimny Adventure has a starting price of £14,949 is packed full of features, including 15-inch alloys. Therefore, if you're in the market for character and fun, then you definitely need to test drive the new Jimny Adventure at T W White Effingham Suzuki.
Similar Articles
The bold yet refined new Suzuki S-Cross 2022 has now been released, packed with new premium features and advanced safety equipment as standard, leading as one of the best in it's class.
The All-New Suzuki SWACE  Watch this space, for the new Suzuki Swace. Suzuki have had an transformative year and more is still to come. Suzuki have recently announced their second product derived from the newest partnership with Toyota, the all-new Suzuki Swace. The new, super spacious, estate car is a fully self-charging hybrid with a […]
Suzuki showcases their first plug-in hybrid SUV – the ACROSS Suzuki have announced the newest addition to the family, the Suzuki ACROSS, the first plug-in hybrid best described as a sophisticated family SUV. Powered by two brains rather than one, Suzuki and Toyota confirmed their collaboration in March 2019 and the long awaited all new […]