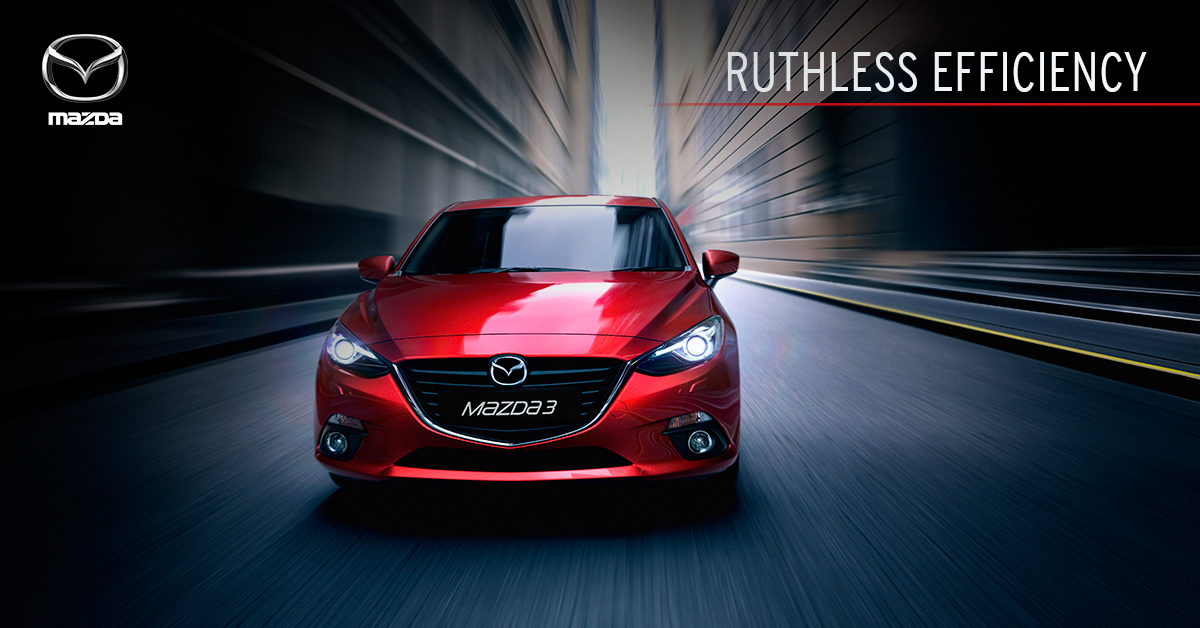 New Mazda3 1.5-litre SKYACTIV-D with CO2 emissions of just 99g/km
Mazda has added its smooth, frugal and clean 1.5-litre SKYACTIV-D diesel engine to the Mazda3. Having made its debut in the all-new Mazda2 and all-new Mazda CX-3, the 105ps SKYACTIV-D will boost the Mazda3 model line-up with frugal economy and sub-100g/km CO2 emissions.
Designed to appeal to both fleet and private buyers, when matched to the six-speed SKYACTIV-MT manual transmission, the 105ps SKYACTIV-D emits just 99g/km with a combined economy of 74.3mpg.  Available in hatchback and Fastback body styles, the new 1.5-litre SKYACTIV-D is offered across all trim levels with prices starting at just £18,895 on-the-road, while ensuring even more customer choice, the hatchback version of the SKYACTIV-D 1.5 can be specified with a six-speed SKYACTIV-DRIVE automatic transmission.
In a UK marketplace that now sees 42 per cent of C-segment diesel sales delivering sub 100g/km CO2 emissions, Mazda's 1.5-litre SKYACTIV-D will ensure the Mazda3 is now a strong contender in this competitive area of the family hatch market. With 270Nm of torque and 0-62mph performance of 11.0 seconds*, the Mazda3 1.5-litre SKYACTIV-D delivers the no compromise blend of performance, refinement and efficiency demanded by customers in this sector.
Developed with same Defy Convention approach as Mazda's larger SKYACTIV-D 2.2, the smaller capacity diesel features an exceptionally low 14.8:1 compression ratio that sets new standards of efficiency and performance. When the compression ratio is lowered, compression temperature and pressure at top dead centre decrease. Consequently, ignition takes longer even when fuel is injected near top dead centre, enabling better mixture of air and fuel.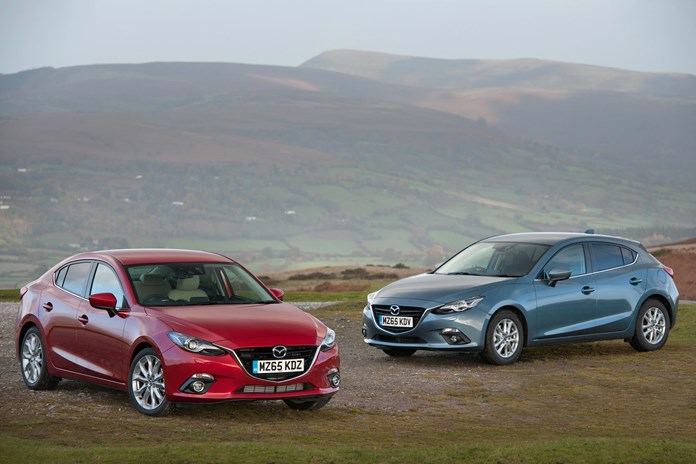 The advanced engine features high-dispersion solenoid fuel injectors to suppress cooling losses and provide the optimum injection pattern for the given driving conditions. This improves both combustion efficiency and engine refinement levels. In addition, the combustion chamber features a unique 'shouldered' design to suppress flow around the lip of the chamber and prevent combustion gas cooling.
As you'd expect, the engine comes as standard with Mazda's i-stop idle-stop system, which delivers the world's fastest restarts on a diesel engine.  With a single variable turbine geometry turbocharger that delivers boost from low engine speeds and uses a rotation speed sensor to maintain output through to higher revs, the Mazda3 SKYACTIV-D 1.5 delivers excellent flexibility at cruising speeds and strong in-gear response. With peak torque of 270Nm available between 1,600 and 2,500rpm, the high-pressure exhaust gas recirculation system is supplemented by a low-pressure exhaust gas recirculation system to further enhance engine response, while the water-cooled intercooler is integrated into the engine's lightweight manifold.
Steve Tomlinson, Head of Fleet Mazda UK: "putting the 1.5-litre SKYACTIV-D into the Mazda3 will significantly increase the appeal of the Mazda3 to those fleets who prefer their drivers to run vehicles with a sub 2.0-litre engine, and with CO2 emissions from 99g/km this will also make the car more popular with drivers who place low BIK taxation near the top of their consideration criteria" Adding, "I am confident that the addition of the Mazda3 1.5-litre diesel derivative to Mazda's already extensive corporate vehicle choice list will enhance our fleet appeal even further."
For more information on our Business Services 
Similar Articles
Mazda consistently delivers innovative vehicles to the market, and the MX-30 is no exception. The launch of the MX-30, Mazda's first pure electric vehicle (EV) in 2020 marked the first step in Mazda's roadmap towards electrification. Available as both a pure EV and a new plug-in hybrid R-EV, the Mazda MX-30 models combine a sophisticated […]
Available in both a pure EV and Plug-In Hybrid R-EV, the Mazda MX-30 is centred around the carmaker's Kodo design philosophy. The innovative design creates a lasting impression, and its exciting features and equipment make a thoughtfully curated interior that combines style, comfort, and functionality. From cutting-edge technology to the seamless fusion of sophistication and practicality, Mazda's commitment […]
In the ever-evolving landscape of compact crossover SUVs, Mazda has once again proved its expertise with the revolutionary Mazda MX-30. Captivating the hearts of automotive enthusiasts, the MX-30 brings forth a harmonious fusion of power, innovation, and striking design. This remarkable vehicle represents Mazda's commitment to a sustainable future while staying true to its century-old legacy […]