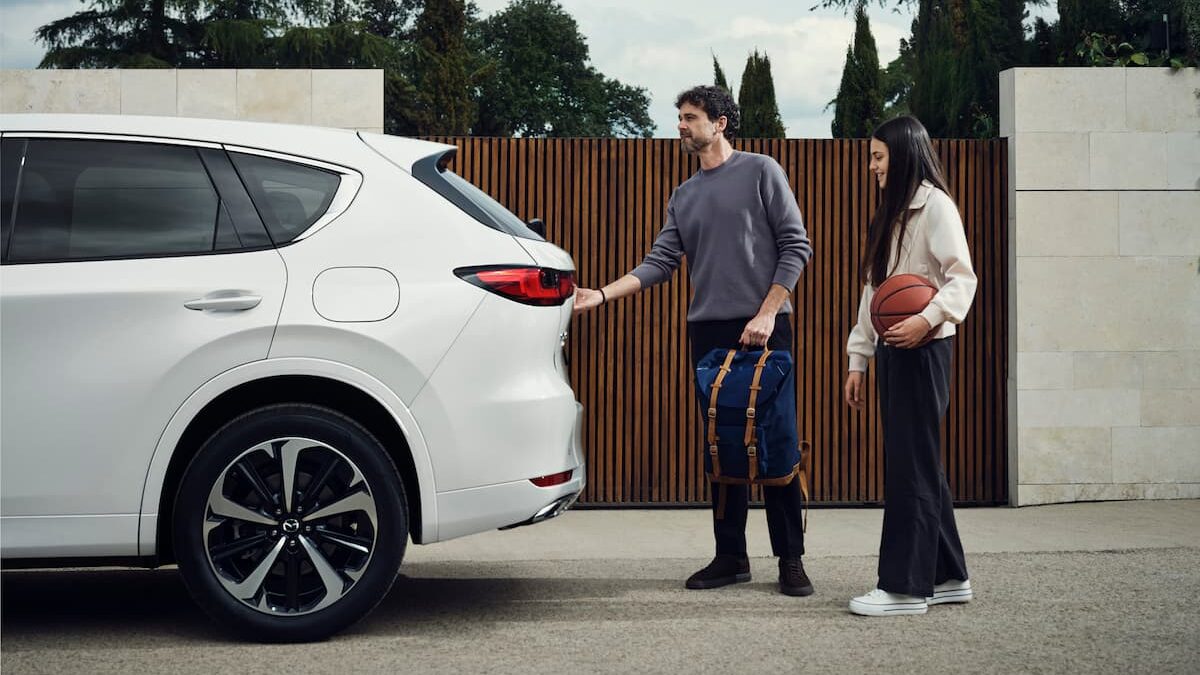 Mazda CX-60 Engines & Performance: All You Need to Know
The Mazda CX-60 is the first in Mazda's large product range, and initially came to market in 2022 as Mazda's first PHEV. It is now available with a new 3.3 litre six cylinder diesel engine too. There are benefits to both variants, so it's worth doing your research so you can choose which one best fits your needs.
Both the diesel and PHEV variants offer powerful engines, have great towing capacity and excellent MPG ratings. Many people have a personal preference for opting for a PHEV or diesel engine, but for others, the choice can seem daunting, so we have summarised the main differences between the two below
PHEV
DIESEL ENGINE
All Wheel Drive (AWD)
All Wheel Drive (AWD)
Rear Wheel Drive (RWD)
Specification level
Exclusive-Line, Homora and Takumi
Exclusive-Line, Homora and Takumi
Exclusive line
Engine
2.5 litre four cylinder petrol engine 
3.3-litre inline-six-cylinder diesel 
3.3-litre inline-six-cylinder diesel 
Transmission
8-speed Automatic
8-speed Automatic
8-speed Automatic
Electric support
129KW electric motor + 17.8kWh lithium-ion battery
Mazda M Hybrid Boost (48V battery to support the engine)
Mazda M Hybrid Boost (48V battery to support the engine)
Maximum Torque
500/4,000 (Nm/rpm)
550/1,500-2,400 (Nm/rpm)
450/1,400-3,000 (Nm/rpm)
Maximum Output
327 (241) ps (kW)
254 (187) ps (kW)
200 (147) ps (kW)
Top Speed
124 mph
136 mph
132 mph
Acceleration (0-62mph)
5.8 sec.
7.4 sec.
8.4 sec.
Co2 Emissions
33 g/km
137 g/km
129 g/km
Weight
2,667kg
2,516 kg
2,500 kg
Dimensions
(L): 4,745 mm
(L): 4,745 mm
(L): 4,745 mm
(W): 1,890 mm
(W): 1,890 mm
(W): 1,890 mm
(H): 18" Wheels - 1,675 mm / 20" Wheels - 1,680 mm
(H): 18" Wheels - 1,675 mm / 20" Wheels - 1,680 mm
(H): 18" Wheels - 1,675 mm / 20" Wheels - 1,680 mm
Table of Contents
Mazda CX-60 Diesel
After Mazda announced more details on the CX-60 range, much of the excitement surrounded the launch of the diesel engine. The SUV is now offered with a six-cylinder diesel engine under the bonnet for the first time.
Engine Spec
The CX-60 diesel is available in All Wheel Drive (AWD) in all 3 specification levels (Exclusive Line, Homura and Takumi) and additionally as a Rear Wheel Drive (RWD) option in the entry level Exclusive Line too. Both the AWD and RWD models feature a Skyactiv-D 3.3-litre inline-six-cylinder diesel engine, which produces between 200 (147) ps (kW) (RWD) and 254 (187) ps (kW) (AWD) and 450-550 Nm torque in ICE form, blasting power to the wheels with an eight-speed automatic transmission (the only gearbox choice across all CX-60 models) which ensures a smooth and efficient driving experience.
The Skyactiv-D diesel engine delivers a brilliant performance both on and off-road, with the power to tackle some of the most challenging terrains.
Towing Capacity 
Depending on your needs, a key performance aspect of a larger SUV is the towing capacity, essential when needing to move a trailer or caravan. When properly equipped, the CX-60 diesel offers an impressive 2,500 kg towing capacity and amongst the vehicles various driving modes is a specific towing one.
With such a tow rating, you can rest assured that no matter what you need to move, the CX-60 will have you covered.
MPG
The Mazda CX-60 diesel features Mazda's M Hybrid Boost – a 48 V battery to help support the engine, improving fuel economy and reducing emissions. Efficiency ratings are
56.5 mpg (l/100km) for the RWD version and 54.3 (5.2) mpg (l/100km) for the AWD version.
This is much higher than many vehicles in its class, meaning you don't have to worry about frequent trips to the fuel station.
Such efficiency translates to lower carbon emissions of 137g/km in all wheel drive and 129g/km in rear wheel drive.
With such specs, both the AWD and RWD versions of the Mazda CX-60 diesel are sure to be an excellent choice for those who are looking to combine power and performance.
Mazda CX-60 Hybrid (PHEV)
The Mazda CX-60 hybrid is the company's first plug-in hybrid model and makes the perfect choice if you're looking for a reliable and efficient vehicle that also offers excellent performance.
This SUV offers remarkable power and fuel efficiency, not to mention the peace of mind you get by driving a vehicle with minimal environmental impact. To top it off, you'll be pleased to know that the battery is backed by an eight-year/100,000-mile guarantee, whichever comes first.
Engine Spec
The PHEV powertrain of this model features a powerful 2.5-litre petrol engine, an impressive 129KW electric motor and the exceptional 17.8kWh lithium-ion battery pack. This allows you to reach speeds of up to 62mph in just 5.8 seconds.
Mazda boasts that this combination offers unprecedented performance for its class, making it perfect for those seeking speed and efficiency with one vehicle.
Range 
When it comes to hybrid and electric vehicles, one of the critical aspects to consider is the range you get. You'll need to plug in more often if it's too little. For example, with the CX-60 hybrid, you get a range of up to 39 miles on a full charge – great for daily commuting or nipping into town. However, combining electricity and petrol for long drives will take you over 500 miles (805 km). Charging time using a 7.4kW AC Home Charger is optimal, going from 20-80% charge in 1 hour and 30 minutes. Using a traditional 3 pin 2.4kW Domestic Socket will take somewhat longer, with a 20 – 80% charge taking 4 hours 50 minutes
Towing Capacity 
Just like the Mazda CX-60 diesel, the  CX-60 hybrid offers a towing capacity of up to 2,500kg. Therefore all your recreational towing needs will be met with this vehicle.
Boot space / Leg Room 
The Mazda CX-60 is not only great on the performance front but also offers plenty of cargo and passenger space. Thanks to its roomy interior cabin, you'll enjoy plenty of legroom, with rear passengers getting up to 990 mm. This is far more than you'd find in most other cars of this class.
The rear cargo space also offers up to 570 litres (20.12 cubic feet) of storage, with plenty more space when the rear seats are folded down.
Conclusion 
When it comes to functional family vehicles that offer both performance and style, the Mazda CX-60 is a perfect choice. It's equipped with a powerful engine, great towing capacity, excellent range, and plenty of room for cargo and passengers.
With this vehicle, you get the best of both worlds; a car that is efficient enough to take on long trips and reliable enough to power through the most challenging terrain. All in all, it's an excellent choice for anyone looking for a performance SUV.
If you want to find out more, make sure to read our complete guide to the Mazda CX-60.
At T W White & Sons, we deal in both new Mazda's and used Mazda's. We have been helping families to find the perfect vehicle for their needs for over 50 years. So, if you're looking for a Mazda CX-60 in top condition to take you on your next family adventure, get in touch, and we'll be more than happy to help.
Similar Articles
Mazda consistently delivers innovative vehicles to the market, and the MX-30 is no exception. The launch of the MX-30, Mazda's first pure electric vehicle (EV) in 2020 marked the first step in Mazda's roadmap towards electrification. Available as both a pure EV and a new plug-in hybrid R-EV, the Mazda MX-30 models combine a sophisticated […]
Available in both a pure EV and Plug-In Hybrid R-EV, the Mazda MX-30 is centred around the carmaker's Kodo design philosophy. The innovative design creates a lasting impression, and its exciting features and equipment make a thoughtfully curated interior that combines style, comfort, and functionality. From cutting-edge technology to the seamless fusion of sophistication and practicality, Mazda's commitment […]
In the ever-evolving landscape of compact crossover SUVs, Mazda has once again proved its expertise with the revolutionary Mazda MX-30. Captivating the hearts of automotive enthusiasts, the MX-30 brings forth a harmonious fusion of power, innovation, and striking design. This remarkable vehicle represents Mazda's commitment to a sustainable future while staying true to its century-old legacy […]