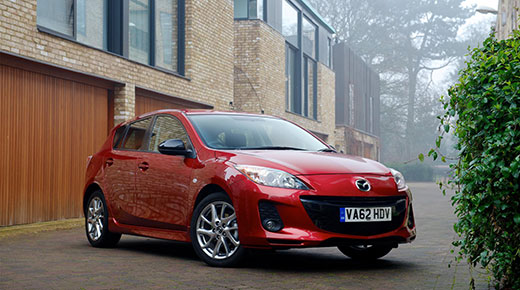 Cost comparison: Mazda 3 vs the Ford Focus
When it comes to buying a new car, cost is a key factor – whether that be initial purchase price, or how much it costs to tax, fuel, insure and generally run your vehicle.
At T W White & Sons we're confident in our cars, so we're pitching the multi-faceted Mazda 3 against the Ford Focus to run a cost comparison.
Let's start with the price for the most popular engine options in the respective ranges. In base spec five-door Venture trim with Mazda's 115hp 1.6-litre turbodisel engine, the Mazda 3 is £400 cheaper than the equivalent Ford Focus, which also boasts a 115hp 1.6 diesel.
Add to that the Mazda 3 Venture includes dual-zone climate control where the Ford boasts a simple, manual air conditioning system, all-round electric windows, heated electric door mirrors and brighter halogen headlights to improve visibility and safety, and the £400 price difference is effectively widened, given you'd need to spend at least £250 on Ford's 'Family Pack' to bring the Focus up to somewhere close to the same spec.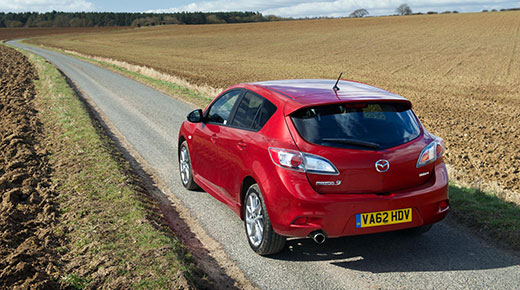 There's not much to split the cars in terms of running costs either, but Mazda has a trick up its sleeve. We'll be honest, the Ford is minutely more economical than the Mazda 3's 65.7mpg combined effort with 115g/km CO2 emissions (compared to 67.3mpg combined with 109g/km CO2), which admittedly will cost you £10 more a year to tax – but this and the slight deficiency in fuel economy will more than likely be offset by a bit of careful driving, especially as the Mazda is over 70kg lighter than the Ford.
You have to remember that the current Ford Focus is a newer car than the Mazda 3, too, as the vehicles' respective model cycles are out of sync. But later this year the new Mazda 3 will go on sale, complete with a new Skyactiv-D 1.6-litre turbodiesel engine, which will improve on the current car's already impressive fuel economy.
The new car will be built using Mazda's new Skyactiv philosophy to car construction, meaning lightweight but ultra-high-strength steels to improve performance, vehicle dynamics, efficiency and safety.
Looking at residual values, there's not much to split the two cars either. Ford's current Focus isn't yet three years old, so it's difficult to give a three-year from new value. According to Glass's Guide, a 2011 '60' plate Ford Focus will be worth around £9,800, while an older 2010 '60' plate Mazda 3 will command roughly £8,800 on the open market.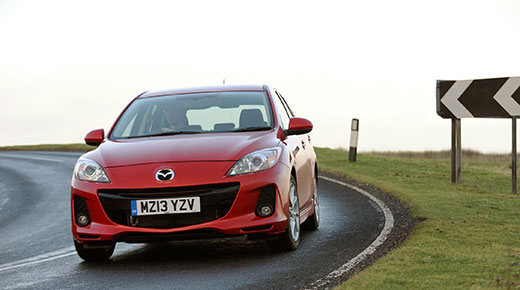 While that might look like a bit of a difference, the Mazda 3 holds its value extremely well given its age – add in the sophisticated tech and even cleaner engines that will debut in the new Mazda 3 later in 2013 and residual values should take a significant jump with the new car.
To show just how much of a difference Skyactiv technology makes, we'll compare Mazda's two newest Skyactiv models, the Mazda CX5 and Mazda 6 to the Ford Focus.
Although completely different types of cars, both offering more space and practicality than the Focus, the 150hp Mazda CX5 returns similar efficiency than the smaller, lighter Ford at 61.4mpg combined with 119g/km CO2 emissions. Add to that improved performance, with 0-62mph taking just 9.2 seconds and you can see how the Skyactiv philosophy is already showing its worth and will make a positive difference in the new Mazda 3.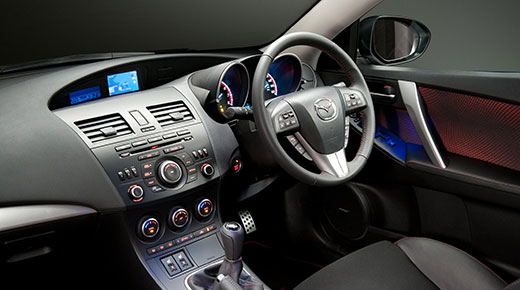 The story is the same with the Mazda 6, too. The more powerful 150hp 2.2-litre turbodiesel actually betters the Ford's efficiency at 67.3mpg combined with 108g/km CO2 combined.
Even now, towards the end of the current Mazda 3's life, it still stacks up against the Ford Focus in terms of costs, so when the new car arrives it will be the vehicle to beat in the family hatchback sector.
Similar Articles
Mazda consistently delivers innovative vehicles to the market, and the MX-30 is no exception. The launch of the MX-30, Mazda's first pure electric vehicle (EV) in 2020 marked the first step in Mazda's roadmap towards electrification. Available as both a pure EV and a new plug-in hybrid R-EV, the Mazda MX-30 models combine a sophisticated […]
Available in both a pure EV and Plug-In Hybrid R-EV, the Mazda MX-30 is centred around the carmaker's Kodo design philosophy. The innovative design creates a lasting impression, and its exciting features and equipment make a thoughtfully curated interior that combines style, comfort, and functionality. From cutting-edge technology to the seamless fusion of sophistication and practicality, Mazda's commitment […]
In the ever-evolving landscape of compact crossover SUVs, Mazda has once again proved its expertise with the revolutionary Mazda MX-30. Captivating the hearts of automotive enthusiasts, the MX-30 brings forth a harmonious fusion of power, innovation, and striking design. This remarkable vehicle represents Mazda's commitment to a sustainable future while staying true to its century-old legacy […]