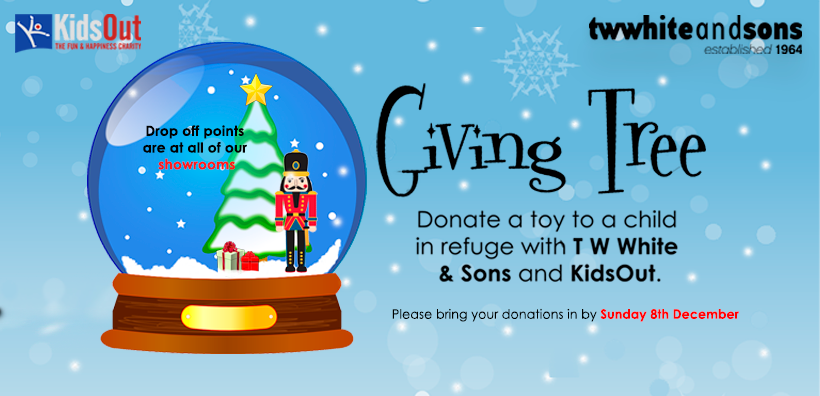 Giving Tree gift appeal with KidsOut
T W White & Sons are running the Giving Tree Gift Appeal for the third year! Deadline for donations is Sunday 8th December.
All of us here at T W White & Sons are proud to announce that we are running the Giving Tree Christmas gift appeal for a second year. After the event being such a success last year with lots of fantastic donations, it was an easy choice to continue participating in this wonderful cause.
T W White & Sons partners with KidsOut in their Giving Tree Christmas gift appeal.
The festive season is almost upon us, and this year we wanted to find a way to bring some Christmas cheer to those in need. We're so excited to be partnering with KidsOut to help gather presents for their Christmas gift appeal, the Giving Tree.
Who are KidsOut?
KidsOut are a small charity who have made it their mission to bring fun and happiness to disadvantaged children across the UK. Since they were wounded in 1989, the organisation has worked tirelessly to make sure all children, no matter their background or social situation, has happy memories and experiences of their childhood.
What is the Giving Tree?
The Giving Tree is KidsOut's annual gift appeal, which aims to gather a wide variety of toys for kids of all ages living in refuge over the Christmas period.  Their aim is to ensure that disadvantaged children, who are often escaping domestic violence, have something to open at Christmas.  They partner with over 100 clubs, companies and organisations to spread the word and act as drop off points for the appeal.
How can I get involved?
It's easy to get involved with the Giving Tree. Simply bring an unwrapped toy to any of our showrooms, and we'll arrange the rest. The deadline for donations is Sunday 8th December.  Toy donations are normally priced between £5 and £10, but feel free to spend whatever you'd like.  Their only requirement is that donations are new toys only.  To get an idea of the type of gifts, see the list below.

Thank you in advance for your donations – they will make a huge difference to disadvantaged children across the country!
What else do KidsOut get involved with?
National Rotary KidsOut Day
On the second Wednesday of June, KidsOut team up with the Rotary International in Great Britain and Ireland to take over 25,000 kids on a fun day out.
Toy Box
Working with Women's Aid Refuges across the UK, children leaving to move into their new home receive a box of toys from KidsOut.
Phyzzpod
Selected schools are given a Sensory Room, which helps develop cognitive, communication and language skills. These rooms particularly benefit children with learning and physical disabilities.
World Stories
KidsOut has created an online collection of stories from around the world, in multiple languages, to help children improve their literacy skills and learn about other cultures.
Fun Days
KidsOut gives disadvantaged children and youth positive experiences to carry with them into the future.
To find your nearest dealership, visit the Find Us page on our website.
Similar Articles
T W White and Sons are excited to announce that we have moved our longstanding Bookham dealership from its Lower Road location to the A246 Guildford Road, Bookham KT23 4HY. This heralds a new era for the Bookham branch which has been sited on Lower Road for nearly 40 years. We're very excited to welcome […]
The Ultra Low Emission Zone (ULEZ) in central London was introduced in April 2019. The ULEZ enforces a fee on certain vehicles driving through the designated area based on the manufacturer's declared emissions levels. Essentially, any car, motorbike, van, bus, coach or lorry used in the ULEZ zone must meet the minimum ULEZ emissions standards […]
Yet more awards for the Mazda 3, as it is crowned Best Small Hatchback at the 2020 UK Car of the Year Awards. In a world that seems dominated by SUVs, there's one car that proves why there will always be room for the hatchback – the All-new Mazda 3. It's already received plenty of […]