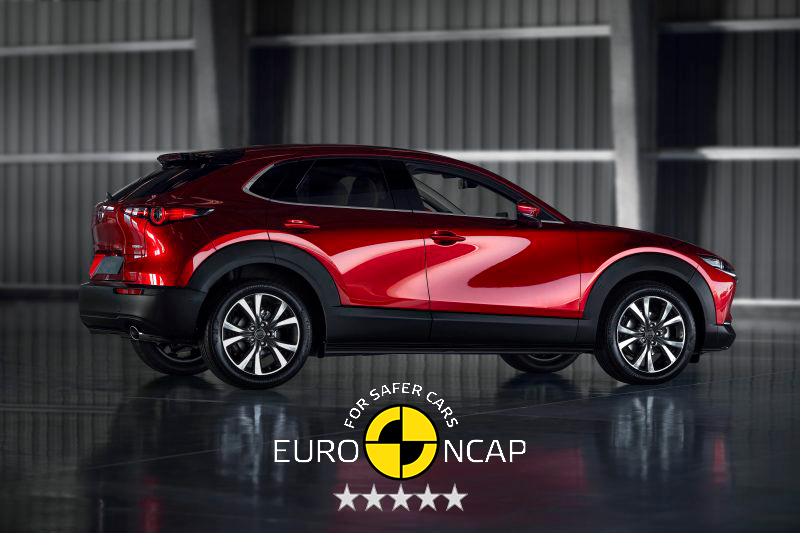 CX-30 receives near perfect score in Euro-NCAP safety test
The All-new Mazda CX-30 has broken Euro-NCAP safety score records, receiving an incredible score of 99% for adult occupancy safety.
When it comes to safety, Mazda are always working to ensure they are at the cutting edge in both design and technology. This effort has once again been rewarded, with the All-new Mazda CX-30 receiving the full 5-star rating from the European car safety agency, Euro-NCAP. Not only that, the CX-30 received the highest score yet for its 'adult occupancy' safety rating – a whopping 99%.  This is the third model in the Mazda range to be awarded the full 5-star rating in the latest and most stringent version of testing, introduced in 2018. Both the All-new Mazda 3 and Mazda 6 have been awarded the full 5-stars under the latest criteria.
The CX-30 also performed well in the remaining categories. In the Child Occupant category, it received 86%, while for Vulnerable Road Users it was awarded 88%. And in terms of safety assist technology, the CX-30 received 77%.
These outstanding scores come as a direct result of the evolved Skyactiv-Vehicle Architecture. From the high-rigidity and impact-absorbing yet lightweight bodyshell to a wide range of advanced i-Activesense safety technologies, the CX-30 has been expertly designed to ensure safety not only for its occupants but for all road users. Specifically, Mazda's Smart City Brake Support received full marks in low-speed tests, with collisions avoided in all scenarios.
Commenting on this record-beating result, Secretary-General of Euro-NCAP, Michiel van Ratingen, said:
"Congratulations to Mazda for another almost-perfect score in adult occupant safety. There are still several cars to be rated in 2019 but it is unlikely we will see better for this part of the assessment."
Concurring with van Ratingen's comments, Thatcham Research's director of insurance, Matthewavery, commented that the result was "truly impressive".
The All-new Mazda CX-30 is set to launch in the UK in January 2020. If you'd like to be among the first to drive this record-breaking car, you can register your interest in our exclusive VIP test drive events, taking place at all of our Mazda showrooms on 18th and 19th January. Simply contact a member of our showroom teams to find out more. There, you'll have the opportunity to experience the car with an independent specialist driver.
[su_youtube url="https://www.youtube.com/watch?v=EOLZNmIMp28″ width="920″ autoplay="yes"]
Similar Articles
T W White and Sons are excited to announce that we have moved our longstanding Bookham dealership from its Lower Road location to the A246 Guildford Road, Bookham KT23 4HY. This heralds a new era for the Bookham branch which has been sited on Lower Road for nearly 40 years. We're very excited to welcome […]
The Ultra Low Emission Zone (ULEZ) in central London was introduced in April 2019. The ULEZ enforces a fee on certain vehicles driving through the designated area based on the manufacturer's declared emissions levels. Essentially, any car, motorbike, van, bus, coach or lorry used in the ULEZ zone must meet the minimum ULEZ emissions standards […]
Yet more awards for the Mazda 3, as it is crowned Best Small Hatchback at the 2020 UK Car of the Year Awards. In a world that seems dominated by SUVs, there's one car that proves why there will always be room for the hatchback – the All-new Mazda 3. It's already received plenty of […]