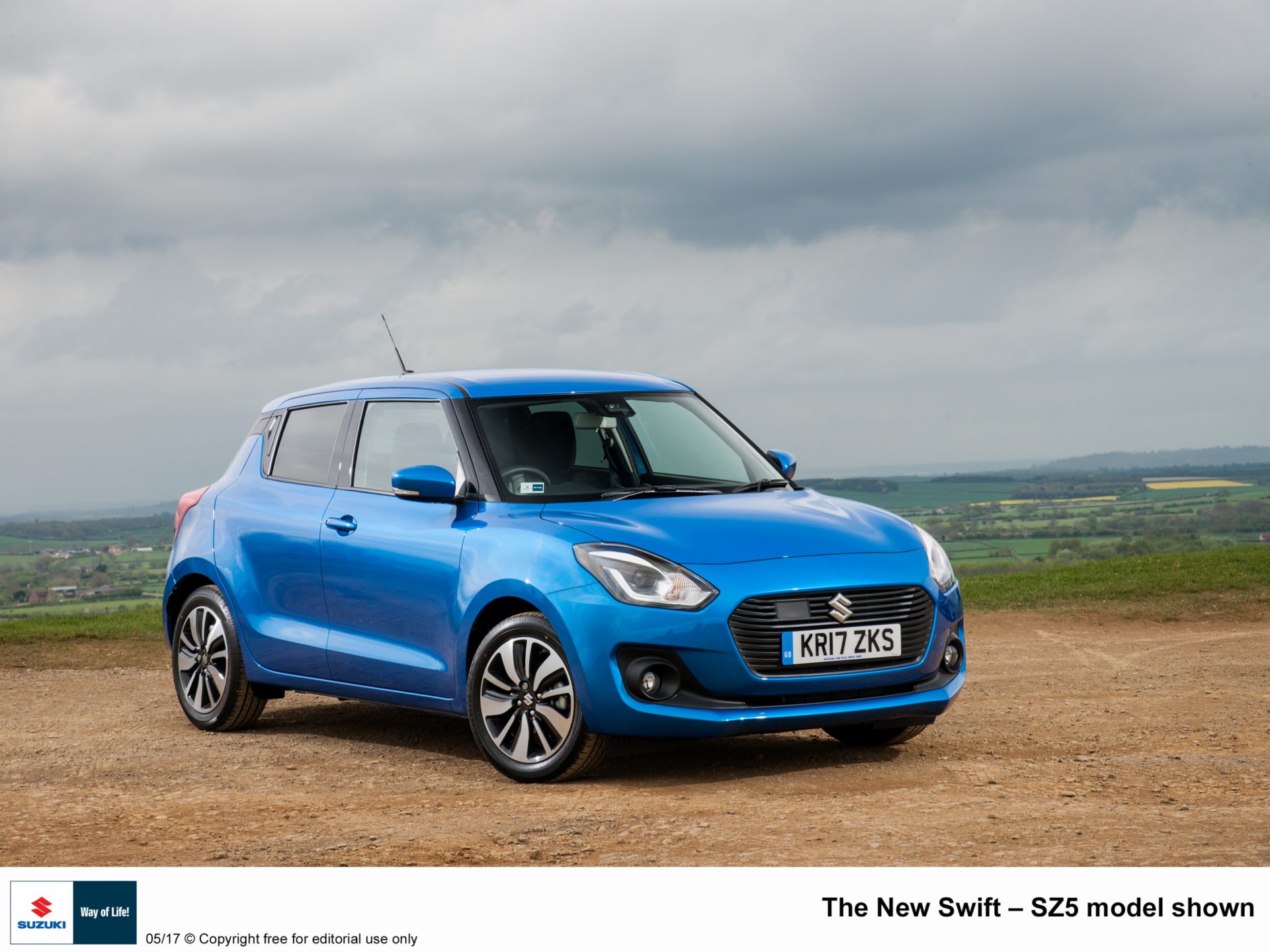 New Suzuki Swift 2017 Review
2017 Suzuki Swift Review
The Suzuki Swift has grown in popularity since its launch back in 2005 and is described as a quirky, comfortable super mini. Suzuki have now released its new and improved 2017 Suzuki Swift model, which has under gone major changes to the interior and exterior of the car with changes to the size, shape and technology in the car to make it more stylish and modern.
Suzuki is rapidly developing a complex range of small cars with the Baleno, and the quirky Ignis, these cars offer something different from the other small car brands. But now it's time for a new generation of Suzuki's award winning Swift models with a fresh new look ideal for young drivers or anyone looking for an affordable super mini.
Exterior
The new Suzuki Swift has a lightweight construction similar to the Suzuki Baleno, so its mass has decreased by 10% compared to the previous model with its kerbweights as low as 890kg, it's the lightest offering in the Super mini range.
The new Swift is now 10mm shorter than the outgoing Swift, but its wheelbase is 20mm longer which has been designed to improve the cabin space in the car. Suzuki has also increased the boot capacity by 54 litres with the boot capacity now at 264 litres.
Interior
Suzuki have given you the choice between black and dark grey upholstery, they have used black gloss in the interior of the car and the steering wheel comes as standard with smart leather trim to add a more premium finish. The trio of heating and ventilation controls are situated in the centre which can be easily used by the driver and passenger. They have also added a digital display between the bright easy to read dials but if you choose to go with a top spec model it will feature a high-definition 4.5-inch screen instead of the standard monochrome option.
Technology
As standard all new Swifts come with DAB digital radio and Bluetooth Connectivity. If you choose to go with the high spec models the car will have a 7-inch colour touchscreen with Apple CarPlay, Android Auto and MirrorLink, all of which allow you to control your smartphone functions safely and legally through the infotainment system. If you travel around often you may rely on Sat Nav which isn't offered in the standard spec models but don't worry the top Spec model the SZ5 comes with Sat Nav as standard. Although only the SZ5 comes with Sat Nav, due to the smartphone connectivity you can use Google Maps instead.
Driving/Fuel Economy/CO2 Emissions
The standard spec Swift is the 1.2 Dualjet four-cylinder with 89bhp and 120Nm of torque. It manages 0-62mph in 11.9 seconds, with its fuel economy at 65.7mpg and CO2 Emissions at 98g/km.
The other engine is Suzuki's 1.0-litre three-cylinder, direct-injection Boosterjet turbo. It produces 110bhp and 170Nm of torque between 2,000rpm and 3,500rpm, this model manages 0-62mph in 10.6 seconds, with its fuel economy at 61.4mpg and CO2 emissions at104g/km.
2017 Suzuki Swift Range
The 2017 Suzuki Swift range will start with SZ3 trim, which is available only with the 1.2-litre engine. As standard it comes with DAB and Bluetooth, air-conditioning, LED daytime running lights and a leather-covered steering wheel. But this model has the smallest wheels in the range at 15-inches and has manually operated rear windows.
The next level model is the Swift SZ-T which has 1.0 Boosterjet engine. This is one of the models which comes with the 7-inch infotainment screen as standard and some other great kit such as; a rear-view camera, 16-inch alloy wheels and front fog lights.
The Suzuki Swift's top model is the SZ5 which will be available with the mild-hybrid versions of both the 1.0 and the 1.2 engine and the non-hybrid 1.0 as an automatic.The SZ5 offers more technology as standard compared to the previous models. As standard you get the 4.2-inch LCD display between the instrument dials, Sat-Nav, climate control, LED headlights and tail-lights, adaptive cruise control, electric windows all round, keyless entry, reach adjustment on the steering wheel and electric folding door mirrors.This model also has more added to its safety kit with a forward-facing camera and laser sensors that deliver lane departure warning and high-beam assist, along with autonomous emergency braking.
Comparison
| | | | |
| --- | --- | --- | --- |
| Model | Transmission Type | CO2 Emissions | OTR Price |
| 1.2     Dualjet SZ3 | 5-Speed Manual | 98g/km | £10,999 |
| 1.0 Boosterjet SZ-T | 5-Speed Manual | 10g/km | £12,999 |
| 1.0 Boosterjet SHVS SZ5 | 5-Speed Manual | 97g/km | £14,499 |
| 1.0 Boosterjet SZ5 Auto | 6-Speed Manual | 114g/km | £15,849 |
| 1.2 Dualjet SHVS SZ5 AllGrip | 5-Speed Manual | 101g/km | £15,499 |
Suzuki Swift

1.0 Boosterjet SZ-T

Kia Rio

1.0 GDi 2

Skoda Fabia

1.2 TSI SE

Citroen C3

1.2 82HP Feel

Advertised Price

£12,999

£14,685
£14,145

£14,435

Max Power (HP)

111

99
90

82

CO2 Emissions (g/km)

104

102
110

109

Fuel Economy (mpg)

61.4

62.8
58.6

60.1
Suzuki Swift

1.0 Boosterjet SZ-T

Kia Rio

1.0 GDi 2

Skoda Fabia

1.2 TSI SE

Citroen C3

1.2 82HP Feel

Bluetooth

✓

✓
✓

✓

Smartphone Connectivity

✓

✓
✓

✓

DAB Digital Radio

✓

✓
✓

✓

Navigation

✗

✗

✗

✗

Air Conditioning

✓

✓
✓

✓

Rear View Camera

✓

✗

✗

✗

Rear Privacy Glass

✓

✗

✗

✗

Alloy Wheels

16"

15"
15"

16"
The new Suzuki Swift is available now, visit our website to view details on the new Swift or used Swifts we have in stock. Come and visit us at our Effingham branch for more information or to book a test drive today.
Similar Articles
The bold yet refined new Suzuki S-Cross 2022 has now been released, packed with new premium features and advanced safety equipment as standard, leading as one of the best in it's class.
The All-New Suzuki SWACE  Watch this space, for the new Suzuki Swace. Suzuki have had an transformative year and more is still to come. Suzuki have recently announced their second product derived from the newest partnership with Toyota, the all-new Suzuki Swace. The new, super spacious, estate car is a fully self-charging hybrid with a […]
Suzuki showcases their first plug-in hybrid SUV – the ACROSS Suzuki have announced the newest addition to the family, the Suzuki ACROSS, the first plug-in hybrid best described as a sophisticated family SUV. Powered by two brains rather than one, Suzuki and Toyota confirmed their collaboration in March 2019 and the long awaited all new […]