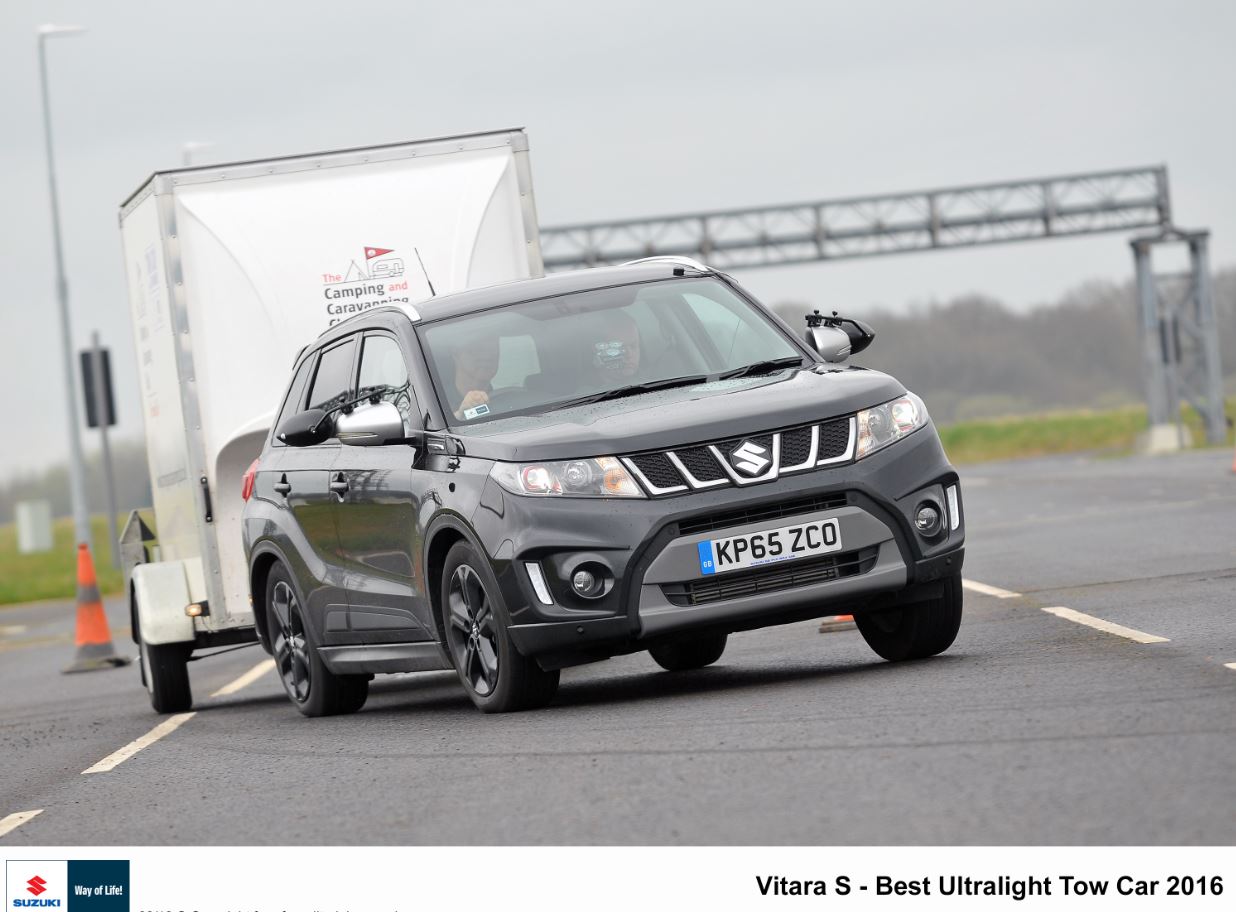 Suzuki Vitara wins Tow Car 2016
The all-new Suzuki Vitara Boosterjet S has been voted winner of the Ultralight category in the Tow Car 2016 Awards.
The latest model in the Vitara range, the Boosterjet S was launched in January 2016,  and adds a more sporting, dynamic edge to the already hugely popular Vitara line up.
The Boosterjet features a turbocharged 1.4l engine – the first to be used in Suzuki's production cars. It is the first in a new family of engines to be used by Suzuki – along with the 1.0 – litre Boosterjet unit which is used in the 2016 Baleno hatchback. It has much greater torque than the existing petrol engine used in the standard Vitara, and as such makes it an ideal towing car.It was this particular model that really impressed the judges at the Tow Car 2016 Awards.
David Motton, Practical Caravan magazine's Tow Car Editor commented;
"We were thoroughly impressed with the Vitara diesel we tested last year, and this year's petrol powered Vitara S is light enough to be considered an ultralight tow car. For a car which barely weighs more than 1.2 tonnes, stability at speed was excellent. The Suzuki pulled its trailer to 60mph and well beyond without any waywardness.
The S is powered by a turbocharged petrol engine which performs well, pulling the trailer from 30-60mph in 14.4 seconds. Turbocharging helps give more mid-range pull than you get from most petrols, making for an engine that's surprisingly well suited to towing lightweight trailers and micro-caravans. So, your £20k buys lots of kit, impressive stability and four-wheel drive.
That makes the Vitara a worthy winner of this year's 'Best Ultralight Tow Car' award".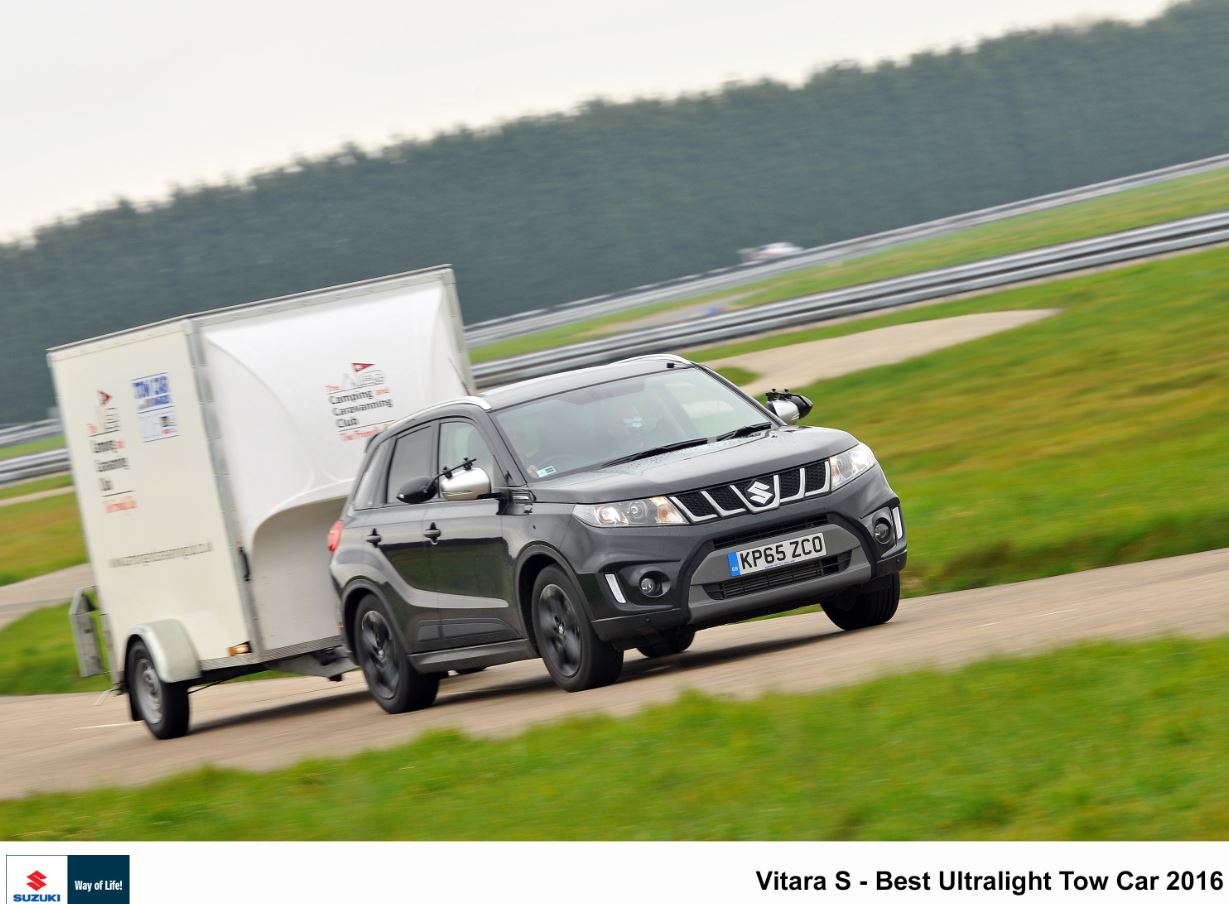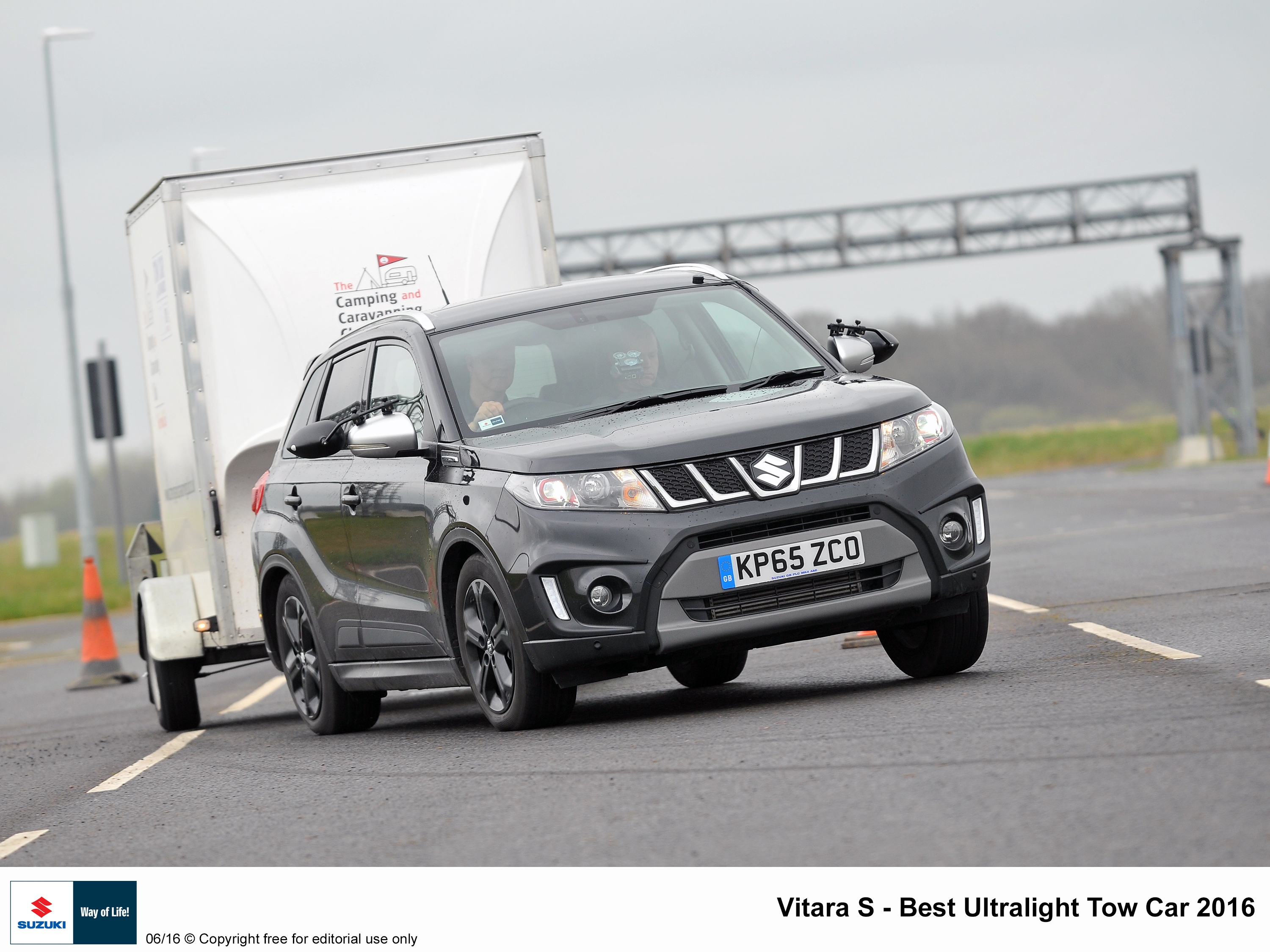 Scooping 'Best Ultralight Tow Car' is the latest in a string of awards that the Suzuki Vitara has recently acquired – the most notable being Honest John's Car of the Year Award – Overall Winner.
Dale Wyatt, Sales and Marketing Director of Suzuki GB added; "This is another fantastic  accolade for us at Suzuki; our compact and lightweight SUV is proving to be really popular on the roads now with around 11,000 sold since launch last year.
Vitara is available starting from £13,999 for the 1.6-litre SZ4 model with manual transmission, moving up to the SZ5 model, which is available with either a 1.6-litre petrol or 1.6 diesel engine and offers ALLGRIP four wheel drive as an option. The 1.4-litre turbo-charged S model tested in the competition offers ALLGRIP as standard equipment.
The Suzuki Vitara is rated one of Europe's safest cars according to independent crash testing results from Euro NCAP, and received the maximum 5-star rating. Vitara was also the first compact SUV to earn five stars in the more rigorous 2015 Euro NCAP testing programme which reinforces its exemplary safety.
For more information on the Suzuki Vitara or to arrange a test drive, please contact our Suzuki sales team at our Effingham Branch. 
Similar Articles
The bold yet refined new Suzuki S-Cross 2022 has now been released, packed with new premium features and advanced safety equipment as standard, leading as one of the best in it's class.
The All-New Suzuki SWACE  Watch this space, for the new Suzuki Swace. Suzuki have had an transformative year and more is still to come. Suzuki have recently announced their second product derived from the newest partnership with Toyota, the all-new Suzuki Swace. The new, super spacious, estate car is a fully self-charging hybrid with a […]
Suzuki showcases their first plug-in hybrid SUV – the ACROSS Suzuki have announced the newest addition to the family, the Suzuki ACROSS, the first plug-in hybrid best described as a sophisticated family SUV. Powered by two brains rather than one, Suzuki and Toyota confirmed their collaboration in March 2019 and the long awaited all new […]