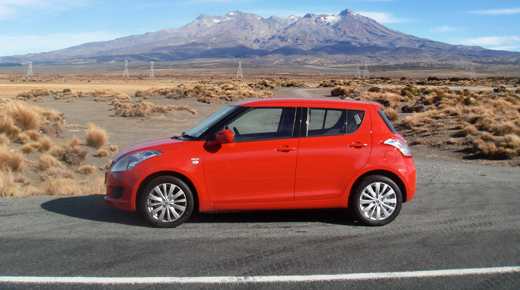 Suzuki Swift continues excellent reliability record
The Suzuki Swift supermini is continuing its excellent record for reliability, finishing third in Which?'s 2012 longevity survey.
Apart from the financial cost of having to fork out to repair your motor, reliability woes are a pain through time spent off the road.
We all need our car to carry out day-to-day tasks, including getting to work and running errands to the supermarket, for example.
But if you're a Suzuki Swift owner, you'll know that's not a problem you have to worry about – the Which? survey recorded the 2005 to 2010 model Swift spends just 0.18 days a year off the road on average.
The car was only 0.01 of a day off taking the top spot for reliability such is the cars dependable nature come rain or shine.
As any Suzuki owner knows, the brand's reliability performance is strong as a proven MOT champion and with a reliability score twice as good as the average car.
If your Suzuki Swift does ever have to go in for repairs, it won't be costly either. With blown bulbs and minor on-the-spot fixable problems the main reason for visiting a garage, your looking at repair costs in the low tens of pounds, not serious three- or even four-figure bills.
Superb reliability should help keep the Suzuki Swift's already thrifty running costs to a minimum too.
At just £8,888 until the end of September – a £1,772 saving through Suzuki's VAT-free offer – the Swift 1.2-litre petrol SZ2 model will return 56.5mpg combined with 116g/km CO2 emissions, meaning minimal costs at the pumps and only £30 annual road tax.
Moreover, with an insurance rating of group 8E, it won't cost much in yearly premiums.
It's not as if the car is devoid of equipment either – far from it in fact. The SZ2 model comes equipped with Suzuki's Electronic Stability Programme, driver, front passenger, side and curtain airbags, remote central locking, electric front windows, an MP3-compatible CD player with steering wheel-mounted audio controls and an iPod connection.
For more information on the Suzuki Swift drop into T W White & Sons dedicated Suzuki showroom in Effingham, Surrey today.
Similar Articles
The bold yet refined new Suzuki S-Cross 2022 has now been released, packed with new premium features and advanced safety equipment as standard, leading as one of the best in it's class.
The All-New Suzuki SWACE  Watch this space, for the new Suzuki Swace. Suzuki have had an transformative year and more is still to come. Suzuki have recently announced their second product derived from the newest partnership with Toyota, the all-new Suzuki Swace. The new, super spacious, estate car is a fully self-charging hybrid with a […]
Suzuki showcases their first plug-in hybrid SUV – the ACROSS Suzuki have announced the newest addition to the family, the Suzuki ACROSS, the first plug-in hybrid best described as a sophisticated family SUV. Powered by two brains rather than one, Suzuki and Toyota confirmed their collaboration in March 2019 and the long awaited all new […]