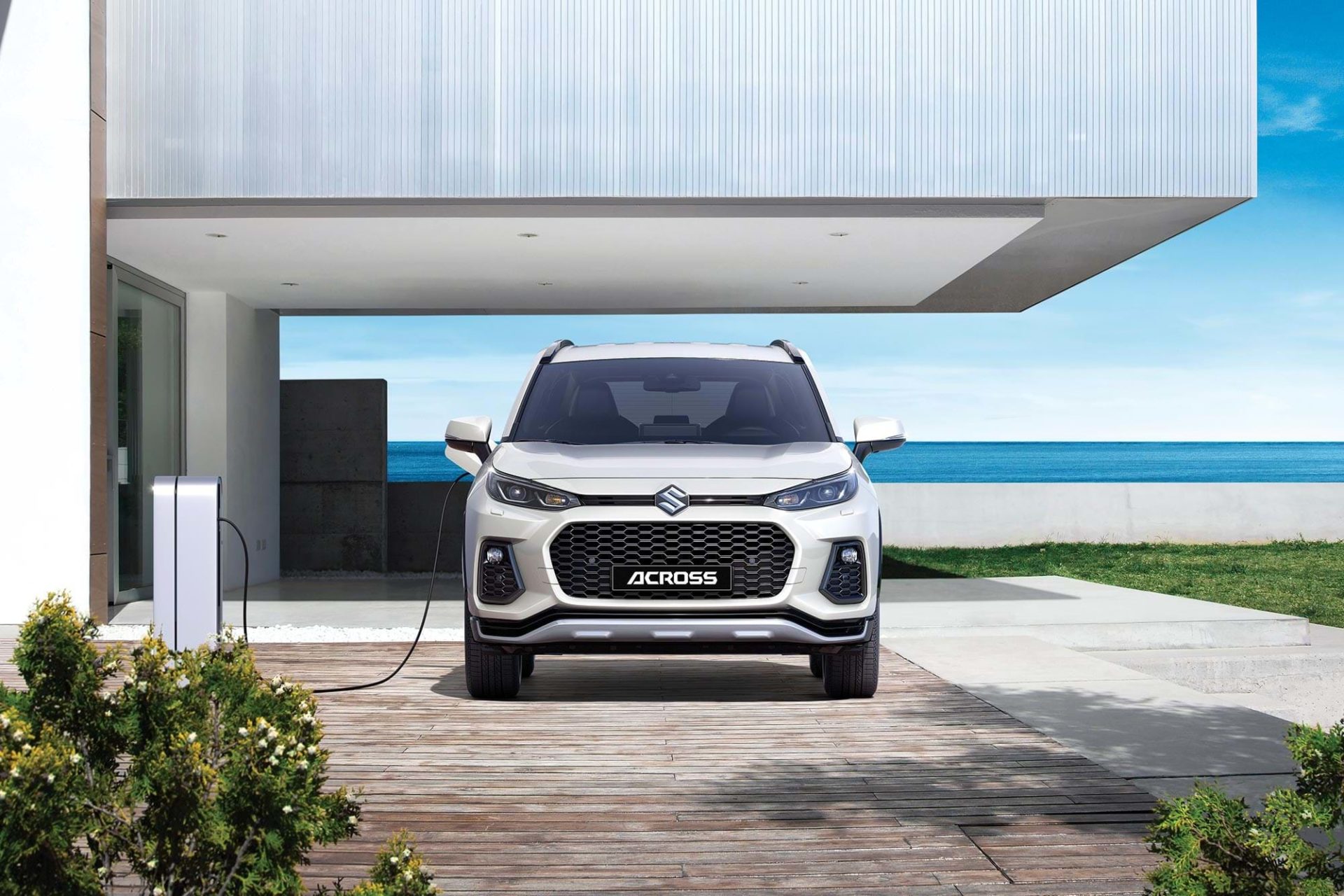 Suzuki ACROSS – new plug-in hybrid showcased by Suzuki
Suzuki showcases their first plug-in hybrid SUV – the ACROSS
Suzuki have announced the newest addition to the family, the Suzuki ACROSS, the first plug-in hybrid best described as a sophisticated family SUV. Powered by two brains rather than one, Suzuki and Toyota confirmed their collaboration in March 2019 and the long awaited all new plug-in hybrid has finally been revealed.
Electric-fying
One of many features that makes the ACROSS unique is it's distance it can cover, running on electrics-only, where it is able to cover up to 46 miles on zero emission electric power. A win-win situation for all; with CO2 emissions of just 22g/km on the WLTP weighted combined test means not only a reduction in emissions but also on fuel costs. Plus, there are advantageous rates of Benefit In Kind tax (BIK) too.
Now for the engine power. This sporty SUV has a powerful 2.5 litre petrol engine producing 180bhp and top speed of 111mph when combined with the accompanying electric motors, means you also get a quick response throttle, smooth acceleration and uncompromising driving performance.
Aesthetically pleasing
The new plug-in hybrid is aesthetically sleek and we can't wait for it to arrive into our showroom. The new 19 inch two tone alloy wheels and large open front grille is easy on the eye as well as advanced LED headlamps with bi-beam projectors and LED Daytime Running Lights.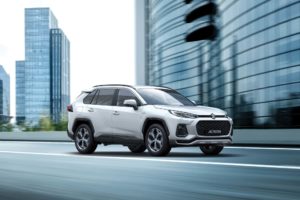 The inner interior is impressive too, with no stone unturned. The ACROSS has a 9-inch built in touchscreen display system, which can interact with both Apple CarPlay and Andriod Auto, electronic parking brake and an 8-way power adjustable driver's seat to name a few.
Switch on, Suzuki features
Safety is always at the forefront of Suzuki, so with a range of advanced features allows for a comforting experience; Pre-Collision System (PCS), Lane Tracing Assist (LTA), Dynamic Radar Cruise Control (DRCC), Blindspot monitor, Rear-cross-traffic alert, E-Call, Road Sign Assist (RSA, Vehicle Stability Control (VSC).
Not only are you able to choose from four different driving modes; EV mode for pure electric driving, EV/HV mode for power boosts from the petrol motor when required and engage battery charger mode for exclusive petrol power to recharge the battery. Come rain or storm, switch on the Trail Mode and the ACROSS has the ability and agility to grip the roads and tackle tough terrain.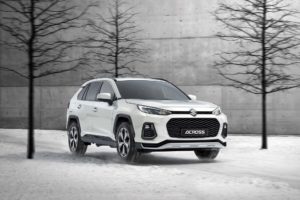 Furthermore, the AWD Integrated Management (AIM) adapts to different driving conditions, managing transmission shift scheduling, Electric Power Steering (EPS) assistance and braking, as well as engine throttle control and drive force distribution.
ACROSS
With a gloomy start to the year, we look forward to introducing the ACROSS in our Effingham branch towards the end of 2020.
Similar Articles
The bold yet refined new Suzuki S-Cross 2022 has now been released, packed with new premium features and advanced safety equipment as standard, leading as one of the best in it's class.
The All-New Suzuki SWACE  Watch this space, for the new Suzuki Swace. Suzuki have had an transformative year and more is still to come. Suzuki have recently announced their second product derived from the newest partnership with Toyota, the all-new Suzuki Swace. The new, super spacious, estate car is a fully self-charging hybrid with a […]
Suzuki showcases their first plug-in hybrid SUV – the ACROSS Suzuki have announced the newest addition to the family, the Suzuki ACROSS, the first plug-in hybrid best described as a sophisticated family SUV. Powered by two brains rather than one, Suzuki and Toyota confirmed their collaboration in March 2019 and the long awaited all new […]