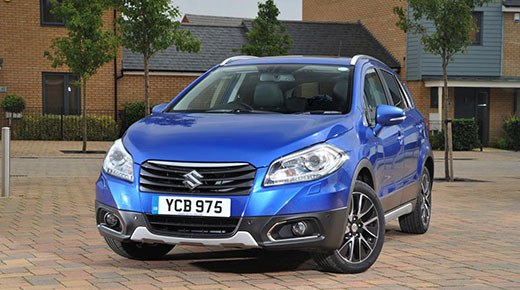 Suzuki SX4 S-Cross bags full five-star Euro NCAP safety rating
The Suzuki SX4 S-Cross has been awarded a full five-star safety rating by industry testing body Euro NCAP.
And even within that maximum category rating, the Suzuki SX4 S-Cross was scored extremely highly indeed, reflecting the investment and attention to detail Suzuki has made with its new, stylish crossover.
Euro NCAP adopted a new test methodology for pedestrian protection this year, and the Suzuki scored brilliantly against the more rigorous test.
The car scored 72% in this category – and extremely strong result – with the crash test examiners stating "the bumper scored maximum points for its protection of pedestrians' legs, with good results in all areas tested."
It also scored an amazingly high result in the adult occupant protection category, rated at 92%.
Euro NCAP's examiners reported that "the passenger compartment remained stable in the frontal impact, with the crash test dummy readings showing good protection of and thighs of both the driver and passenger."
In the side impact test, the Suzuki SX4 S-Cross scored maximum points, too.
"In the side impact barrier test, the SX4 scored maximum points, with good protection of all body areas. In the more severe side pole impact, protection of the head and pelvis was good. The seat and head restraint provided good protection against whiplash injury in the event of a rear-end collision."
Alongside protection of adult occupants, child protection inside the passenger compartment was strong, rated at 80%.
For the most vulnerable child occupants (infants aged one and a half years old) the Suzuki SX4 S-Cross scored maximum points again, as the report outlines:
"Based on dummy readings in the dynamic tests, the SX4 scored maximum points for its protection of the one and a half year-old infant. In the side impact, both dummies were properly contained within the protective shells of their restraints, minimising the likelihood of dangerous head contact with parts of the interior."
Finally, in the safety assist category, the Suzuki SX4 S-Cross yet again scored well, hitting 81% for its electronic driver aids. With driver, passenger and rear seatbelt reminders fitted as standard, along with electronic stability control and a driver-set speed limiter, Euro NCAP was pleased with the level of safety equipment available to the customer on the Suzuki SX4 S-Cross.
Helping its crash test performance, the SX4 S-Cross benefits from Suzuki's Total Effective Control Technology – a vehicle concept for occupant-protecting impact absorption and low weight.
According to Suzuki, "high tensile steel for key parts helps to keep the body light and enhances the vehicle's crashworthiness substantially."
The Suzuki SX4 S-Cross comes fitted with seven airbags as standard, with prices starting from as low as £14,999.
For more information or to arrange a test drive, drop into our Suzuki showroom in Effingham, Surrey or contact our sales team on 0844 539 6753.
Similar Articles
The All-New Suzuki SWACE  Watch this space, for the new Suzuki Swace. Suzuki have had an transformative year and more is still to come. Suzuki have recently announced their second product derived from the newest partnership with Toyota, the all-new Suzuki Swace. The new, super spacious, estate car is a fully self-charging hybrid with a […]
Suzuki showcases their first plug-in hybrid SUV – the ACROSS Suzuki have announced the newest addition to the family, the Suzuki ACROSS, the first plug-in hybrid best described as a sophisticated family SUV. Powered by two brains rather than one, Suzuki and Toyota confirmed their collaboration in March 2019 and the long awaited all new […]
4 years on from its launch, the popular and quirky Suzuki Ignis is getting an update, including a new 1.2 Dualjet engine with an enhance mild hybrid system. The Suzuki Ignis has been a hit since its launch – offering drivers the perfect mix of 4-wheel drive versatility and compact city styling. And can you […]