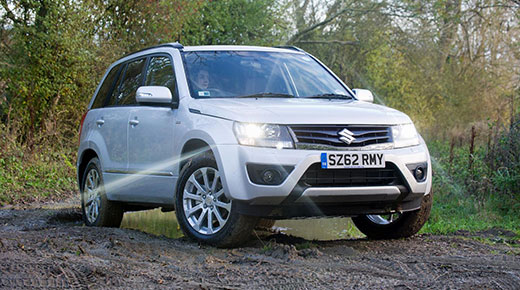 Friday Focus: Suzuki Grand Vitara
This week, as part of our Friday Focus series, we're turning the spotlight towards the Suzuki Grand Vitara.
The Japanese firm's venerable 4×4 has been updated for 2013, meaning an updated, more striking design and a higher quality interior with even more levels of equipment fitted as standard.
We'll start with the Suzuki Grand Vitara's strong suit. This is a vehicle you can literally take anywhere.
It's as comfortable cruising on-road as it is getting up to its axles in mud off it. Thanks to Suzuki's awesome four-wheel drive system – fitted as standard to all Grand Vitara models – there's plenty of security and assurance on the Tarmac in dry or wet conditions, but plenty of grip and go-anywhere ability when the going gets tough.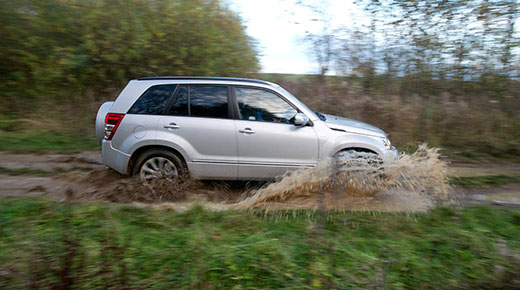 Driving all four-wheel you can choose from either a 1.6-litre or 2.4-litre petrol engine, producing 106hp and 169hp respectively, as well as a 129hp 1.9-litre turbodiesel engine – although the latter is available in Grand Vitara 5dr guise only.
Both petrols are superb performers, with the large motor hitting 62mph from rest in an impressive 11.2 seconds. If you're more focused on efficiency, than the 1.6 could be for you – it'll return a parsimonious 34.5mpg combined.
The diesel engine in the five-door Suzuki Grand Vitara will complete the 0-62mph dash in a more than respectable 13.2 seconds, but will return 42.8mpg combined, striking a brilliant balance between performance and efficiency.
The smart new front end, with integrated front fog lights, has really sharpened up the car's styling. The three-door Suzuki Gran Vitara look nicely purposeful and sporty, while the five door adds that bit more room to help increase practicality for those with families, for example.
Boot space is strong, at a maximum of 398 litres with the seats up, rising to 758 litres with the rear chairs folded, and the cabin is comfortable, well refined and tremendously equipped.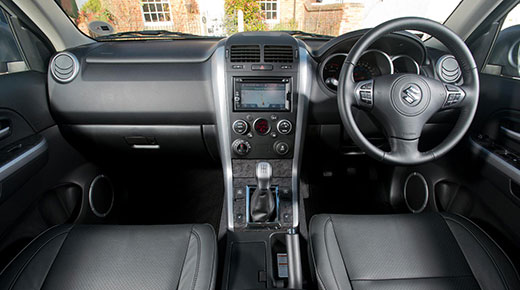 The Suzuki Grand Vitara comes in three different rim levels, with the three-door available in SZ3 and SZ4 guise, and the five-door getting the choice of SZ4 and SZ5 specification.
Leather comes as standard on the top-spec SZ5 model, as well as a 6.1-inch touchscreen infotainment system, featuring Bluetooth, voice recognition and iPod connectivity.
The whole range boasts plenty of equipment, with even the entry-level SZ3 model boasting remote central locking, electric windows all-round, climate control, MP3 compatibility and steering wheel mounted audio controls. Cruise control comes as standard on SZ4 spec cars.
In 2013 the Suzuki Grand Vitara boasts more quality than ever – but, Suzuki has even dropped the price over some previous models, with customer able to save £395 on the five-door 2.4 SZ4 vehicle.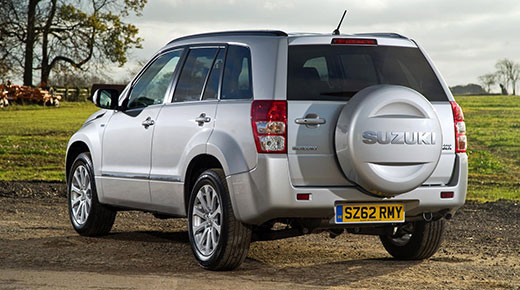 This is a crossover you have to experience for yourself, so if you've got a window in your weekend, why not drop in to T W White & Sons' Suzuki showroom in Effingham, Surrey. Call our sales team on 0844 539 6753 to arrange an appointment or for information on the updated Suzuki Grand Vitara range.
Don't forget to sign up to our exclusive T W White & Sons Blog reader offers, too. You'll be sent a code every week, enabling you to claim your amazing offer, saving you money in the process.
Similar Articles
The bold yet refined new Suzuki S-Cross 2022 has now been released, packed with new premium features and advanced safety equipment as standard, leading as one of the best in it's class.
The All-New Suzuki SWACE  Watch this space, for the new Suzuki Swace. Suzuki have had an transformative year and more is still to come. Suzuki have recently announced their second product derived from the newest partnership with Toyota, the all-new Suzuki Swace. The new, super spacious, estate car is a fully self-charging hybrid with a […]
Suzuki showcases their first plug-in hybrid SUV – the ACROSS Suzuki have announced the newest addition to the family, the Suzuki ACROSS, the first plug-in hybrid best described as a sophisticated family SUV. Powered by two brains rather than one, Suzuki and Toyota confirmed their collaboration in March 2019 and the long awaited all new […]