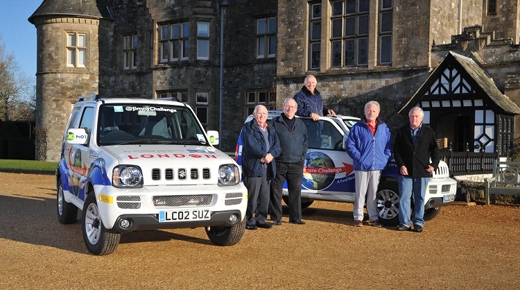 Suzuki Jimny embarks on global charity expedition
Suzuki's plucky new-for-2013 Jimny off-roader is a superbly reliable vehicle – but its robust off-road capability is certainly going to be put to the test for the vehicle's latest challenge.
At the end of March, five retired avid Suzuki fans will embark on a 28,000-mile fundraising expedition in an around the world tour to raise money for Save the Children and the Oakhaven Hospice in Lymington, Hampshire.
Masterminded by retired businessmen Leslie Carvall, the convoy will start from London's Trafalgar Square on March 31st. It will mark the realisation of Carvall's plan, inspired by a large convoy of classic cars that drove past him on the Paris to Peking rally.
Les realised he wanted to do something similar but this time on a much greater scale and to make it worthwhile for a charitable cause.
As a result, the retired crew – who are all in their 70s – have created the Ultimate Challenge, devising the witty strapline, "Heaven can wait, I'm busy".
The team chose the Suzuki Jimny as its car of choice to prove the arduous five-month trek could be completed in low cost, compact and capable 4x4s – three areas in which the Suzuki Jimny excels.
With an 85hp 1.3-litre petrol engine, a five-speed manual gearbox, permanent four-wheel drive and a low kerb weight of just 1,090kg, the Jimny is the perfect vehicle for the five-strong crew to attempt the trip in.
The team will travel across two cars in pretty much standard spec. The vehicles get all terrain tyres, and a slightly modified spring and damper setup, as well as heavy-duty front and rear bumpers.
The sum total of the mechanical alterations are marginal though, and apart from a few additional luggage racks these pretty much are the same Suzuki Jimnys you could drive out of a Suzuki showroom.
From London the tour will head to France and on to Belgium, Luxembourg, Germany, the Czech Republic and Poland, before aiming for Moscow and beyond.
From all at T W White & Sons, we wish drivers Leslie Carvall, Glyn Maher, Alan Butler, Charles Scott and Peter Streets the best of luck.
Keep checking back as we'll bring you all the news of the "Heaven can wait, I'm busy" expedition.
Similar Articles
The bold yet refined new Suzuki S-Cross 2022 has now been released, packed with new premium features and advanced safety equipment as standard, leading as one of the best in it's class.
The All-New Suzuki SWACE  Watch this space, for the new Suzuki Swace. Suzuki have had an transformative year and more is still to come. Suzuki have recently announced their second product derived from the newest partnership with Toyota, the all-new Suzuki Swace. The new, super spacious, estate car is a fully self-charging hybrid with a […]
Suzuki showcases their first plug-in hybrid SUV – the ACROSS Suzuki have announced the newest addition to the family, the Suzuki ACROSS, the first plug-in hybrid best described as a sophisticated family SUV. Powered by two brains rather than one, Suzuki and Toyota confirmed their collaboration in March 2019 and the long awaited all new […]